Some of the links in this post are affiliate links. This means if you click on the link and purchase the item, I will receive an affiliate commission at no extra cost to you. All opinions remain my own.
Finding a good pair of mittens or gloves for your toddler is one of the hardest things. Even greater is keeping gloves or mittens on these tiny hands, as they try to take them off constantly to explore and play.
In this article, I have considered all and found some of the best available Gloves and Mittens for your Toddler.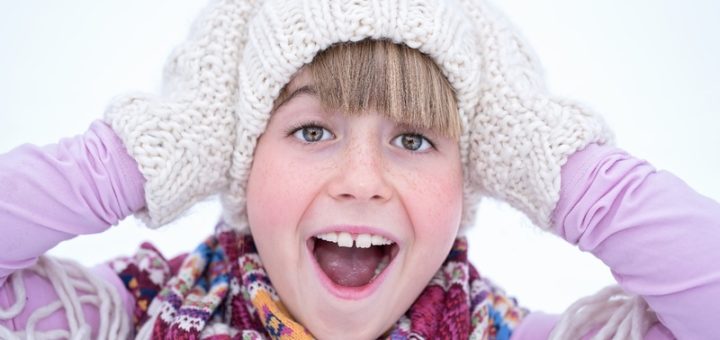 ---
---
Reviews: The Best Toddler Gloves
Here, we have some fabulous and comfortable Gloves available in toddler sizes;
We hope you love the products we recommend!
We may collect a share of sales or other compensation from the links on this page.
---
1
The North Face Mitten for toddlers is one of the best options for freezing weather and snow conditions.
You can choose between a black or a pink color option in the Northface Winter Mitten.
The shell is waterproof and insulated with DryVent 2 Technology.
Inside is a HeatSeeker insulation technology for warmth and comfort.
There is a zip closure for a snug and non-removable fit hook and a loop closure that fits across the wrists.
These are also ideal for toddlers because they cannot take them off.
---
2
Gelante® Unisex Winter

Knitted Gloves for Toddlers
The Gelnate Glove is available for children two to six years of age and comes in many color varieties and prints.
It is knitted from soft and durable acrylic with spandex for flexibility.
The Gloves are durable, easy to wear for little hands, and offer a snug, size-fitting option.
You can get a few pairs in many colors for your little one.
The Glance Gloves are ideal for cold winter months.
---
3
HEAD® Unisex Thermal

Fleece Toddler Mittens
I recommend the HEAD thermal Mittens for toddlers during freezing winters and snow.
So that you know, this size is for 1 to 2-year-olds.
The Mitten consists of plush fleece materials.
Inside, the mitten is insulated with warm, thick fleece material.
It is a durable reinforced material on the palm and fingers for improved grip.
Around the wrist is an adjustable, secure closure for a snug fit.
The mitten is available in a solid black color option.
---
4
Nike® Unisex Swoosh

Gloves and Hat Set for Toddlers
Nike® is a well-trusted brand, so we love their hat and glove sets for toddlers.
Nike's hat and glove set comes in many colors and patterns for boys and girls.
I love that these are all-season Gloves for those between spring and autumn when you only need a little extra warmth.
The materials and fabric used in the gloves and hat are very soft and durable and come in sizes ideal for little hands.
I would, however, recommend these sets for older toddlers in larger sizes.
---
5
Menoly® Unisex Magic Stretch

Flexible Toddler Mittens
The Menoly mittens for Toddlers also come in many color options and prints for boys and girls.
High-quality soft acrylic and spandex are used in the Menoly Mittens for a soft texture and stretchable design.
Many colors are available from which you can choose.
Because they are budget-friendly Mittens, you can also invest in two or more pairs.
The Magic Trestch design allows for better flexibility and a more comfortable fit for little hands.
---
Toddler Gloves and Mittens
Let's admit there's nothing as cute as those tiny little toddler hands in colorful and fun gloves or mittens. However, finding the right Glove or Mitten for a young toddler can be quite an epic quest.
With the huge array of options out there, it is not just as easy as going to the store and picking a pair, so here I have listed a few main concerns that need to be addressed before you decide on the perfect pair of gloves or mittens for your toddler;
Keeping Them On – One of my biggest concerns with my two toddlers is keeping their gloves on their hands. It helps if you get a glove or mitten with some closure that they cannot open themselves or get a snug fit that does not slip off easily.
Cold Weather or In Between – Where I live, the temperatures rarely get to an extreme, and we do not have snow, so a simple knitted Glove or mitten or fleece design will suffice for our winters. However, if you live where it snows and temperatures get very low, I recommend looking at something wind and waterproof outside, with some form of insulation inside.
Sizes – Sizing is essential as most gloves and mittens come in standard size s for specific ages. We all know that all children do not fit the recommended sizes for their age group, and therefore, taking measurements and fitting the gloves and mittens is essential if you can.
Materails – Little hands are soft and fragile and easily become irritated. Materials used should be easy and scratchy, with no labels or parts that can irritate them. Also, ensure that the glove offers some form of breathability so that their hands do not get sweaty.
---
Some Tips on Keeping Your Toddlers Gloves On
On the subject of keeping Gloves and Mittens on tiny hands that want them off, here are a few easy tips;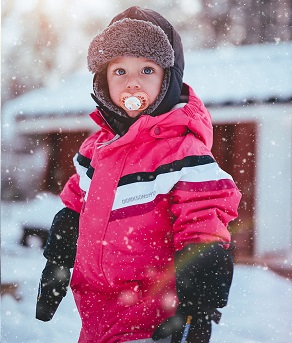 Mittens Over The Coat – Try to get a Mitten design that can go over your child's coat sleeves. This gives better control and fit to keep them on snugly.
Cinching Them Down – Try to get a Glove or mitten with a strap or hook and loop closure that you can close so that your toddler cannot pull them off.
Get Your Child The Gloves They Want – If you get a fun and colorful glove or mitten with a character your child loves or a print they enjoy, they are much more willing to wear them. You could even let them choose their colors and designs.
---
Mittens Vs Gloves for a Toddler
Then I want to get to the point where which is better between Mittens or Gloves for young children;
Mittens
Mittens are warmer because your fingers are held together, generating body heat. Thus, they are ideal for much colder weather and outdoor trips. Remember that they lack talent, and your little child will not be able to use their fingers for grasping and picking.
Gloves
Gloves are designed for more freedom of movement and agility, so your child can play as they please. However, most glove designs do not offer the warmth of a Mitten and thus are more suitable for less icy weather and not for snow conditions.
---
Features of a Good Toddler Glove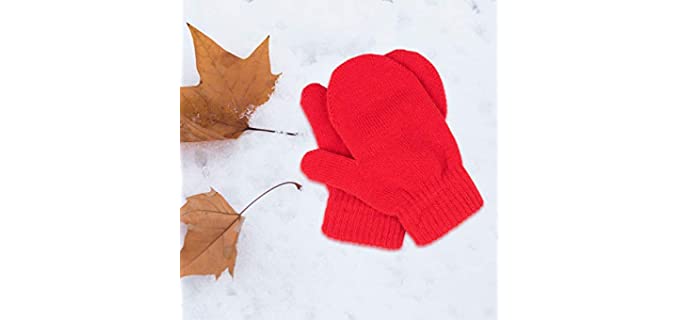 Breathability – As Toddlers are very busy, they must look for lightweight materials and have some breathability when selecting a Glove or Mitten. Wool, Acrylic, and cotton materials are a good choice.
Wind Protection – In very cold conditions, wind protection becomes necessary. A windproof material on the outside of the glove or mitten can help keep cold weather out and heat in.
Insulation – This is more prevalent in a Mitten, where you will usually find some form of fleece or warmest insulator materials on the inside of the Mitten or Glove.
Water Resistance – Water-resistant or Waterproof materials on the outside are ideal for keeping little hands dry. Gore-Tex or Softshell technology offers excellent waterproofing, and fleece has some water resistance.
---
Index Table: Top Rated Toddler Gloves
---
---