Some of the links in this post are affiliate links. This means if you click on the link and purchase the item, I will receive an affiliate commission at no extra cost to you. All opinions remain my own.
A warm and cozy pair of wool gloves are a winter essential, no matter what they will be used for.
You get so many incredible designs and styles of genuine wool gloves, so why not choose wool gloves as your glove option this winter.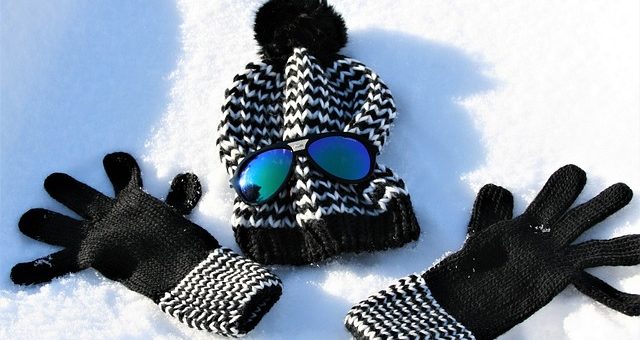 ---
Reviews: The Best Wool Gloves
Here are a few different types of genuine wool gloves that are the absolute best in their category;
We hope you love the products we recommend!
So that you know, We may collect a share of sales or other compensation from the links on this page.
---
1
The Smartwool cozy glove is a warm and fashionable genuine wool glove for cold weather.
The gloves consist of genuine merino wool and some acrylic wool, nylon, and elastane for stretch.
They have a pull-on design and are fully machine washable in cold water.
The wool gloves come in a few colors and size options from which you can choose.
---
2
RefrigiWear® Unisex Fleece Lined

Lined Wool Gloves
The RefrigiWear Fleece and Wool Gloves are designed for extremely cold weather conditions.
They have a 100% rag wool outer shell and an interior fleece lining for insulation and to wick away moisture.
The gloves also add warmth to your wrists with an extended and double-layered cuff.
This is a very popular wool glove for extremely cold weather conditions.
---
3
FoxRiver® Unisex Ragg and Leather

Wool Gloves
From FoxRiver, we gave the Ragg wool and Leather gloves that are ideal for work and other purposes.
The gloves have a rag wool insulated knit design with leather palms for better grip.
The leather palms consist of genuine deer leather and are very durable.
The fit is anatomical, and there is a perfect left and right-hand set.
---
4
Simari® Unisex Freezer Gloves

Outdoor Wool Gloves
The Simari wool gloves are designed for a variety of purposes, such as hiking, outdoor sports, cycling, and general wear during wintertime.
They are ergonomic and comfortable in fit and design.
The fingers and palms have an anti-slip design, and the fingertips are touchscreen compatible.
The gloves are available in many sizes and color options for your perusal.
---
5
Minus33® Unisex Full Finger

Durable Wool Gloves
The Minus33 Merino wool gloves are actually liners for work or hiking gloves.
They can be used as a warm layer on their own.
The Merino wool gloves and liners consist of 100% pure merino wool, and they are machine washable.
They have stretchable nylon added to the blend for a more flexible fit.
---
6
Minus 33® Unisex 6610

Comfortable Wool Gloves
Here we have the fingerless glove option from Minus33.
For cool but not very cold weather, when you need extra warmth, but still have to use your fingers.
They are merino wool fingerless gloves that have stretchable nylon and elastic materials.
Comfortable and available in different size options from which you can select.
---
Why Choose Wool Gloves
Why choose wool gloves, well there are so many benefits to genuine wool gloves, here are only a few;

Natural – Wool is a natural protein fiber that is found on sheep all over the world, it is also one of the most effective all-weather protection materials that you will find. There has not been a man-made fiber that even comes close to wool.
Eco-Friendly – Wool is natural, renewable and fully bio-degradable, and also a carbon store.
Odor Resistant – Wool can absorb moisture from your skin and also absorb odors from sweat which will only be released when washing.
Wool Will not Wrinkle – Not quite relevant for gloves but for other clothing items, wool will always return to its natural shape even after being bent.
Easy to Clean – Wool, as a primary agent to protect the body of a sheep, has a natural protective outer layer, It prevents marks and stains from being absorbed. So the dirt sits on the surface of the wool and is easily removed or washed away.
Temperature Regulating – Wool is a very active fiber that will help to keep you warm when it is cold and cool when it gets warmer.
Breathable – Wool fibers are packed together with tiny pockets of air that form, allowing the material to absorb and release moisture easily. This makes it extremely breathable in turn.
---
Wool VS Acrylic
Besides genuine wool, you also get acrylic wool, which is a ball of synthetic wool.
As acrylic wool is synthetic, it is much cheaper compared to wool, but it is not absorbent, moisture-wicking, breathable, or as safe. Acrylic wool can be toxic to people who are allergic to it. Acrylic wool is also not renewable or eco-friendly because it is not a natural fiber.
Genuine wool, on the other hand, can be slightly scratchy depending on the weave and type of wool, which is one of its only downfalls.
Genuine wool will absorb and release moisture and is generally hypoallergenic to most people. It is likewise much safer for the environment.
Keep in mind that wool is generally not machine washable and needs special washing methods and detergents to keep it in proper shape, other than acrylic wool, which can be washed in a washing machine with most detergents.
Genuine wool is also generally much more expensive because it is more of a luxury item.
---
Features of a Good Wool Glove
Besides the different types of wool gloves that are on the market today, there are some main features that they offer;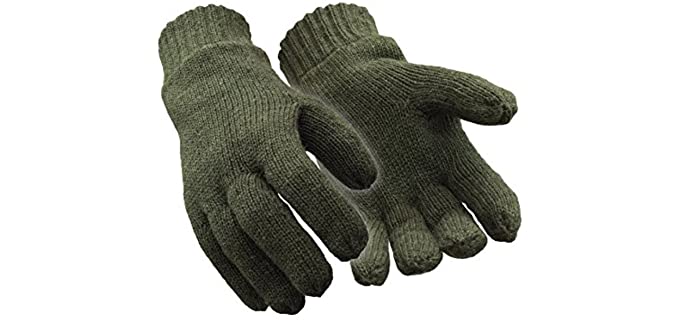 Materials – Wool gloves consist of 100% wool, which will mostly be merino wool which is the softest and most durable. You do also get options that may be mixed with some acrylic synthetic wool, which makes them slightly cheaper. Other materials such as leather may be used in the palms and fleece for an interior insulating lining. Nylon and stretch materials such as spandex and elastane can be used to make the gloves more stretchable or for the cuff area for a stretch fit.
Size – You will need to go through the size chart and take measurements of your hands to get the right fit. A snug fit is desirable that is not too tight or too loose. keep in mind that genuine wool gloves, particularly those with added leather or stretchable materials such as nylon and elastane, will stretch a bit over time. Therefore I will recommend getting a more snug fit rather than a looser fit in most wool glove types.
Dexterity – Most wool gloves will be very flexible and dexterous. They will allow you to use your hands and fingers easily. It will also depend on the thickness of the glove, in turn. You may even get wool gloves that are touchscreen compatible.
---
Index Table: Top Rated Wool Gloves
---
---