Some of the links in this post are affiliate links. This means if you click on the link and purchase the item, I will receive an affiliate commission at no extra cost to you. All opinions remain my own.
Typing may seem like something very simple and easy to anyone. But have you considered how much stress and strain is caused by your hands, your fingers, and your wrists from the repetitive motion of typing?
For individuals who make a living by typing, or who work on electronic devices such as phones, tablets, computers, and laptops, continual typing can cause inflammation of your muscle tissues, bone structures, and even the nerves in your hands and fingers.
Besides this, in the wintertime, your fingers and your hands can become cold, stiff, and numb when you need to type in a cold environment.
Have you ever considered wearing actual computer typing gloves? These gloves are not just there to keep your hands warm while typing. They offer support and large compression to reduce the strain on your wrists, your hands, and your fingers while you are typing.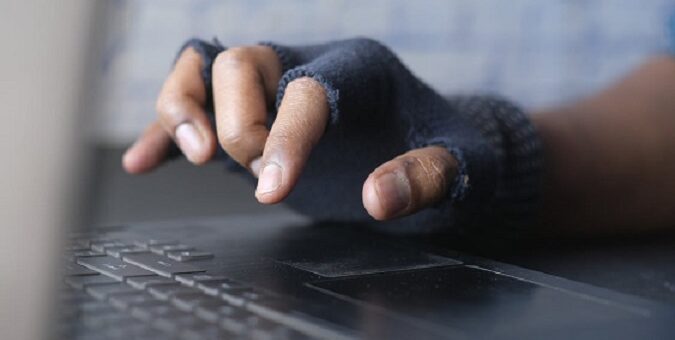 ---
Why You Need Computer Typing Gloves
If you are someone that regularly needs to type on your computer or type for long periods, here are a few of the many benefits of having proper computer typing gloves.
Comfort – Firstly, I want to start moving with typing with cold hands and fingers, which can be very uncomfortable and make typing quite hard. Thus, firstly, good computer typing gloves will keep your hands cozy and comfortable, and they will keep them warm.
Reduce Pain and Numbness – You may feel some pain and numbness in your fingers and your hands off to typing for a long time. Many people who have carpal Tunnel Syndrome may experience this. Compression-type typing gloves with high-stretch fabrics can improve blood circulation so that your hands and your fingers get sufficient blood supply, which will reduce pain and numbness
Injury Protection – You can protect your wrists and your hands against muscle strain by wearing computer typing gloves. Excessive usage of your fingers, your wrists, and your hands can lead to muscle strain and injuries, as well as joint inflammation. The soft fabric of a computer typing glove will also absorb vibration and abrasion effects that could be caused by your keyboard while you are typing.
---
Choosing Materials for Typing Gloves
Now, several kinds of fabrics are used to construct computer typing gloves. Usually many of these gloves consist of a blend of different fabrics so that you can get multi-functional gloves. Here are a few options that you can choose from in fabrics that computer typing gloves consist of.
Spandex Blends – Spandex computer typing gloves or ideal in terms of stretchability and compression. When you tend to have soreness or numbness in your hands, spandex gloves are your best option as they are flexible and allow for easy motion, and also provide light compression to improve blood circulation. Spandex gloves can also help to reduce hand fatigue. And they offer a thinner and more snug fit that is also cooler to wear.
Polyester – If you have a problem with sweaty hands, or if your hands tend to overheat while you are typing, then polyester gloves are the best choice for you. Police is a synthetic fiber that is extremely durable and will not tear or wear down easily. Polyester gloves are usually recommended for people with very sweaty hands because they have a high moisture-wicking ability. They will absorb sweat from your hands, draw it away, and then keep your hands dry.
Cotton – Cotton is a natural fiber that is ideal for more sensitive fingers and people prone to allergies. Cotton, cotton is very breathable, and it's got a high resistance to heat and burning. One of the biggest reasons why people choose cotton gloves for typing on the computer is because they are non-irritating and ideal for sensitive fingers.
Acrylic – Acrylic is a naturally thermal fabric that is soft and highly heat insulating. Acrylic blended gloves or ideal for cold winters to maintain heat in a comfortable range for your hands. Acrylic is also much more elastic than genuine wool, which makes them much more suitable to type with.
---
Features of a Good Computer Typing Glove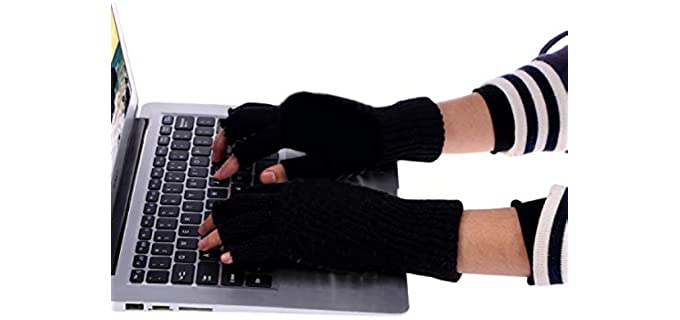 Materials – As I have mentioned above, there are a few types of fabrics that are ideal for gloves to type on your computer depending on what you need from your gloves. You will choose it according to different types of fabrics. For the most part, you want a glove that will provide some warmth and comfort and that will be breathable and stretchable.
Types – Mostly, you will either get full-finger gloves, half-finger gloves, or fingerless gloves for typing. I usually find that it is much easier to type with a fingerless or half-finger glove, as you have full use of your fingers. However, in very cold circumstances, you may want to use full-finger gloves. In this case, I would recommend that you get gloves that are thin and flexible.
Size – Your gloves' size is very important. You do not want gloves that are too tight and small so that they constrict your fingers and your movement and cause pressure on your hands and fingers. On the other hand, gloves that are too big can slip off your hands, or they can feel bulky on your hands and fit and get in the way of your typing.
Function – There are many types of typing gloves out there for use on your computer. You need to consider exactly for what purpose you want your typing gloves. If you have a hand condition for which you need an Orthopedic or a compression-type glove, then you need to choose something in this line. If you simply want a glove for comfort and warmth, they are also options for this. If you need a glove that wicks away moisture because your hands become sweaty when you type, you need to select a glove in the right type of fabric.
---
Reviews: The Best Computer Typing Gloves
Here are some of our favorite computer typing gloves for all your needs;
---
1
Duerer® Unisex Compression

Warm Computer Typing Gloves
The Duerer Computer Typing Gloves are the perfect gloves if you have a hand condition.
They are ideal for individuals with Carpal Tunnel Syndrome, Arthritis, Tendonitis, and RSI.
The gloves are non-irritating and absorbent cotton.
They offer light compression and are half-finger gloves.
---
2
Dr. Frederick's® Unisex Original

Computer Typing Gloves
Dr. Frederick's Typing gloves are light compression gloves for computer typing.
They are Cotton, Polyester, and Spandex which is an excellent all-purpose blend.
They offer better blood circulation and also wick away moisture.
The gloves have a half-finger design to allow for easy typing.
---
3
Jiufentian® Unisex Compression

Computer Typing Gloves
Here we have computer typing gloves for all hand conditions.
They are compression gloves that reduce swelling and help with conditions such as arthritis in the hands.
The gloves are spandex and cotton.
They will offer a good grip and keep your hands dry and comfortable.
---
4
Dritz® Unisex Support

Gloves for Computer Use
The Dritz Support Gloves are suitable for computer typing, arts and Crafts, and even quilting.
They protect your hands and fingers from strain and provide mild compression and warmth.
The gloves are comfortable and fully washable.
They have a soft moisture-wicking fabric construction.
---
5
Geyoga® Unisex Compression

Gloves for Computer Use
From Geyoga you get three pairs of computer typing gloves.
They are comfortable compression gloves for crafting and typing.
The gloves are warm and suitable for all hand conditions.
They have a fingerless design and offer excellent pressure relief in your joints.
---
6
Lion Brand® Women's Small

Gloves for Computer Use
The Lion brand Yarn Gloves are stress-relief gloves for typing and crafting.
They reduce pain and fatigue without restricting your movement.
The gloves have tightly woven spandex and nylon fabric construction to keep your hands warm and improve circulation.
They are available in small and medium size options and are more suitable for women.
---
Index Table: Top Rated Computer Typing Gloves
---
---