A good-quality pair of waterproof work gloves will protect your hands against the elements and provide good grip and comfort when working.
Waterproof gloves are mainly for work purposes that involve outdoor work or working in a wet environment that is more industrial.
Work gloves must be durable yet still handy, with a waterproof design.
Our article will look at some of the best waterproof work gloves available today.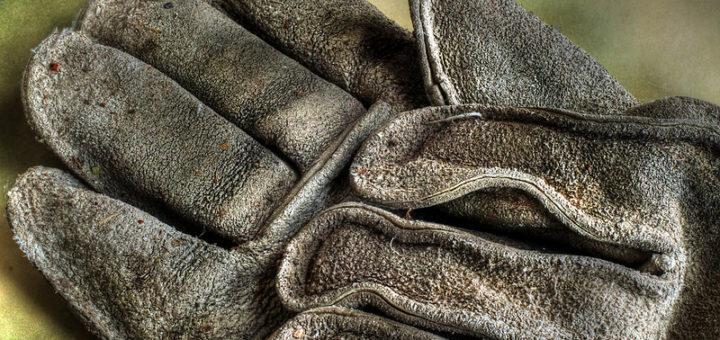 ---
Reviews: The Best Waterproof Work Gloves
These are some of the most favored waterproof gloves available today;
We hope you love the products we recommend!
So that you know, We may collect a share of sales or other compensation from the links on this page.

---
1
Carhartt® Men's Winter dex 2

Waterproof Winter Work Gloves
The Carhartt winter gloves are available in two options.
There is a Storm defender waterproof and windproof insert,
They are soft shell gloves with neoprene and nylon trim.
They are warm and durable with a synthetic palm for improved grip.
| Rating Category | Weight % | Score |
| --- | --- | --- |
| Dexterity | 25% | 100 |
| Insulation | 25% | 100 |
| Odor-Control | 20% | 95 |
| Weather Resistant | 20% | 90 |
| Breathability | 10% | 95 |
| Total Score | 100% | 96.5 |
---
2
Ergodyne® Unisex ProFlex

Waterproof Work Gloves
The Ergodyne waterproof gloves ate available in many size options.
For thermal protection, you have a 3M Thinsulate lining with 40 grams of pam and 70 grams of back of the hand insulation.
They are durable and fully waterproof.
The fingertips are also touchscreen compatible.
| Rating Category | Weight % | Score |
| --- | --- | --- |
| Dexterity | 25% | 100 |
| Insulation | 25% | 95 |
| Odor-Control | 20% | 95 |
| Weather Resistant | 20% | 90 |
| Breathability | 10% | 95 |
| Total Score | 100% | 95.25 |
---
3
Wells Lamont® Unisex Latex

Gloves for Waterproof Work
From wells Lamont, we have very durable waterproof work gloves.
They are polyester with a waterproof nitrile cover.
Ideal for warmer weather with a lighter weight and breathability.
The gloves are a 13 cut polyester and machine knit with a sandy finish palm coating for grip.
| Rating Category | Weight % | Score |
| --- | --- | --- |
| Dexterity | 25% | 100 |
| Insulation | 25% | 95 |
| Odor-Control | 20% | 95 |
| Weather Resistant | 20% | 90 |
| Breathability | 10% | 90 |
| Total Score | 100% | 94.75 |
---
4
Wells Lamont Store® Unisex Hydra-Hyde

Water Resistant Work Gloves
Another addition from Wells Lamont is their HydraHyde waterproof work gloves.
They have a waterproof lining and design that also wicks away moisture to keep you dry on the inside of the glove.
The gloves have an elastic-shirred wrist for a comfortable, secure fit.
Ideal for construction, ranching, and even farming work, they are durable and flexible.
---
5
Carhartt® Unisex Flexer

Gloves for Waterproof Work
From Carhartt, we also have their Flexer gloves for work.
They are 100% soft and comfortable polyester.
There is a hook and loop wrist closure system that is washable.
The gloves are fully waterproof with a warm fleece lining inside.
---
6
Hanhelp Safety® Unisex Super grip

Waterproof Work Gloves
From Hanhelp Safety, you get two pairs of waterproof work gloves.
The gloves offer a superior grip with a latex sandy coating which is a great new technology for grip.
They are water and slip-resistant, and comfortable to wear.
Ideal for dry, wet, and oily applications such as mechanic and automotive work or in the chemical industry.
---
Benefits of Waterproof Work Gloves
There are so many benefits to having waterproof work gloves, even if you do not always work in wet conditions;
Keep Your Dry – Wet work gloves can be extremely uncomfortable and unhealthy for your hands and can also make your hands very cold, affecting work performance. Wetness in your gloves may also lead to the growth of bacteria and eventually bad odor. A good waterproof glove will protect you from wetness from the outside but will also breathe well and have moisture-wicking interiors that prevent excessive sweat and moisture build-up.
Keep Warm – Many waterproof gloves are designed for colder weather conditions, and they do come with linings and insulation to keep your hands warm if this is what you need. On the other hand, wet hands and gloves can also become quite cold, and having a waterproof glove may protect you against your hands becoming cold and uncomfortable.
Durable and Dexterous – Besides being protective and keeping you dry and waterproof, work gloves are usually very durable for work purposes and dexterous, allowing you easy use of your hands and fingers.
---
Types of Waterproof Work Gloves
Waterproof Work Gloves come in leather or synthetic options.
Leather waterproof work gloves are more natural, quite handy, and very durable. However, leather work gloves offer mostly water resistance, and they ly have either a waterproof treatment or a membrane.
Leather work gloves are more suited to heavy-duty work such as construction and farming, they offer excellent dexterity and resistance to abrasions and cuts depending on the construction. Leather gloves are also exceptionally durable compared to many other glove types.
Rubber work gloves are ideal for working directly in water as they offer full waterproofing. They are durable and quite handy. Rubber work gloves are also the perfect choice for working with chemicals and oils as they are not just resistant, but also extremely easy to clean.
Synthetic technology work gloves are designed with an array of synthetic materials to offer warmth and proofing and allow you to use your hands and fingers. Some models are even touchscreen compatible. Synthetic materials used include neoprene, polyester blends, polyester, and nitrile coatings that may be added for waterproofing.
---
Features of a Good Waterproof Work Glove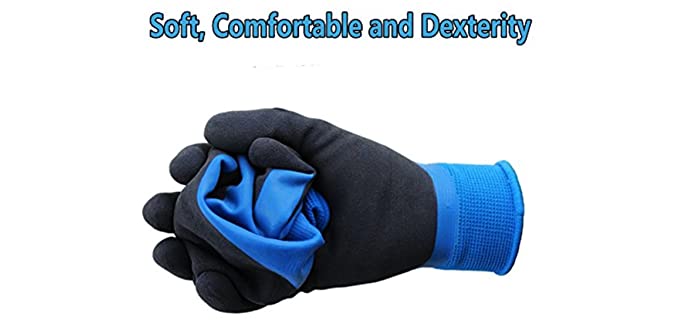 Materials – Waterproof Gloves can be leather, polyester, or neoprene with a waterproof membrane or technology that makes them fully waterproof. Gore_Tex is one of the best linings that you can get for waterproofing as it is also extremely breathable. On the other hand, leather that is treated or coated will also be very waterproof and extremely durable.
Breathable – Most waterproof gloves have breathable materials that wick away moisture and dry your hands. Waterproof Gloves mostly come with an interior lining such as fleece or mesh for warmth, but also to wick away moisture and keep your hands dry on the inside.
Washable – Most waterproof gloves can easily be hand or machine washed, depending on the design. However, you should never attempt to wash genuine leather gloves but rather wipe them clean.
Touchscreen Compatible – Some waterproof glove models have either two fingers and a thumb or the entire glove that consists of touchscreen-compatible materials.
Insulation – Many waterproof glove models are also insulated with added layers of fleece or padding for warmth in colder weather conditions. Insulation in work gloves can actually impede their dexterity and make it less easy to use your hands and fingers so mostly work gloves do not come with much insulation. But there are some brand sand models that do offer insulating layering in their work gloves with technology to make them more flexible and lightweight, for better dexterity.
---
Index Table: Top Rated Waterproof Work Gloves
---
---