Some of the links in this post are affiliate links. This means if you click on the link and purchase the item, I will receive an affiliate commission at no extra cost to you. All opinions remain my own.
Ranch Work can take its toll on your hands, not to mention cold and wet weather that can make your hands slippery and decrease motion.
The best ranch work gloves will help you keep a proper grip on things while keeping your hands warm and well protected.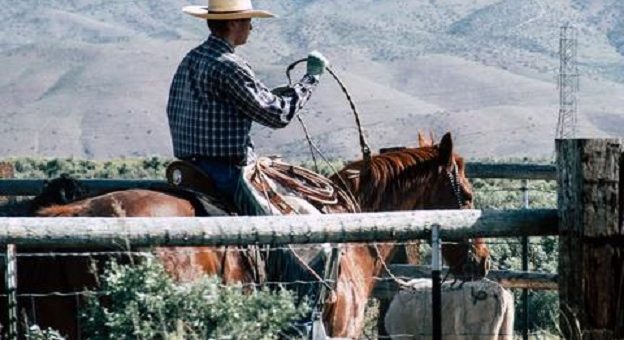 ---
Reviews: The Best Ranch Work Gloves
These are some of our top favorite work Gloves that are ideal for ranch work;
We hope you love the products we recommend!
So that you know, We may collect a share of sales or other compensation from the links on this page.
---
1
The Ironclad Ranch work Gloves are designed specifically for this purpose.
They are Goatskin leather gloves with a performance fit and patented seamless rolltop fingertips for dexterity, with a double layer of protection.
The gloves have Kevlar reinforcements in all critical wear areas for durability and protection.
They have a thermoplastic rubber cuff puller so that you can get the gloves on in a proper position more quickly.
The gloves have a terry cloth sweat wipe on the back of the thumb for your convenience.
---
2
Carhartt® Unisex Waterproof

Ranch Work Gloves
The Carhartt W.P Waterproof Insulated gloves are excellent for ranch work in colder weather conditions.
They are polyester shell gloves with a polyurethane palm and soft polyester lining.
The gloves have a pull-on closure and a very durable and waterproof Polytex shell.
They have a digital grip[ palm design and stick grip fingers.
The FastDry technology lining wicks away sweat to keep your hands dry on the inside.
The cuffs are fleece with an adjustable wrist strap closure.
---
3
Wells Lamont® Men's Adjustable

Leather Ranch Work Gloves
From Wells Lamont, we have leather work gloves ideal for ranch work.
They are 100% full-grain cowhide leather gloves with superior puncture and abrasion resistance.
The gloves have adjustable ball and tape wrists to keep out dirt and debris.
They are comfortable with an ergonomic design Gunn cut and keystone thumb that will mimic the natural curves of your hands and fingers.
Ideal for construction and ranch work, farming, and maintenance work.
---
4
Ironclad® Unisex Utility

Ranch Work Gloves
The Ironclad Heavy Duty Utility gloves are ideal for ranch work and similar occupations.
The high hare abrasion, high performance heavy-duty, durable work gloves.
Reinforced Duraclad palms, thumbs, and covered fingers for increased grip and durability.
For knuckle protection, you have Thermoplastic rubber knuckles for impact and knuckle abrasion resistance.
The adjustable hook and loop closure in the wrists allow you a more customized fit.
The gloves are machine washable but need to be air-dried.
They have an engineered fit that is more comfortable.
---
5
Wells Lamont® Women's Hybrid

Ranch Work Gloves
The Well Lamont HydraHyde gloves are the ideal waterproof work gloves for ranch work, landscaping, and gardening.
The gloves are water-resistant HydraHyde leather that will prevent moisture from getting in and not allow the gloves to become stiff.
They are extra-durable heavy-duty work gloves with reinforced palms and leather fingertips for grip and durability.
The HydraHyde leather is much more breathable than standard leather, and the spandex interior provides a more flexible fit.
Their water resistance makes them the ideal ranch work gloves and versatile enough for other tasks.
---
6
Wells Lamont® Unisex Heavy Duty

Leather Ranch Work Gloves
The Wells Lamont Heavy Duty ranching gloves are designed specifically for ranch work.
They are heavy-duty, cowhide leather work gloves that consist of split cowhide leather that is abrasion and puncture-resistant,
The HydraHyde leather design helps keep moisture out of the gloves, and the gloves will not become stiff.
They are water-resistant and have reinforced palms, thumbs, and fingers for additional abrasion resistance for ranching.
The gloves have an easy slip-on design with an elasticated wrist.
---
7
Kinco® Unisex Lined

Ranch Work Gloves
The Kinco Leather Gloves are ideally suited to ranching and farm work.
They are full-grain buffalo leather gloves that offer excellent water resistance, abrasion resistance, and durability.
There are HeatKeep thermal linings for warmth inside the gloves, and they have a more ergonomic keystone design thumb.
These are heavy-duty yet comfortable leather gloves for farming and arch work.
---
8
Ironclad® Unisex Command Impact

Ranch Work Gloves
Another addition from Ironclad is their Command Impact work gloves.
The gloves are suited to various tasks and occupations, including ranch work.
They are synthetic leather gloves with touchscreen command conductive palms and fingers in the glove fibers.
The gloves have impact and anti-vibration protection for working with machinery and open cell memory foam pads for impact protection.
There is a terry cloth sweat wipe on the back of the thumb and an adjustable hook and loop closure wrist for a customizable and comfortable fit.
The gloves are machine washable and come in a variety of size options.
---
Why You Need Ranch Work Gloves
Most Ranchers and farmers would not always agree to wear gloves for ranch work.
However, with technology today, Ranch work gloves can provide you with many benefits.
They can help provide grip when needed, especially in wet weather conditions, as well as keep your hands warm and dry in colder weather conditions and wet weather.
Ranch work gloves provide abrasion and puncture resistance which may be needed in this line of work to protect your hands further.
---
What to Look for in a Good ranch Work Glove
There are a few main things to consider when looking for good ranch work gloves;

Weather Conditions – You will need to consider what gloves you need according to the weather. Whether you need warmer insulating gloves or cooler and more lightweight gloves.
Durability – Your ranch work gloves need to be good quality material and construction that will last longer and will be able to hold up with the demands of ranch work.
Grip – The Palms and fingers of the ranch work gloves need to offer a good grip for holding on to slippery and even wet objects.
Waterproofing – Most ranch work gloves have a waterproof lining or are water-resistant leather.
---
Features of a Good Ranch Work Glove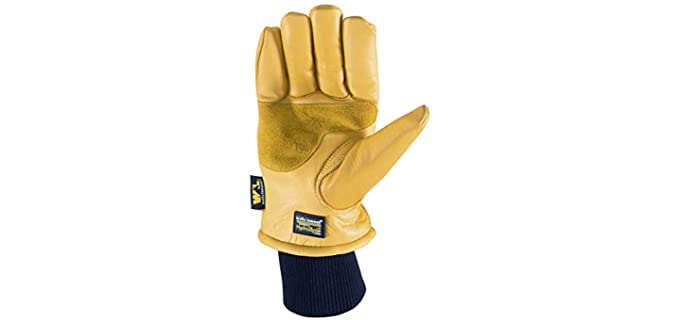 Materials – Ranch work gloves are mostly genuine leather as this is the most comfortable and durable, with natural good water resistance. However, you do get neoprene and nitrile ranch work gloves and other materials that are just as durable and protecting.
Protection – Most ranch work gloves offer waterproofing or water resistance which is quite ideal, and some are abrasion resistant and puncture-proof to protect your hands.
Fit and Dexterity – Ranch work gloves need to have a comfortable and snug fit that will not easily slip off. It would be best to have gloves that offer plenty of flex and dexterity for ranch work.
---
Index Table: Top Rated Ranch Work Gloves
---
---