When you consider the best Bushcraft equipment and items, the right Gloves should be at the top of your list.
The Best Bushcraft gloves should make your life much more comfortable and more accessible, keeping your hands from getting wet, helping to give you a better grip on your tools, and performing when other gloves will not.
---
Why do You Need Bushcraft Gloves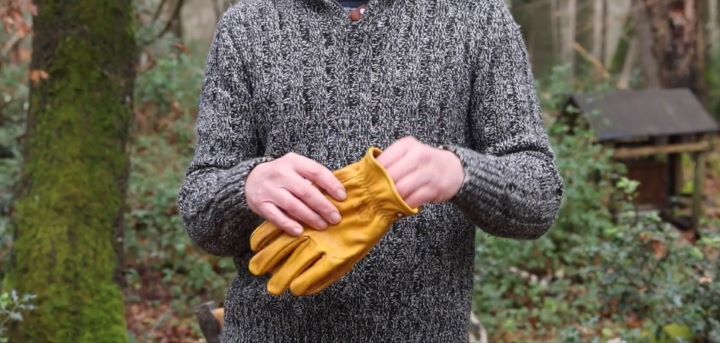 So why do you need the best Bushcraft gloves on the market?
If you plant to Bushcraft, or if you are already an expert, the right Bushcraft Glove will make this practice much more relaxed and safer, as well as very comfortable.
Although you do not get specific Bushcraft Gloves, except maybe for a few options here and there, many types of work gloves can make the perfect Bushcraft Gloves.
A suitable Bushcraft Gloves keeps your hands warm or cool as needed, comfortable, dry, and aids with grip while protecting them against abrasion, cuts, and scrapes.
Ultimately a suitable Bushcraft Glove should be durable enough to last you very long.
---
Bushcraft Gloves for Different Purposes and Climates
That said, there is a Bushcraft Glove for every purpose and Different Climates;
Bushcraft Gloves for Dexterity – If you need to protect your hands and need to be able to use your fingers and hands to pick up and work with small items, you need a Bushcraft glove that is flexible and not bulky. Some soft leather Bushcraft gloves offer much better dexterity along with good protection.
Bushcraft Gloves for Sports Application – A sports specific glove can be quite expensive. For sports such as Rock Climbing, Hiking, and similar excursions, a good leather Bushcraft Glove can be more affordable and yet just as effective and comfortable.
Bushcraft Gloves for Rough Work – For Heavy Duty work with higher risks, you need a more robust and more durable protective Glove. Leather is a good option with a lining for breathability to keep moisture at bay.
Bushcraft Gloves for Warmth – Insulation, Widnproofing, and Waterproofing materials are ideal in a Bushcraft Glove for cold climates and environments. The Glove should still be flexible and comfortable and provide warmth and resistance against weather elements.
Bushcraft Gloves for Heat – In hot weather conditions, you will need a Glove that breathes well and wicks away moisture. Here a light leather glove without an insulated lining is your best option.
---
Features of a Good Bushcraft Glove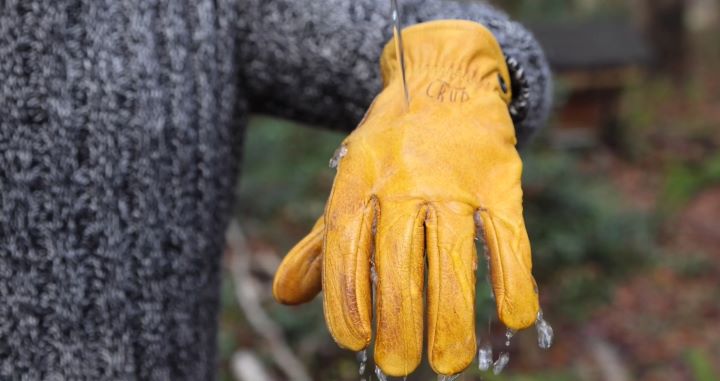 Insulation – For Cold Conditions a Bushcraft Glove may have a fleece or Thinsulate insulation lining for warmth.
Water Resistance – A water Resistant membrane or material or waterproofing is ideal for keeping your hands dry,
Grip – Look for a High grip reinforced palm. Leather also offers an excellent grip.
Dexterity – You should be able to quickly move and use your hands and finger in a Bushcraft Glove. Leather is an excellent option as it allows better flexibility.
Strength and Durability – Look for a good quality brand with durable materials such as genuine leather, and reinforced stitching.
---
How We Test and Score Bushcraft Gloves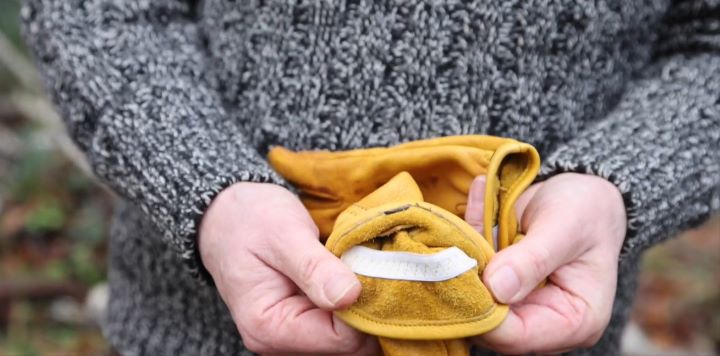 These reviews are based on intense research, analysis, and feedback from our experts and real users from different digital platforms.
We spent 21 hours trying, testing, and scoring these Bushcraft Gloves, for different key parameters and then shortlisted the best products in the market, saving you time and effort.
We used the following parameters for our tests and analysis.
Reinforced Stitching – We checked how it effectively prevented distortion of the pattern and reinforced the glove's corners, angles, and points.
Durability – We researched how long users are able to use these gloves without any reported changes in their quality or design.
Abrasion Resistant – We analyzed how effectively the glove material withstands the wear and tear of friction and instances of repetitive scraping or rubbing.
Dexterity – We took note of the ease at which a task can be performed easily using the hands with gloves.
Price – We checked the glove's affordability while having good quality.
---
Frequently Asked Questions (FAQ) Regarding Bushcraft Gloves
Are bushcraft gloves good?
Yes, and a good bushcraft glove will keep your hands warm or cold as needed, comfortable, and dry. It also improves grip and protects against abrasion, wounds, and scrapes.

---

What are bushcraft gloves used for?
Bushcraft gloves used to protect and soothe hands from cold and heat, as well as harm from friction, abrasion, chemicals, and disease. It also serves as a barrier between what a naked hand should and should not touch.

---

What to look for in a Bushcraft Glove?
Because you're constantly using your hands when bushcrafting, it's critical to keep them safe. A good pair of gloves will serve you well in a variety of features such as protection, strength and durability, easy to wear without impacting dexterity, grip, water-resistant, warmth, and insulation.

---

What are some thoughts about Bushcraft Gloves?
When it comes to the best bushcraft gloves, there is no single "best" option. Depending on the situation, you'll probably pick up a few different styles of gloves. For example, if you're doing bushcraft in the summer, you're not going to care if your gloves contain insulation to keep your hands warm. Many bushcrafters keep at least a couple of pairs of gloves in their bushcraft survival kits, as well as backups or purchase a few pairs of gloves and test them out at home to find which ones work best for you.

---
---
Reviews: The Best Bushcraft Gloves
Here we have some of the top favorite Glove models and brands for Bushcrafting;
We hope you love the bushcraft gloves we recommend!
So that you know, We may collect a share of sales or other compensation from the links on this page.

---
1
The IronClad general utility and the all-purpose glove are the perfect gloves for Bushcrafting and other tasks.
A High-Performance specific work glove that is extremely durable and will last for long years.
There is a thermoplastic knuckle protection layer for impact and abrasion protection.
The Adjustable hook and loop closure ensures that you get a more secure and comfortable fit.
There is also a terry cloth sweat wipe on the back of the thumb so that you can wipe your brow.
You can also choose different sizes as well.
Pros
Durable Construction.
Secure Fit.
Reusable.
| Rating Category | Weight % | Score |
| --- | --- | --- |
| Reinforced Stitching | 30% | 100 |
| Durability | 25% | 100 |
| Abrasion Resistant | 20% | 95 |
| Dexterity | 15% | 95 |
| Price | 10% | 90 |
| Total Score | 100% | 97.25 |
---
2
Kinco® Unisex Lined

Heavy Duty Bushcraft Gloves
The Kinco heavy-duty bushcraft glove is lined for comfort with a knit wrist and extremely durable materials.
A premium Suede Pigskin leather and knit wrist design that gives dexterity.
A heavy-duty work glove that comes in anti-gripping that helps you do several tasks without discomfort.
Size options are available for your choice in the Kinco Glove.
The Kinco gloves are likewise lined for the best moisture-wicking and ventilation.
Pros
Waterproof.
Comfortability.
Moisture Wicking.
Genuine Leather Construction.
Cons
Limited Size Options.
Could be Warmer.
| Rating Category | Weight % | Score |
| --- | --- | --- |
| Reinforced Stitching | 30% | 100 |
| Durability | 25% | 100 |
| Abrasion Resistant | 20% | 90 |
| Dexterity | 15% | 95 |
| Price | 10% | 90 |
| Total Score | 100% | 96.25 |
---
3
Mechanix Wear® Unisex MultiCam Original

Bushcraft Tactical Gloves
The MultiCam Original from Mechanix Gear is a durable and form-fitting glove that is ideal for Bushcrafting.
Here we have a form-fitting TrekDry camouflage glove for outdoor and work use in a more hazardous environment.
The thermal plastic rubber hook and loop closure offer a secure and comfortable fit.
There is a seamlessly layered palm for dexterity, protection, and comfort.
The gloves offer odor protection which will maintain the dryness and freshness of your hands.
Pros
Maximum Dexterity.
Good Price.
Sizes from Small to XX-Large.
Cons
Require Care for Cleaning.
| Rating Category | Weight % | Score |
| --- | --- | --- |
| Reinforced Stitching | 30% | 100 |
| Durability | 25% | 95 |
| Abrasion Resistant | 20% | 90 |
| Dexterity | 15% | 95 |
| Price | 10% | 90 |
| Total Score | 100% | 95 |
---
4
Outdoor Research® Unisex Splitter

Bushcraft Work Gloves
The Outdoor Research Splitter Glove is an Excellent outdoor work glove and Bushcrafting Glove.
The Outdoor research Splitter glove is a full leather glove with a breathable lining.
There are Slit Sude Leather Overlays on the palm for durability and dexterity.
The Gloves are lightweight and have a smooth interior lining to wick away moisture.
You can also machine wash and air dry these gloves.
---
5
Helikon-Tex® Unisex Bushcraft Line

Original Bushcraft Gloves
The Helikon-Tex Bushcraft line gloves are designed specifically for working with wood and lumber.
The Helkon Tex Glove is tough and durable, consisting of Cowhide genuine leather.
Ther is an included Carabiner, and a picture chart will help your select the right size.
The glove is abrasion and water-resistant, offering durable protection.
The palm ensures excellent grip for handling saws, axes, and other Bushcrafting tools and equipment.
These Gloves are, however, not suitable for climbing or life-saving equipment.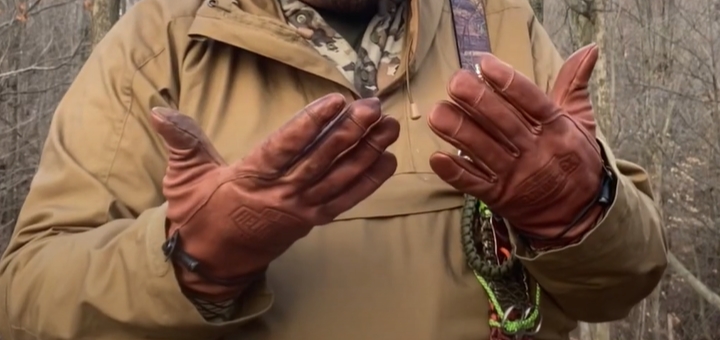 ---
6
Youngstown® Unisex Ground Glove

Bushcraft Gloves
The Youngstown work glove is the perfect glove for Bushcrafting, with a form-fitting design and breathable materials.
The Youngstown Glove is an n all-purpose leather work glove, which is also perfect for Bushcrafting.
The modern 3D glove pattern form fits your hands for excellent dexterity and comfort.
High-quality Goatskin leather is used, offering a tacky grip and excellent flexibility in durability.
There are double layers of leather on the palm and fingers, saddle, and knuckles for added protection and durability.
---
7
American Made® Men's Buffalo Leather

Bushcraft Gloves
The Gloves are available in a few options and sizes.
They consist of durable and genuine Buffalo leather and are made in the USA.
The gloves have an inset thumb and hemmed cuff.
They are unlined for your comfort.
---
8
CLC® Men's Custom

Bushcraft Gloves
The Gloves are available in a few size options.
They ate shrink resistant and will not harden.
Soft and comfortable for working with yet very durable.
They have a flexible design and high dexterity.
Ideal for industrial and outdoor work.
---
9
Freetoo® Unisex Knuckle

Tactical Bushcrafting Gloves
These are tactical gloves that make excellent and durable bush crafting gloves.
They are dexterous and adjustable in fit.
There are a few neutral color options available.
The gloves are durable and ensure excellent grip.
---
10
Ironclad® Unisex Ranchwork

Bushcrafting Gloves
The Gloves are available in many size options.
They are highly durable and have seamless fingertips.
The gloves have Kevlar reinforcements in critical wear areas.
They are premium leather and are also machine washable.
---
Index Table: Top Rated Bushcraft Gloves
---
---