Some of the links in this post are affiliate links. This means if you click on the link and purchase the item, I will receive an affiliate commission at no extra cost to you. All opinions remain my own.
The Impact and Vibrations of Power Tools can be uncomfortable, not to mention bad for your health, causing pain and inflammation in your hands and arms.
A good Vibration resistant and Impact resistant Glove can greatly reduce the Vibrations in your hands and arms and prevent pain and injuries.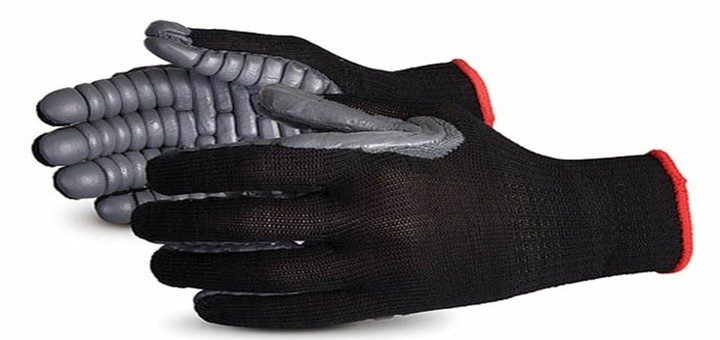 ---
Reviews: The Best Anti-Vibration Gloves
These are some of the best available Anti-Vibration work gloves that you will find;
We hope you love the anti-vibration gloves we recommend!
So that you know, We may collect a share of sales or other compensation from the links on this page.

---
1
One of the best Anti-Vibration gloves you can invest in is the Youngstown Titan Kevlar Glove.
Nylon, Polyurethane, PVC, Polyester, Rubber, Cotton, and Kevlar materials are all used to make up this superb Anti-vibration Glove.
The glove has a heavy-duty design, is cut and puncture-resistant, and provides excellent Impact and Vibration protection.
Every inch of the glove has Kevlar material to offer extreme protection and resistance.
The thick TPR material is strategically placed on the top of the hands and fingers for injury protection.
A 5.0mm EVA foam is sewn into the palm to help dampen vibration and impacts.
Pros
Heavy Duty.
Multiple Sizes Available.
Puncture Resistant.
Durability.
| Rating Category | Weight % | Score |
| --- | --- | --- |
| Thickness | 25% | 100 |
| Padding | 25% | 95 |
| Vibration Resistant | 20% | 100 |
| Sweat-Free | 20% | 95 |
| Easy Grip | 10% | 90 |
| Total Score | 100% | 96.75 |
---
2
Cestus® Unisex TrembleX-5

Neoprene Anti-Vibration Gloves
From Cestus, we have their ultimate Vibration series, the Tremble X-5.
An excellent anti-vibration work glove is available for men and women in different sizes.
The glove has neoprene polychloroprene materials for sun and weather damage and improved flexibility.
There are patented hexagonal memory gel pads to absorb impact and vibrations.
A terry cloth interior lining absorbs sweat and provides breathable comfort.
Furthermore, the glove's knuckles are padded and flexible for dual protection.
Pros
Adjustable Wrist Strap.
Stretchability.
Washable.
Cons
Color Black Only.
Good for Palms Only not Fingers.
| Rating Category | Weight % | Score |
| --- | --- | --- |
| Thickness | 25% | 100 |
| Padding | 25% | 95 |
| Vibration Resistant | 20% | 100 |
| Sweat-Free | 20% | 90 |
| Easy Grip | 10% | 90 |
| Total Score | 100% | 95.75 |
---
3
Superior Glove® Unisex Vibrastop

Anti-Vibration Gloves
The Superior Glove Vibra stop design Anti-Vibration Gloves are half-finger work gloves ideal for working with vibrating tools.
A durable and comfortable half-finger glove is available in different size selections.
The glove is padded with layers of vibration and impact dampening Polymer.
It is made of synthetic leather that will not shrink or stretch, ensuring durability ad longevity.
The open finger design allows the much easier function of the fingers and cooling.
Pros
Leather Material.
Maximum Protection.
Thick Padding.
Cons
Lack of Colors and Sizes.
| Rating Category | Weight % | Score |
| --- | --- | --- |
| Thickness | 25% | 100 |
| Padding | 25% | 95 |
| Vibration Resistant | 20% | 95 |
| Sweat-Free | 20% | 90 |
| Easy Grip | 10% | 90 |
| Total Score | 100% | 94.75 |
---
4
NMSafety® Unisex Work Glove

Anti-Vibration Oil-Proof Gloves
The NM Safety Anti-Vibration gloves offer many comforts and safety features besides impact and vibration protection.
A full-finger glove is available in a few size options with a comfortable and seamless knitted liner for a superb fit.
The Rubber palm grip design ensures that you have excellent grip and protection.
Anti-Shock and impact-resistant technology protect you against impacts and vibrations.
The glove is likewise Oil and water-resistant with a non-slip design.
---
5
Intra-FIT® Unisex Professional

Certified Anti-Vibration Gloves
I have chosen the Intra-FIT Professional Anti-Vibration work glove as the Best fitting Glove.
The Intra-FIT is a Certified Anti-Vibration work glove.
An Anti-Vibration pad reinforcement on the full palm extends to the fingertips and protects against shock and vibration when handling power tools.
The Palm is made from top-quality PU materials that offer high grip functions.
The breathable spandex material in the rest f the Glove offers much-needed airflow and flexibility.
---
6
Superior Gloves® Unisex VibraStop

Anti-Vibration Full Finger Gloves
Another Addition to Superior Gloves is their Full Finger design Glove for Vibration and impact protection.
The Full finger glove has Anti-Vibration full fingers and Nylon construction.
The Gloves are padded with Vibration dampening polymers for impact and vibration protection.
Inside the glove is a seamless liner that wicks away moisture and provides optimal comfort.
The glove's ergonomic design provides ample flexibility and comfort to the wearer.
Furthermore, the glove meets EN ISO/ANSI for Vibration reduction capabilities.
---
7
Handylandy® Men's SBR

Anti Vibration Gloves
The gloves are available in three color options.
They are durable and protect you against impact and vibrations.
The gloves have a reinforced saddle for added protection.
They are high-performance and padded.
---
8
VGO® Men's 3 Pairs

Anti Vibration Gloves
Mechanic gloves are available in more sizes and colors.
They offer good vibrational and impact protection.
The gloves are durable and heavy-duty in design.
They are machine washable and easy to maintain.
---
9
Handylandy® Unisex

Safety Work Gloves
These are industrial safety gloves that also offer anti-vibration features.
They are available in sizes for men and women.
The gloves are touchscreen compatible.
They are padded for impact protection.
They offer good abrasion resistance and durability.
---
10
Ergodyne® Men's ProFlex

Anti-Vibration Gloves
The Gloves are certified safety industrial work gloves.
They offer great vibration resistance and padding.
The gloves are durable and heavy-duty in design.
They have rubber palms for better grip.
---
Benefits of Anti-Vibration Gloves
The Anti-Vibration Glove is a hot topic in the workplace safety industry. The industry around it has been up and running since 1911, when Dr. Loriga discovered the first symptoms of HAVS (Hand Arm Vibration Syndrome) in Italian miners.
Millions of industrial workers are exposed to HAVS because they work with power tools such as Pneumatic, Hydraulic, electrical, and Gasoline.
Carpal Tunnel Syndrome – Having Anti-Vibration Gloves reduces the repetitive Vibration and impact on the arms and hands that have been known to result in Carpal Tunnel Syndrome and other debilitating injuries. That is why to avoid this, according to WebMD, step away from your work to bend or stretch your hands. A 10- to 15-minute break every hour is ideal. This is especially important if you use tools that vibrate or make you apply a lot of force. In addition, you can also use carpal tunnel braces and gloves for treatment and pain relief.
Impact Dampening Materials – The Anti-Vibration Glove is padded with a layer of Vibration and impact dampening materials, which can be made of polymers or other materials. These materials protect you from the constant Vibration of Power tools and equipment by absorbing the impact and vibrations.
---
Types of Anti-Vibration Gloves
What makes Anti-Vibration Gloves so distinctive is their uniqueness from regular work gloves. Besides this, you get different types of Anti-Vibration gloves;
Kevlar – Kevlar is used in some Anti-Vibration Gloves because it is extremely durable and lightweight. Kevlar is ideal for industrial work implications and is used to strengthen and make most Anti-Vibration gloves more lightweight.
Synthetic Materials – Rubber, Plastic, and other synthetic materials are used in Anti-Vibration gloves to improve their durability, provide better grip, and protect your hands against other elements such as oils, chemicals, and solvents.
Leather – Leather is the most popular material used in industrial and Anti-Vibration Gloves. Leather is durable and provides good insulation and protection against sharp objects and abrasives.
Coated Fabric – A general-purpose glove material that offers more comfort and protection against cutting and abrasion hazards, padded with Anti-Vibration materials.
---
Features of a Good Anti-Vibration Glove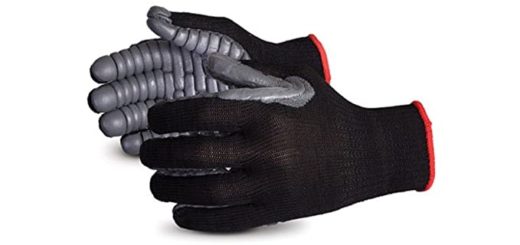 Materails – Durable leather and synthetic materials are used in most Anti-Vibration work gloves, some have neoprene and lycra for flexibility. Interior Terry Cloth or moisture-wicking lining with seamless construction is used for comfort and cooling.
Padding – For the Padding, gel pods, rubber, Polymers, and foam can be used. The padding needs to be firm and durable to offer maximum impact protection. Make sure that the padding stretches up to the fingertips for optimum protection.
Grip – Grip in the palm area is good; rubber and leather can be used to improve the grip, as well as oil and water-resistant materials to prevent the glove from slipping.
---
How We Test and Score Anti-Vibration Gloves
These reviews are based on intense research, analysis, and feedback from our experts and real users from different digital platforms.
We spent 27 hours trying, testing, and scoring these Anti-Vibration Gloves for different key parameters and then shortlisted the best products in the market, saving you time and effort.
We used the following parameters for our tests and analysis.
Thickness – We noted the thickness of all gloves' materials.
Padding – We measured the padding thickness on the gloves.
Vibration Resistant – We checked how effectively the glove would protect the user by dampening and absorbing the vibrations of power tools that would otherwise affect a user's hands and arms.
Sweat-Free – We observed how dry or sweaty the gloves left our hands after continuously wearing them for 12 hours.
Easy Grip – We noted the strength of the glove's grip, even in wet or oily conditions.
---
Frequently Asked Questions (FAQ) Regarding Anti-Vibration Gloves
Do vibration reducing gloves work?
Anti-vibration gloves are the most effective in reducing high-frequency vibration caused by tools such as grinders, sanders, and saws. They are ineffective with tools that vibrate at lower frequencies, such as tampers, chisels, and pavement breakers. The palm of these gloves is better protected than the fingers.

---

What is the best anti-vibration material?
Rubber is typically recognized as the best vibration-isolating material. However, the sort of rubber that should be utilized will vary based on the job's qualities.

---

What are anti-vibration gloves used for?
These gloves are used to reduce the amount of damaging frequency vibration sent by impact powered equipment and to protect you from the negative health effects connected with vibration exposure.

---

How can the anti-vibration gloves control exposure to vibration?
When worn with a low-frequency tool, such as a vibrating fork or rammer, the AV glove eliminates only a small portion of the frequency-weighted vibration delivered to the palm and fingers of the hand. This is due to the fact that the primary vibration frequency of such a tool is at or below 25 Hz.

---
---
Index Table: Top Rated Anti-Vibration Gloves
---
---