The Impact and Vibrations of Power Tools can be uncomfortable, not to mention bad for your health, causing pain and inflammation in your hands and arms.
A good Vibration resistant and Impact resistant Glove can greatly reduce the Vibrations in your hands and arms and prevent pain and injuries.
---
The Anti-Vibration Glove and How It Helps
The Anti-Vibration Glove is a hot topic in the workplace safety industry. The industry around it has been up and running since 1911 when Dr. Loriga discovered the first symptoms of HAVS (Hand Arm Vibration Syndrome) in Italian miners.
Millions of industrial workers are exposed to HAVS because of their work with power tools such as Pneumatic, Hydraulic, electrical, and Gasoline equipment and tools.
The repetitive Vibration and impact on the arms and hands have also been known to result in Carpal Tunnel Syndrome and other debilitating injuries.
The Anti-Vibration Glove is padded with a layer of Vibration and impact dampening materials, which can be made of polymers or other materials.
These materials protect you from the constant Vibration of Power tools and equipment by absorbing the impact and vibrations.
---
Types of Anti-Vibration Gloves
What makes Anti-Vibration Gloves so distinctive is how unique they are from regular work gloves. Besides this, you get different types of Anti-Vibration gloves;
Kevlar – Kevlar is used in some Anti-Vibration Gloves because it is extremely durable and lightweight. Kevlar is ideal for industrial work implications and is used to strengthen and make most Anti-Vibration gloves more lightweight.
Synthetic Materails – Rubber, Plastic, and other synthetic materials are used in Anti-Vibration gloves to improve their durability, provide better grip, and protect your hands against other have elements such as oils, chemicals, and solvents.
Leather – Leather is the most popular material used in most industrial and Anti-Vibration Gloves. Leather is durable and provides good insulation and protection against sharp objects and abrasives.
Coated Fabric – A general-purpose glove material that offers more comfort and some protection against cutting and abrasion hazards, padded with Anti-Vibration materials.
---
Features of a Good Anti-Vibration Glove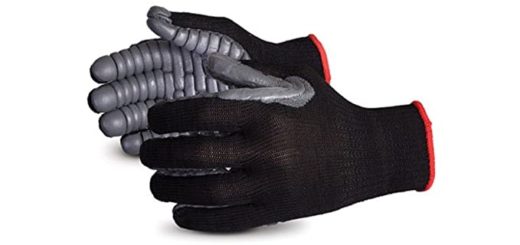 Materails – Durable leather and synthetic materials are used in most Anti-Vibration work gloves, some have neoprene and lycra for flexibility. Interior Terry Cloth or moisture-wicking lining with seamless construction is used for comfort and cooling.
Padding – For the Padding, gel pods, rubber, Polymers, and foam can be used. The padding needs to be firm and durable to offer maximum impact protection. Make sure that the padding stretches up to the fingertips for optimum protection.
Grip – Grip in the palm area is good to have; rubber and leather can be used to improve the grip, as well as oil and water-resistant materials to prevent the glove from slipping.
---
Reviews: The Best Anti-Vibration Gloves
These are some of the best available Anti-Vibration work gloves that you will find;
We hope you love the products we recommend!
So that you know, We may collect a share of sales or other compensation from the links on this page.

---
1
One of the best Anti-Vibration gloves you can invest in is the Youngstown Titan Kevlar Glove.
Nylon, Polyurethane, PVC, Polyester, Rubber, Cotton, and Kevlar materials are all used to make up this superb Anti-vibration Glove.
The glove has a heavy-duty design, is cut and puncture-resistant, and provides excellent Impact and Vibration protection.
Every inch of the glove has Kevlar material to offer extreme protection and resistance.
The thick TPR material is strategically placed on the top of the hands and fingers for injury protection.
A 5.0mm EVA foam is sewn into the palm to help dampen vibration and impacts.
| Rating Category | Weight % | Score |
| --- | --- | --- |
| Density | 25% | 100 |
| Padding | 25% | 95 |
| Vibration Resistant | 20% | 100 |
| Sweat-Free | 20% | 95 |
| Easy Grip | 10% | 90 |
| Total Score | 100% | 96.75 |
---
2
From Cestus, we have their ultimate Vibration series, the Tremble X-5.

An excellent anti-vibration work glove is available in different size options for men and women.
There are neoprene polychloroprene materials in the glove for sun and weather damage and improved flexibility.
There are patented hexagonal memory gel pads to absorb impact and vibrations.
A terry cloth interior lining absorbs sweat and provides breathable comfort.
Furthermore, the glove's knuckles are padded and flexible for dual protection.
| Rating Category | Weight % | Score |
| --- | --- | --- |
| Density | 25% | 100 |
| Padding | 25% | 95 |
| Vibration Resistant | 20% | 100 |
| Sweat-Free | 20% | 90 |
| Easy Grip | 10% | 90 |
| Total Score | 100% | 95.75 |
---
3
The Superior Glove Vibra stop design Anti-Vibration Gloves are half-finger work gloves ideal for working with vibrating tools.

A durable and comfortable half-finger glove is available in different size selections.
The glove is padded with layers of vibration and impact dampening Polymer.
It is made of synthetic leather that will not shrink or stretch, ensuring durability ad longevity.
The open finger design allows the much easier function of the fingers and cooling.
| Rating Category | Weight % | Score |
| --- | --- | --- |
| Density | 25% | 100 |
| Padding | 25% | 95 |
| Vibration Resistant | 20% | 95 |
| Sweat-Free | 20% | 90 |
| Easy Grip | 10% | 90 |
| Total Score | 100% | 94.75 |
---
4
The NM Safety Anti-Vibration gloves offer many comforts and safety features besides impact and vibration protection.
A full-finger glove is available in a few size options with a comfortable and seamless knitted liner for a superb fit.
The Rubber palm grip design ensures that you have excellent grip and protection.
Anti-Shock and impact-resistant technology protect you against impacts and vibrations.
The glove is likewise Oil and water-resistant with a non-slip design.
---
5
I have chosen the Intra-FIT Professional Anti-Vibration work glove for the Best fitting Glove.
The Intra-FIT is a Certified Anti-Vibration work glove.
An Anti-Vibration pad reinforcement on the full palm extends to the fingertips protects against shock and vibration when handling power tools.
The Palm is made from top-quality PU materials that offer high grip functions.
The breathable spandex material in the rest f the Glove offers much-needed airflow and flexibility.
---
6
Another Addition to Superior Gloves is their Full Finger design Glove for Vibration and impact protection.
The Full finger glove has Anti-Vibration full fingers and Nylon construction.
The Gloves are padded with Vibration dampening polymers for impact and vibration protection.
Inside the glove is a seamless liner that wicks away moisture and provides optimal comfort.
The glove's ergonomic design provides ample flexibility and comfort to the wearer.
Furthermore, the glove meets EN ISO/ANSI for Vibration reduction capabilities.
---
7
The gloves are available in three color options.
They are durable and protect you against impact and vibrations.
The gloves have a reinforced saddle for added protection.
They are high-performance and padded.
---
8
Mechanic gloves are available in more sizes and colors.
They offer good vibrational and impact protection.
The gloves are durable and heavy-duty in design.
They are machine washable and easy to maintain.
---
9
These are industrial safety gloves that also offer anti-vibration features.
They are available in sizes for men and women.
The gloves are touchscreen compatible.
They are padded for impact protection.
They offer good abrasion resistance and durability.
---
10
The Gloves are certified safety industrial work gloves.
They offer great vibration resistance and padding.
The gloves are durable and heavy-duty in design.
They have rubber palms for better grip.
---
Index Table: Top Rated Anti-Vibration Gloves
---
---