One of the many questions, especially with beginners and youth starting with baseball, is what gloves are the best baseball gloves.
It does not matter what level of baseball you are playing. In the end, it all comes down to personal preference.
As with many other baseball equipment pieces, so also has baseball gloves advanced in techno loft and performance, tailored to the individual player's strengths and weaknesses, as well as to fit your budget.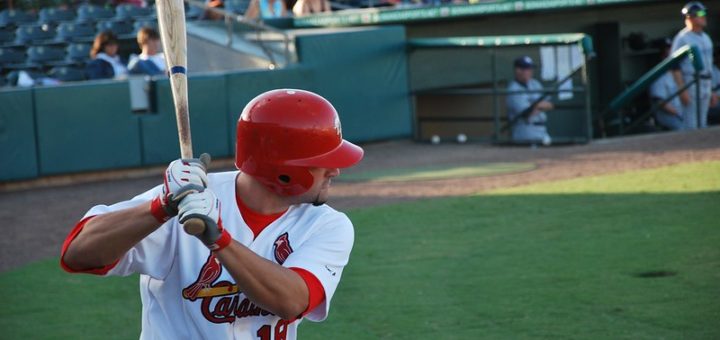 ---
Reviews: The Best Baseball Gloves
In our list we have some of the best available Baseball Gloves for every position;
We hope you love the products we recommend!
So that you know, We may collect a share of sales or other compensation from the links on this page.

---
1
Franklin Sports® Unisex Pro Flex

Hybrid Baseball Gloves
The Franklin Sports Baseball Gloves are available in left-hand and right-hand throw options.
They are very durable with cowhide leather palms and a PU laminated PVC shell.
The wrist strap is adjustable so that you get a more customizable fit.
They require no break-in and are ideal for baseball and softball.
| Rating Category | Weight % | Score |
| --- | --- | --- |
| Palm Protection | 25% | 100 |
| Leather | 25% | 100 |
| Injury Resistant | 20% | 95 |
| Breathability | 20% | 95 |
| Adjustable | 10% | 90 |
| Total Score | 100% | 97 |
---
2
Wilson® Unisex A2K

Baseball Glove Series
The Wilson Baseball Gloves are right-hand throw Infield baseball gloves.
They consist of black SuperSkin which is twice as strong as regular leather and much more lightweight.
There is a double palm construction and optimal pocket stability.
The rolled dual welting is more long-lasting, and no break-in is required.
| Rating Category | Weight % | Score |
| --- | --- | --- |
| Palm Protection | 25% | 100 |
| Leather | 25% | 100 |
| Injury Resistant | 20% | 90 |
| Breathability | 20% | 95 |
| Adjustable | 10% | 90 |
| Total Score | 100% | 96 |
---
3
franklin Sports® Unisex Field Master

Outfielder Gloves for Baseball
From Franklin Sports, we have the Outfield Baseball gloves that come with different webbing size options.
The gloves are easy to break into with soft synthetic leather.
The wrist closure is adjustable for a custom fit.
The gloves are durable and crafted from thick premium synthetic leather.
| Rating Category | Weight % | Score |
| --- | --- | --- |
| Palm Protection | 25% | 100 |
| Leather | 25% | 95 |
| Injury Resistant | 20% | 90 |
| Breathability | 20% | 95 |
| Adjustable | 10% | 90 |
| Total Score | 100% | 94.75 |
---
4
Mizubo® Unisex Franchise Series

Catcher's Baseball Gloves
The Mizuno baseball mitts are designed specifically for Catchers.
They are Pre-Oiled and consist of tumbled leather with Hilo lacing and alternating lace patterns.
The lacing patterns of the web create better integrity,
They are sold as the Mizuno franchise catcher's mitts.
---
5
Rawlings® Unisex R9 Series

Pitcher's Gloves for Baseball
The Rawling R9 Series is an Infield glove that is available in more colors and size options.
The gloves are designed for both infield and outfield players.
They are versatile, soft, and durable with an all-leather shell.
There is a padded thumb loop and reinforced palm pads as well as finger back liners.
---
6
Rawlings® Unisex Sure Cath

Youth Catcher's Baseball Gloves
The Rawlings sure Catch Catcher's mitts are designed specifically for younger players.
They are available in different youth sizes.
The gloves are a durable all-leather gloves with padded fingers,
They are ideal for right-hand throwers.
---
The Baseball Glove
Baseball gloves are an iconic piece of sports equipment used by many athletes, young and old, advanced and beginners.
As you will see, there are quite a few options available when you are trying to choose the best baseball gloves with different materials, styles, webbing, and other features.
So let us look at the baseball glove in depth a bit more and how it is constructed so that you will know what to look for in the end.
webbing – The webbing connects the fingers and thumb for better control of the ball on impact. The webbing mostly features a tightly woven piece of leather that allows fielders to close their hands on the ball.
Palm – The palm is a high grip material with padding for protection against hard impacts.
Heel – The heel refers to the lower portion of the glove on the side of the palm. This provides protection and will also determine the break of your baseball glove.
Lacing – The lacing of the glove is what provides some shape to the glove. The lacing will stretch with the glove for a more accommodating fit.
Hinge – The Hinges of the glove allow for the glove to easily open and close.
Wrist Adjustment – Here, we have a more optional feature that allows you to adjust the fit around your wrist—usually D-Ring fasteners and a buckle system.
---
Baseball Gloves According to Position
Firstly a significant factor that will affect the choice of your gloves is the exact position that you play in baseball, as there are different baseball gloves for different positions.
Infield player gloves are the smallest, with a shallower pocket for quick transfer of the ball.
Outfield gloves are larger for extra reach as players track down fly balls. At the same time, Pitches Gloves are closer sized to an Infielder's glove, with a more enclosed web pattern.
Then there are also utility gloves designed for players who have multiple positions and need a glove suitable for infield and outfield positions.
As you will see, the sizes of the gloves differ with every position.
---
Features of a Good Baseball Glove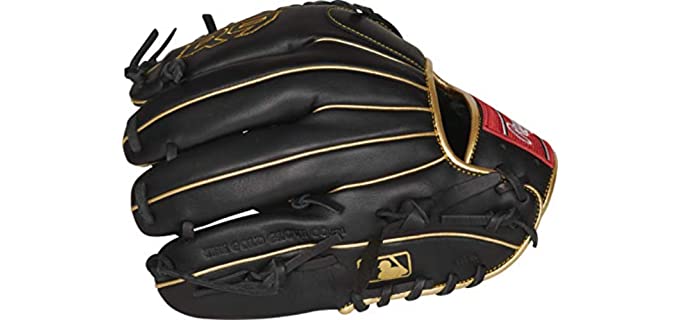 Glove for Your Position – For Catchers, a fingerless mitt with heavy padding is advised it reduce shock on impacts from the ball. The Pitchers Glove will have closed webbing and less padding. For the First basemen, a long wide mutt is ideal for scooping grounders from the dirt. Infielders will need a five-fingered glove with a shallow pocket for faster transfer and release. Outfielders need a deeper pocket five-finger glove to catch fly balls easily.
Fit – Choose a glove that offers a snug but comfortable fit that will not be too big or small for your hands so much that it hinders performance. You do not want your gloves to fall off during play as it can have some serious consequences and put you more likely at risk of injury. Similarly, a too-small glove will limit your use of your hands and fingers and cause great discomfort, which, in turn, will affect your performance.
Flexibility – Look for a glove that is stiff enough for strength and durability yet still flexible enough for better control and quick response. Depending on the position you play, you will need more flexibility from your glove to perform. Mostly a Catcher's mitt and a pitching glove will be more padded than the Fielders; however, this does not generally impede so much of the dexterity.
Style – The color and style of the glove is your personal choice and should suit your own fashion preference. As you will see, most of the baseball glove brands and models that I have listed do offer you some choice in colors and prints from which you can choose for your own personal style and fashion appeal.
---
Index Table: Top Rated Baseball Gloves
---
---