Some of the links in this post are affiliate links. This means if you click on the link and purchase the item, I will receive an affiliate commission at no extra cost to you. All opinions remain my own.
The best cycling gloves are not just there to complete your kit. They also play a vital role in protecting your hands and improving your grip by preventing them from becoming sweaty.
There are various cycling gloves and only two designs, the full finger and the half finger. The full-finger designs are ideal for off-road cycling and colder weather, whereas the half-finger designs are perfect for warmer weather and road cycling.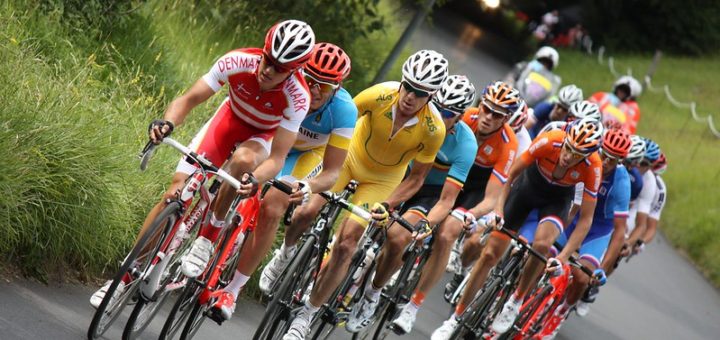 ---
Reviews: The Best Cycling Gloves
Here are the best brands and models of Cycling Gloves for summer and winter;
We hope you love the products we recommend!
So that you know, We may collect a share of sales or other compensation from the links on this page.

---
1
These are multi-activity gloves designed for all-weather and ide4al for winter.
They have hook and loop closure and fusion control technology.
The gloves are a stepped stretch Lycra outer shell with abrasion resistance and stretch.
They are breathable and 100% waterproof.
The inner liner is a temperature-regulating Merino Wool.
They are suitable for warm and cold temperatures.
| Rating Category | Weight % | Score |
| --- | --- | --- |
| Palm Padding | 30% | 100 |
| Knuckles Protection | 25% | 100 |
| Cushioning | 20% | 95 |
| Abrasion Resistant | 15% | 90 |
| Sweat-Free | 10% | 95 |
| Total Score | 100% | 97 |
---
2
Giro Monica® Men's Gel

Summer Cycling Gloves
These are fingerless cycling gloves for summer and men only.
They are Pittards leather that is thin but durable.
The leather is well ventilated, and there is a grippy palm.
The palm consists of three pieces and will not bunch.
The super-fit reduces bunching and is very stretchable.
There is techno gel padding in the palms for impact protection.
The gloves also have reflective details for riding at night.
| Rating Category | Weight % | Score |
| --- | --- | --- |
| Palm Padding | 30% | 100 |
| Knuckles Protection | 25% | 100 |
| Cushioning | 20% | 95 |
| Abrasion Resistant | 15% | 90 |
| Sweat-Free | 10% | 90 |
| Total Score | 100% | 96.5 |
---
3
Fox Racing® Women's Defend

Cycling Bike Gloves
These are trail and road cycling gloves for women.
They are ideal for colder weather conditions and rainy weather.
The cycling gloves are lightweight and durable with a TruFeel design and silicone grips.
There is an absorbent micro-suede thumb for wiping your face or nose.
The palm is a conductive Clarino design and is touch screen compatible.
| Rating Category | Weight % | Score |
| --- | --- | --- |
| Palm Padding | 30% | 100 |
| Knuckles Protection | 25% | 95 |
| Cushioning | 20% | 95 |
| Abrasion Resistant | 15% | 90 |
| Sweat-Free | 10% | 90 |
| Total Score | 100% | 95.25 |
---
4
Giro Monica® Women's Gel

Summer Cycling Gloves
The Giro Monica for ladies is also the ideal summer cycling glove.
They are ideal for cycling on roads with an open finger design.
They have a super fit to reduce bunching and provide a more comfortable grip.
The palms have techno gel padding and improved grip.
They consist of Pittards vented leather that repels moisture and breathes well.
---
5
Castelli® Unisex Arenberg Gel

Summer Cycling Gloves
These are Nylon cycling gloves that have a hook and loop closure system.
They offer maximum padding and protection with Gel padding.
The palms have a silicone grip design for better control.
There is an adjustable zip Velcro closure with a hook and loop design.
More colors and sizes are available to you.
---
6
Castelli® Men's Dluvio

Winter Cycling Gloves
Here we have winter cycling gloves with closed fingers, that offer better protection.
They are insulated for warmth and fully waterproof.
The gloves are 100% polyester and neoprene.
They have a stretchable cuff and pull-on design which is easy to put on and take off.
They are recommended for road cycling mainly.
---
Why You Need Good Cycling Gloves
For most cyclists, their cycling gloves are just as important as the rest of their gear.
There are a few reasons why they are essential to your cycling gear;
Enhanced Grip – Cycling gloves help improve your grip and prevent your hand from becoming sweaty and slipping. This is one of the greatest advantages of cycling gloves, particularly in very warm weather where you tend to sweat. Most cycling gloves also come with a rational pictorial on the thumb so that you can wipe your forehead, nose, or face.
Warmth – Some of the full-finger cycling glove styles actually help keep your hands warm in cold weather when cycling. They are generally water and windproof with a warm interior lining yet still dexterous enough for easy grip and movement.
Padding – Some cycling gloves also come with light padding in the palms, ideal for off-road cycling where you need a little extra bump and vibration protection for your hands.
Crash Protection – Particularly, the Full finger gloves provide additional protection for your hands should you crash and fall. The cycling gloves also protect against scrapes and abrasions, and other injuries.
---
Types of Cycling Gloves
There are just two general gloves: the finger or half-finger cycling gloves.
Half-finger cycling gloves are ideal for warmer weather and less hazardous road cycling. Whereas full finger cycling gloves are more suited to colder weather conditions and more dangerous off-road cycling, as the closed fingers are more protective.,
Furthermore, every glove type has unique features such as a nose wipe, padding, additional grip in the palms, pre-curved fingers, and other features.
---
Features of a Good Cycling Glove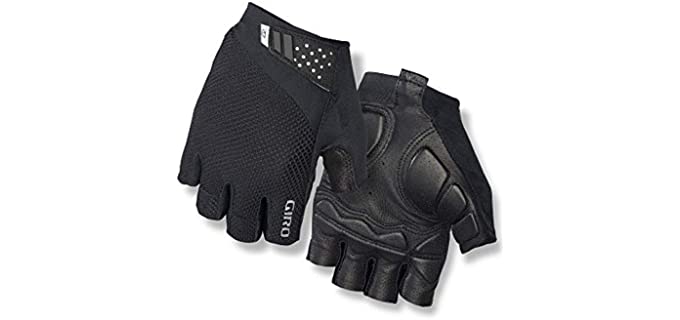 Fit – Cycling gloves should offer a snug fit generally, yet not too tight to squeeze or cut off circulation. If they are too big, they may bunch up and cause chafing. Also, make sure that the fit does not inhibit dexterity and movement.
Palm – Cycling Gloves offer different levels of padding. Racing mitts have the least padding, while some more plush gel-cushioned cycling gloves can provide more comfort. Some palms may have padding in the heel of the hand, while another places padding in the middle of the palm depending on the brand. It all comes down to personal preference of what works for you. The palms also need to provide good grip and comfort. Most palms will either be padded genuine or synthetic leather.
Half Finger or Full Finger Fit – Half-finger gloves are ideal for warmer weather, and for road riding, they are lightweight and breathable and protect your palms against abrasion. They are also better for operating touch screen devices and allow better dexterity. Full-finger cycling gloves are ideal for wintertime when you need warmth. They are generally ideal for off-road cycling and more dangerous terrains because they offer better protection for your fingers.
Nose Wipe – Look for cycling gloves with a thumb made of fleece or terry cloth that you can wipe your nose or face with. This is quite a handy feature to have on your cycling gloves, and you will most definitely need it one or another time.
---
Trending Cycling Gloves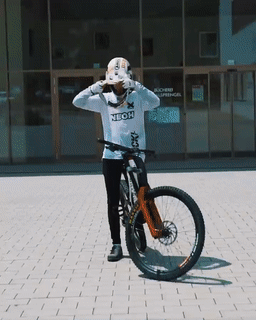 Just watch how beautiful and comfortable these cycling gloves.
These awesome cycling gloves are trending on Instagram with many excellent reviews.
They have excellent grip and are very comfortable.
Here is a Link to buy from Amazon.
---
Index Table: Top Rated Cycling Gloves
---
---