Some of the links in this post are affiliate links. This means if you click on the link and purchase the item, I will receive an affiliate commission at no extra cost to you. All opinions remain my own.
You may need to consider Archery Gloves to protect your hands and improve your performance.
There are so many different types and variations of archery gloves, with different functions that can make choosing the right ones quite tricky.,
Therefore, we are here to help you find the best archery gloves to suit your specific needs and requirements;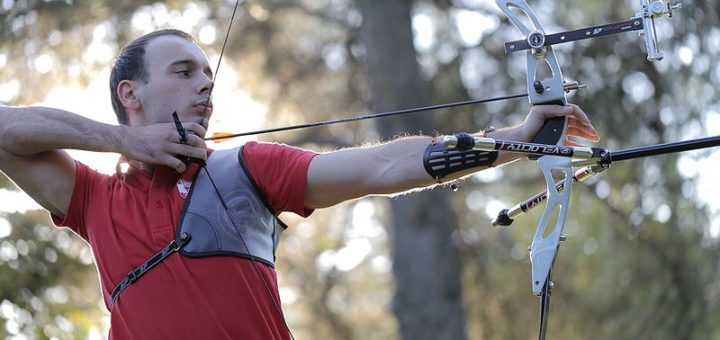 ---
---
Reviews: The Best Archery Gloves
These are some of the top choices when it comes to great archery gloves;
We hope you love the products we recommend!
We may collect a share of sales or other compensation from the links on this page.
---
1
The ArcheryMAx gloves are handmade three-finger gloves.
They have leather and mesh uppers, perfect for durability and breathability.
Because of their sensitivity, the fingers allow a proper feel for the string.
There are four sizes available that will fit men and women.
The gloves have a fully adjustable wrist strap for a secure fit.
---
2
Damascus® Unisex Doeskin

Gloves for Archery
The Damascus Doeskin archery glove is very durable and of excellent quality.
It consists of 1005 genuine doeskin leather.
The wrist has an easy-to-use hook and loop closure.
You can select from sizes that are ideal for men and women.
---
3
Deerseeker® Unisex Outdoor

Gloves for Archery
The Deerseekres is an ambidextrous archery glove.
It consists of durable leather and has three reinforced fingers.
The gloves are designed for target shooting and hunting.
They are handcrafted and of extremely good quality.
The gloves will allow you the string's more sensitive feel and long-lasting and quality durability.
---
4
Caldwell® Unisex Ultimate

Shooting Archery Gloves
From Caldwell, we have touch-control gloves for archery.
The Touch control design allows for a much better feel of the string, giving you easier control and optimal accuracy with your shooting.
They have elastic backing and fingers, with a rubberized palm for grip.
The materials are durable and lightweight, with leather reinforcement patches and fabric.
They are comfortable to wear and very convenient in design.
---
5
EAmber® Unisex Durable

Shooting Archery Gloves
The Eamber gloves are also a top favorite for archery.
They are shooting gloves with soft cow leather and comfortable, breathable elastic polyester materials.
There is an adjustable Velcro wrist strap for a comfortable fit.
There are also silicone finger guards and a grippy palm design.
The Silicone finger guards provide protection, easy slip resistance, and a palm that keeps your hands secure on the bow.
---
6
Spinto® Unisex Letaher Fingers

Gloves for Archery
From Spinto, we have incredible sensitivity gloves for archery.
They will allow you ample comfort and feel of the string.
The gloves are made of high elastic and soft spandex with an adjustable Velcro strap.
There are four sizes available for men and women.
The Spinto brand is a trusted brand that is highly sought after and one of the best quality designs that you will find in archery gloves.
---
Do You Need Gloves for Archery
Do You need gloves for archery?
Well, shooting a bow and arrow is much harder than it may look if you want to be effective. It takes quite a bit of patience, focus, and also the right equipment.
Your drawing hand that pulls back on the arrow will need some protection if you do not want to suffer soreness or even nerve damage over time, the protection an archery glove can provide.
I recommend good archery gloves if you intend to engage with a bow and arrow as a more regular and long-period exercise.
On the other hand, if you hate wearing archery gloves, you can always opt for finger tabs that you place over your fingers for protection.
Luckily, with technology today, archery gloves are so comfortable and improved that they almost feel like a second skin and will rather enhance your performance than impede it.
---
Choosing the Right Archery Gloves
It would be best if you considered these factors when choosing the perfect archery gloves;
Get the Right Size – An archery glove needs to fit comfortably and be quite snug. It is not too tight to reduce movement and not to lose so that it slips off. Please ensure you get a proper fit that is not baggy and manageable.
Glove Materials – The archery glove's material will impact its quality and overall durability archer durability archery glove's material. Leather is one of the most popular choices for its quality and durability. However, it can be quite heavy for some individuals. Polyester is a lighter and more stretchy alternative but less durable. Then you also get Hybrid archery gloves with leather and polyester for a lightweight and durable design. Archery gloves also come in different sensitivity levels, providing a better feel of the string and allowing more control and accuracy.
Type of Archery Glove – You have two main archery gloves: the standard and tab gloves. The choice is all up to your personal preference. The Glove covers your entire hand and fingers or just your three center fingers. At the same time, the Tab is a small piece of durable fabric that covers the top of your fingers and pulls back the arrow.
---
Features of a Good Archery Glove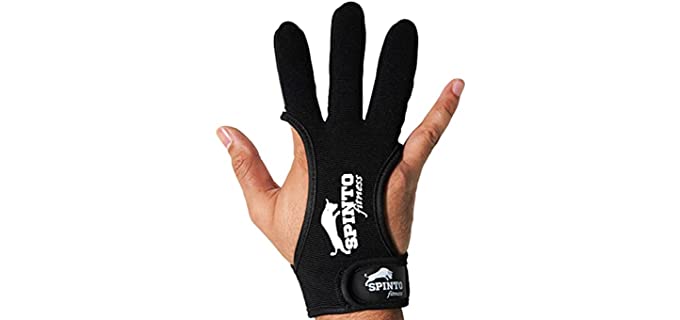 Color – The Most common archery glove choices are black, brown, or dark green; however, depending on the brand, you can choose other colors. Most archers prefer something less noticeable, whereas competition arches and younger archers like red and yellow colors.
Breathability – You will want to protect your hands from the weather conditions, whether cold or wet, but still do not want gloves that sweat excessively and become overheated. Some gloves may have mesh and other material portions for better airflow.
Wrist Wrap – Many archery gloves have a wrist strap that better secures the glove around your wrist to protect your hands against more harsh weather. The wrist strap can be a hook, loop, or velcro closure design that you can fully adjust for a more customized fit.
Price and Quality – A pair of Archery Gloves will cost around $10 and $20. Leather gloves are typically the most expensive but durable, and tabs for more advanced archers could be much more pricey. I suggest opting for a trusted and well-known brand, which is usually your best quality.
---
Index Table: Top Rated Archery Gloves
---
---