Some of the links in this post are affiliate links. This means if you click on the link and purchase the item, I will receive an affiliate commission at no extra cost to you. All opinions remain my own.
Shooting gloves come in three categories, hunters, target shooters, and for military or tactical use.
Shooting gloves are a must for both hunters and target shooters.
Shooting gloves do so much more than just protect your hands from impact. They also keep them warm in cold weather and less sweaty in hot weather.
In this article, we look at some of the best available shooting gloves for a variety of purposes;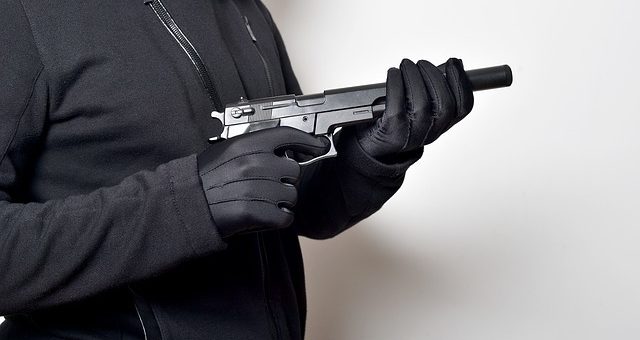 ---
Reviews: The Best Shooting Gloves
Below are our top choices in the best gloves for shooting targets, Hunting, and Military use;
We hope you love the products we recommend!
So that you know, We may collect a share of sales or other compensation from the links on this page.
---
1
The mechanic Wear Speciality Gloves are tactical multipurpose shooting gloves.
They are lightweight mesh that allows for proper ventilation.
There are anatomical stitch darts that conform to the natural curvatures of your hands for a more precision-like fit.
The gloves have 0.6mm high dexterity palms with ventilation holes for breathability,
They are also machine washable.
---
2
Magpul® Unisex Technical

Tactical Shooting Gloves
The Magpull gloves are ideal for shooing with a technical design.
They are incredibly lightweight and offer excellent abrasion protection.
The shooting gloves have suede palms and suede-backed thumbs for durability.
The compression-molded neoprene cuffs offer a more snug and comfortable fit.
Furthermore, they are available in a few more neutral color options.
---
3
Sitka® Unisex Optifade

Gloves for Hunting Shooting
From Sitka, we have the Fanatic Whitetail Opti fade Elevated Camo Hunting gloves.
These gloves are designed specifically for shooting when hunting.
The hunting gloves have a durable four-way stretch polyester design and are half finger gloves for better accuracy.
They have Gore Opti fade Concealment elevated technology to confuse the vision of deer.
---
4
PIG® Unisex Full Dexterity

Shooting Gloves
The PIG Full Dexterity shooting gloves are the ideal tactical gloves.
The gloves offer maximum dexterity and give you a barehand shooting feel.
You can efficiently operate a touchscreen, as the gloves are touchscreen compatible.
They offer a comfortable and snug fit with very durable materials.
---
5
Freetoo® Unisex Touch Screen

Gloves for Shooting
The Freetoo shooting gloves are our favorite touchscreen compatible shooting gloves.
The gloves offer full dexterity and have an SBR Neoprene and microfiber cloth construction for durability and breathability.
You can freely operate your phone or a mobile device with these gloves.
They are also guaranteed to provide an anti-slip full grip.
---
6
Hycoprot® Unisex Fingerless

Tactical Shooting Gloves
From Hycorprot, we have Fingerless tactical gloves for shooting.
His fingerless design gives you more control over more proper operations and to use of smaller mechanical devices.
The gloves are knitted nylon with EVA cushioning knuckles for protection,
They are multi-functional tactical and outdoor wear gloves.
The gives are incredibly durable and dexterous.
---
Getting a Proper Fit
First of all, when you invest in a shooting glove, you need to make sure that they fit correctly.
You want a snug fit that will not slip off or cause friction because it is too loose. You also do not want a glove that is so tight that it impedes hand function and movement or causes pain and discomfort.
Most shooting glove options will have measuring charts and sizes. Make sure that you compare your hand measurements to that of the specific size to get the perfect fit.
---
Considerations for Shooting Gloves
Before you can choose a pair of shooting gloves, there are a few things you need to reflect on to make sure you get the right gloves for their purpose;
Are they for Competition Shooting – There is quite a big difference between shooting gloves for shooting a few bottles with your friends and actual competition shooting. For casual shooting, you can generally opt for a less expensive regular shooting glove, while for competition shooting, you need something much more protective, quality, and with enhanced features. Shooting gloves are an integral part of a shooter's gear for competitions. Shooting gives competitions more tactical features with larger padded gloves for heavier larger handguns and thinner gloves with more dexterity for shooting rifles at longer ranges. Fingerless gloves also work well, although they ay ack padding with repetitive shooting.
Full Finger or Fingerless Gloves? – Again, we get to the full finger or fingerless shooting glove option. Shooting rifles, shotguns, handguns, and even Airsoft or pellet rifles require the shooter to easily manipulate many small mechanical devices such as bolts, slides, releases, and triggers. Thus many shooters turn to fingerless gloves that give a better feel. However, fingerless gloves. Most fingerless gloves still protect the palms and knuckles from impact, with the cropped-off fingers being ideal to operate where fine motor control is needed. So if you need to manipulate or operate many small devices, and cold weather is not a factor, by all means, opt for fingerless gloves. Full finger gloves, on the other hand, are ideal for colder weather and provide more finger protection when you handle larger ammunition with more minor small parts. They are your best option.
Are They for Hunting, Competition Shooting, or Both – Many hunters actually do spend plenty of time at shooting ranges, and some even take part in competition shooting. So you want a shooting glove that does not compromise on utility, which is still high quality. For this approach, you need to avoid heavily padded military gloves or insulated gloves for cold weather. Opt for designs that are more dexterous and offer excellent grip and palm traction, with just enough protection against recoil and impact.
Shooting Gloves for Hunting – Hunters require an all-in-one shooting glove. Their gloves must be dexterous, keep them warm in cold weather, and protect them against recoil and impact. Hunters should avoid gloves that are heavily padded and tactical gloves, as they can feel heavy and clumsy on their hands.
Must They be Touchscreen Compatible – If you want to stay in touch with family and friends in the field or range, you need to consider gloves that are touchscreen compatible. Gloves with special electric conductivity pads in the fingertips or with fingerless designs allow you to operate a touch screen efficiently.
---
Features of a Good Shooting Glove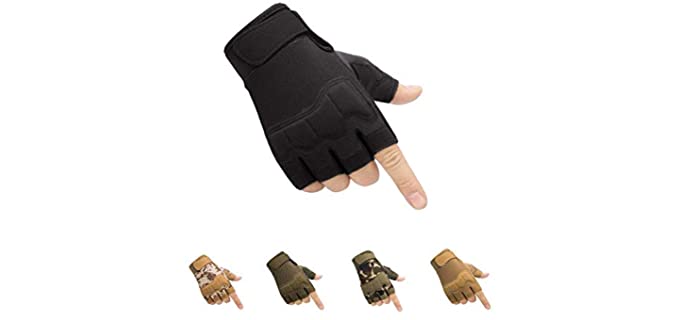 Materials – The most popular materials used in the construction of shooting gloves are nylon, polymer, or leathers. However, you will still find that there are tons of different materials available, these in turn are the best. The choice of glove materials will come down to your own personal preference and requirements.
Padding – Padding is one of the main reasons why you may need to invest in shooting gloves. The padding protects your hands against heat, recoil, and cuts that may result from shooting. Padding should be concentrated more in the palm and knuckle area, where most of the impact occurs when shooting.
Grip – Accuracy is essential in shooting, and just a few millimeters can cause you to miss a shot. Therefore you need a glove with a proper grip on the palm and tip of the fingers. This is also why leather is usually a better option as it offers excellent grip.
Climate Control – Make sure that the materials used are ideal for the weather. Lighter and breathable materials and stitching offer better cooling technology for summer, while more protecting and waterproof materials are ideal for wet and cold weather conditions.
Comfort and Fit – You will not always be able to remove your gloves after every shot, as it may hamper the fluidity of your movement and can make the whole experience uncomfortable. This is why you need comfortable gloves that you can wear for some time. A snug fit is ideal as a loose fit will hinder your shot and can become quite uncomfortable.
Color and Design – When using gloves for target practicing, you can choose any color that you favor as it will not have any effect. While, when selecting gloves for hunting or military use, color may be more crucial as you will need something that blends in with the environment.
Flexibility – Make sure that the materials used in your shooting gloves are flexible and allow for some stretch. Leather may take some time to get broken in. Adjustable wrist straps also allow you the easily get a customized and snug fit in your glove.
---
Index Table: Top Rated Shooting Gloves
---
---