Some of the links in this post are affiliate links. This means if you click on the link and purchase the item, I will receive an affiliate commission at no extra cost to you. All opinions remain my own.
When going on a ski or snow sports trip, the best ski gloves form a vital part of the equipment you will need for this excursion.
Ski gloves will make a huge difference in your performance, level of experience, and comfort for these sports.
Ski gloves have three main purposes: to provide grip, keep your hands warm, and keep wetness and wind out.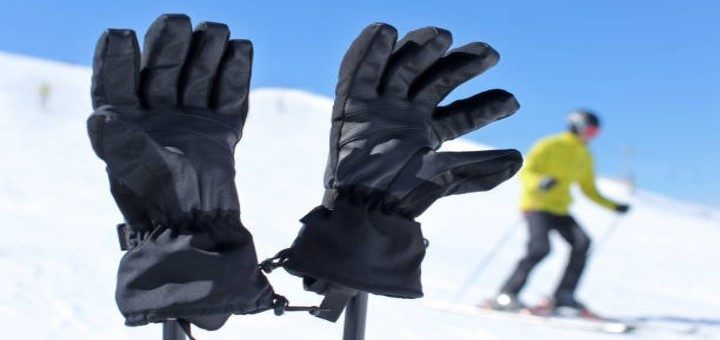 ---
---
Reviews: The Best Ski Gloves
These are some of the ideal glove models and brands for Skiing;
We hope you love the ski gloves we recommend!
We may collect a share of sales or other compensation from the links on this page.

---
1
From the Burton store, we have the perfect support gloves for skiing.
They consist of faux leather and other materials that are durable and high quality.
A fully waterproof membrane in the shell and a soft microfiber lining inside for your comfort.
The fit is ergonomic and pre-curved for better agility and comfort,
Pros
Better Dexterity.
Touchscreen Control.
Waterproof.
Microfiber Lining.
Cons
Fairly Basic Gloves.
Small Size Only.
| Rating Category | Weight % | Score |
| --- | --- | --- |
| Waterproof | 30% | 100 |
| Dexterity | 25% | 100 |
| Padding | 25% | 100 |
| Thickness | 10% | 95 |
| Quality | 10% | 90 |
| Total Score | 100% | 98.5 |
---
2
Reusch® Unisex Lech Pro

Lobster Gloves for Skiing
The Reusch glove is ideal for skiing and other snow sports, where you need a good grip and ample warmth from your gloves.
They are polyester, leather, and polyurethane, durable, breathable, and insulated.
The gloves have a windproof exterior and insulating interior.
They are waterproof and quite flexible.
There is Goatskin leather in the palms for optimal grip and comfort.
The gloves have an engineered cut for a better fit and a Gore-Tex interior membrane for waterproofing.
There is a microfleece lining to wick away moisture and provide comfort inside the glove.
Pros
Windproof.
Extra Warmth.
Grip Technology.
Heat Trap.
Cons
Maybe Slightly Bulky.
One Color Only.
| Rating Category | Weight % | Score |
| --- | --- | --- |
| Waterproof | 30% | 100 |
| Dexterity | 25% | 100 |
| Padding | 25% | 95 |
| Thickness | 10% | 95 |
| Quality | 10% | 90 |
| Total Score | 100% | 97.25 |
---
3
Reusch® Unisex Snowsports

Gloves for Skiing
Another Addition for Reusch is their Alexis ski and Snowsports glove.
The glove is 100% leather with low bulk insulation and comfortable lining.
They are water-resistant, wind and weatherproof.
Comfortable with Primaloft Gold insulation and a form-fitting design.
Pros
100% Leather.
Extra Breathability.
Soft Knuckle Protection.
| Rating Category | Weight % | Score |
| --- | --- | --- |
| Waterproof | 30% | 100 |
| Dexterity | 25% | 100 |
| Padding | 25% | 90 |
| Thickness | 10% | 95 |
| Quality | 10% | 90 |
| Total Score | 100% | 96 |
---
4
hestra® Unisex Army Leather

Heli Ski Gloves
Here we have a Lobster Design Ski glove from Hestra Army.
The Lobster design keeps your hands and fingers much warmer while having good talent.
They have a hook and loop closure for a more secure fit.
The give has a Goat leather palm and Hestra Triton fabric on the backhand,
They are fully windproof and waterproof, as well as insulating.
---
5
hestra® Unisex Army Leather

Ski Mittens
Another Addition from the Hestra Army is their full-finger Heli Ski Glove.
They are windproof and fully waterproof with Hestra Triton fabric and leather.
The gloves are very durable, comfortable, and agile.
There is an adjustable hook and loop closure for a custom fit.
---
6
Savior® Unisex Heated

Heated Gloves for Skiing
For those extreme cold weather conditions, we have Savior Heated Gloves.
The gloves use rechargeable batteries and have different heat settings.
They are wind and waterproof with insulation as well as a heating element.
The soft leather palms and curved finger designs allow for better dexterity and grip.
---
7
Solaris® Unisex Cozy

Ski Gloves
The Ski Gloves are waterproof and warm.
They are TPU waterproof membrane gloves and are insulated.
The gloves are ideal for skiing and outdoor use.
They are cotton with Thinsulate insulation.
---
8
Andorra® Women's Waterproof

Ski Gloves
The Andorra gloves are perfect for skiing.
They are waterproof winter gloves.
The design is touchscreen-compatible.
The gloves will keep your hands warm and dry.
---
9
Ski and Snow® Unisex Waterproof

Ski Gloves
Here, we have ski and snow gloves that are comfortable and warm.
They are fully waterproof and windproof.
The Gloves are a heavy-duty design.
They have adaptable sizing options.
---
10
Arctix® Women's Insulated

Ski Gloves
The Arctix Gloves are insulated and warm.
They are perfect for skiing and for snow sports.
They are well-insulated and have a zip closure.
The gloves are waterproof and windproof.
---
Ski Gloves and Mittens
Then there is, of course, the argument whether ski gloves or ski mittens are better, and other alternatives, such as the lobster glove and heated gloves;
Gloves – Gloves have individual fingers that wrap around each of your fingers. They are quite handy and make it easy to grip objects when skiing. I recommend actual gloves rather than mittens for cross-country skiing and activities where you frequently need to handle gear.
Mittens – Mittens have a thumb and an entire piece covering the rest of your fingers. Mittens are much warmer than gloves because your fingers are against each other, and body heat keeps them warmer. However, Mittens are not very dexterous and more suited to leisure skiing. You will be able to grip ski poles with them, though.
Lobster Ski Gloves – This gives you the best of both worlds. The Lobster Ski gloves are a hybrid between a mitten and a glove. It has your index finger, middle finger, ring, and pinkie finger together, with a separate thumb. Thus, your fingers keep warm, and you still have a lot of skill.
---
Choosing Ski Gloves


Choosing the perfect pair of gloves or mittens for skiing or other snow or extreme cold sports can make a huge difference in your overall experience. You could have a fun-filled, comfortable outing or a miserable trip with cold fingers that could have easily been avoided.
When you choose gloves or mittens, you will first need to consider the specific activity that you will be using them for choosing gloves or mittens; you will first need to consider the specific activity. Most Skiing or snowboard gloves and mittens consist of synthetic exteriors, usually nylon, with a waterproof and breathable barrier and some insulation to keep your hands war.
Abrasion-resistant patches on the fingers, knuckles, and palms will improve durability when skiing or snowboarding.
Cross Country Skiing, however, requires much more flexible gloves that are breathable and allow for better sweat-wicking,
Once you know the function of your gloves, you can consider things such as insulation, waterproofing, breathability, dexterity, and touchscreen compatibility.
---
Features of a Good Ski Glove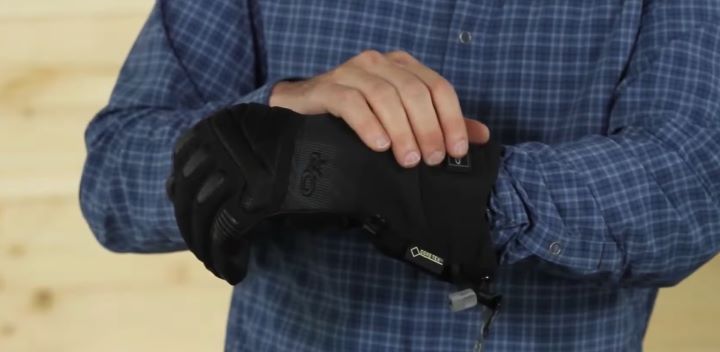 Insulation – You can choose between down insulation, which is very lightweight yet more expensive, Or synthetic insulation, usually polyester, which is affordable and dries quite quickly. Synthetic insulation provides less warmth than down and is bulkier.
Wind and Water Resistance – Waterproofing and wind resistance are important to keep your hand dry and warm. They will usually have a waterproof and windproof barrier that is still breathable, such as Gore-Tex or HyVent technology.
Heated Gloves and Mittens – Heated Gloves are battery operated and rechargeable. As stated in MedicalNewsToday, it provides extra heat to the hand and wrist joints, especially on the coldest days. They are still insulated and waterproof and can be quite expensive.
Touch Screen Compatibility – Most Skiing gloves will be touchscreen compatible or have a few fingertips that are touch screen compatible.
Size and Fit – A proper fit is very important when taking part in a snow sport such as skiing. You do not want a large glove that will easily slip off, and you do also not want a tight glove that will reduce movement.
Additional Features – Other additional features that you may note are leather palms, longer gauntlet cuffs, and Wrist cinches for a more secure fit. Zip pockets on the sides of the gloves. Some may even have thumb wipes and leashes or cords for wrist fastening.
---
How We Test and Score Ski Gloves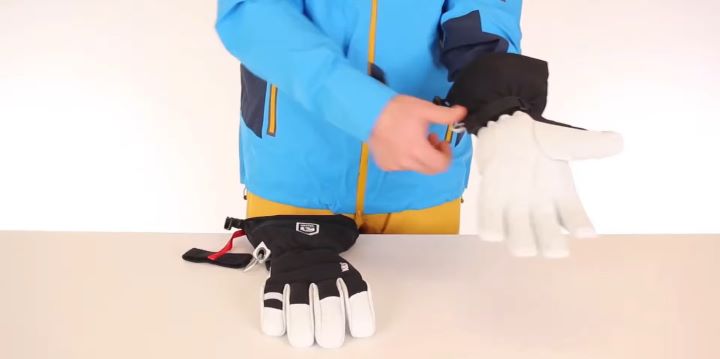 These reviews are based on intense research, analysis, and feedback from our experts and real users from different digital platforms.
We spent 39 hours trying, testing, and scoring these Ski Gloves, for different key parameters and then shortlisted the best products in the market, saving you time and effort.
We used the following parameters for our tests and analysis.
Waterproof – We observed if the gloves are coated or feature special insert layers and membranes that repel water to keep your hands dry.
Dexterity – We took note of the ease at which a task can be performed easily using the hands with gloves.
Padding – We measured the thickness of the padding on the gloves.
Thickness – We took note of the thickness of the materials of all gloves.
Quality – We analyzed how the quality of gloves should feel smooth and soft on the hands.
---
Frequently Asked Questions (FAQ) on Ski Gloves
What gloves do skiers wear?
In cold, dry conditions, down gloves and mittens are a great choice for skiing and snowboarding. Synthetic insulation is less expensive than down insulation, insulates better when wet, and dries much faster. It is an excellent choice for usage while skiing, snowboarding, and playing in the snow, particularly in humid areas.

---

What makes a good ski glove?
Many thin and lightweight ski gloves are produced from wool, fleece, and cotton, in addition to nylon and leather. Though fleece and wool gloves are adequate for mild weather and nordic skiing, we recommend waterproof membranes and sturdy outer shells for most skiing uses.

---

Should I ski with gloves or mittens?
Gloves are commonly used by skiers because they improve dexterity and make it easier to operate the equipment. You may, however, ski with wearing gloves; it may take some getting used to the sensation of grasping poles with mittens.

---

Are leather ski gloves worth it?
Yes, leather is the glove material of choice for mountaineers and ski patrollers all over the world because it provides unrivaled durability, comfort, and convenience. Leather ski gloves are less prone to tearing and do not stiffen with ice in freezing circumstances, as synthetic alternatives do.

---
---
Index Table: Top Rated Ski Gloves
---
---