Have you ever thought about wearing gloves for gaming?
Gaming gloves have many great functions, such as keeping your hands warm, supporting your wrists, keeping your hands dry, and improving your grip on a console.
Gaming gloves are available for a variety of gaming devices and types.
In this article, we will look at some of the best available gaming gloves.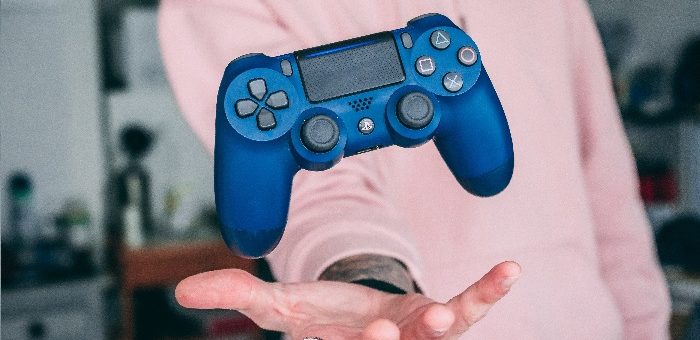 ---
Some Benefits of Wearing Gloves for Gaming
There are a few reasons why you might want to wear a pair of gaming gloves;

Keeps Your Hands Warm – Trying t type or play video games on your computer or even a console with cold hands can be quite difficult, as well as uncomfortable. Your fingers may be stiff, and thus, your performance can suffer. Gaming gloves keep your hands warm and comfortable so you can move your fingers easily and play comfortably.
Better Grip On Your Controller – Many gaming gloves are designed to improve your grip, especially for gaming with a controller or console. When your hands get sweaty, they may slip off the controller. Most gloves come in fingerless designs, allowing you to easily feel the controller buttons and keep your hands dry and supported.
Reduces Hand Cramps – The repetitive movements when playing games for hours or holding a controller can cause pain and cramping in your hands. Many gaming gloves have a compression design and support features such as padding to provide comfort and allow for better blood circulation, preventing pain and cramping.
Supports Your Wrists – You also get gaming gloves with wrist supports that are especially ideal for computer gaming. They provide support for your wrists and help to prevent carpal tunnel syndrome. A Velcro wrist support also elevates the hands to relieve fatigue and pressure on your wrists.
Prevents Blisters on your Fingers – Gaming Gloves that cover your fingers help to prevent blisters from friction and also prevent excessive moisture build-up that can lead to friction and blisters.
---
Choosing Good Gaming Gloves
So what exactly makes a glove flawless to meet all the requirements of a gamer.
Appropriateness is one of the most important factors, which will rely largely on your gaming arrangement and the type of gamer you are.
Good PC gaming gloves are designed to provide more prominent wrist backing, adaptability, and better finger adroitness.
On the other hand, for console games, you will need fingerless gloves with good moisture-wicking capabilities.
All in all, the right gaming gloves should provide tight-fitting compression, along with excellent ventilation.
Even more importantly, the right gloves need to give you the ultimate authority and control in your hands no matter what type of gaming you prefer.
---
Features of a Good Gaming Glove
Here are a few features in gaming gloves that you could look out for;

Type Of Glove – Make sure that the glove you choose is suited for PC or Console gaming as they do differ quite a bit. Some gloves are designed for mobile gaming, and you also get gloves for different console controllers.
Materials – The materials that your gloves consist of will determine the quality and durability of your gloves. The gloves need to breathe well and wick away moisture effectively. They should allow for maximum agility and dexterity as you need full use of your hands and fingers.
Grip – Grip helps enhance your gaming performance is. You will need a glove with a grippy palm to prevent slippage, especially for gaming controllers.
Padding and Insulation – If you have a medical condition or your hands tend to get cold easily, padding and insulation can help with this. EVAQ padding is ideal and lightweight.
Reducing Friction – You want minimal friction between your hands and the glove. The glove's lining needs to be soft, smooth, and seamless for less irritation and friction.
.
Design – The glove's design will depend on the type of games you are playing; some games such as tablets require touch screen compatibility. The elevation and lifting height of the fingers are important for Pc gaming and allows for proper blood circulation.
Size and Fit – Finally, you need to get a proper fit and select the right size. There is nothing that will hinder you're playing more than an improper fitting gaming glove.
In conclusion, gaming gloves should help to improve your performance and give you better control, precision, and agility when operating your controller or PC.
Gaming gloves wick away moisture and keep your hands cool and comfortable to make your gaming session more interesting.
---
Reviews: The Best Gaming Gloves
Listed below are the absolute best brands and models of gloves for gaming;
---
1
From Ironclad, we have gaming gloves designed specifically for Pc gaming.
They are Low Friction Ceramic Slider designs gloves to reduce drag for faster and more precise movements.
There is a performance silicone grip palm and keyboard wrist padding for comfort when playing for long hours.
The fabric used is moisture-resistant and highly breathable.
The gloves have half-finger coverage.
---
2
The Four Finger Bear Grips gaming gloves are multi-purpose and versatile for all playing devices and styles.
They have a truly tactile touch design to maximize grip coverage and expose your thumb for more precise movements.
The soft, stretchy fabric is highly breathable and ventilated to prevent excessive moisture build-up.
There is anon-slip grippy palm coated with silicone.
---
3
NatraCure gloves are designed specifically for computer gaming, and they help prevent and cure carpal tunnel syndrome.
The gloves provide an optimal wrist position and are available in a few size options.
They can fit on either end and are reversible.
The gloves have an ergonomic support design and a soft molded gel pad under the wrist for comfort,
The fabric is a four-way stretch and lightweight construction.
---
4
The Foamy Lizzard gaming gloves are ideal for console game types such as X-Box and PlayStation.
They provide excellent moisture wicking and grip properties to prevent your hands from slipping off the console.
The gloves consist of anti-sweat breathable and quick-drying materials and have high traction patterned palm.
The fingertips are highly tactile and more touch-sensitive.
---
5
The Captoglove 1.0 is a right-hand Large gaming glove for computer gaming.
The gloves do come in more size options for men and women.
They can be used as a hand-machine interface on a variety of platforms.
Also ideal for VR gaming,
It connects to devices via Bluetooth and allows for ten hours of continuous play.
The gloves allow for natural hand movements and gestures for this specific purpose.
---
6
Another excellent addition from IronClad is their Immortals PC gaming gloves.
The gloves are a low friction design with Ceramic slider technology for more precise and fast movements.
They have a silicone palm grip and keyboard wrist padding for longer sessions.
The materials are breathable and moisture-wicking for your comfort.
They also offer only half-finger coverage for better sensitivity.
---
Index Table: Top Rated Gaming Gloves
---
---