After your life jacket, gloves are the second most important part of your sailing kit.
Sailing gloves offer so many benefits, making them almost necessary for sailing.
This is why we are helping you to find the best sailing gloves to suit your needs.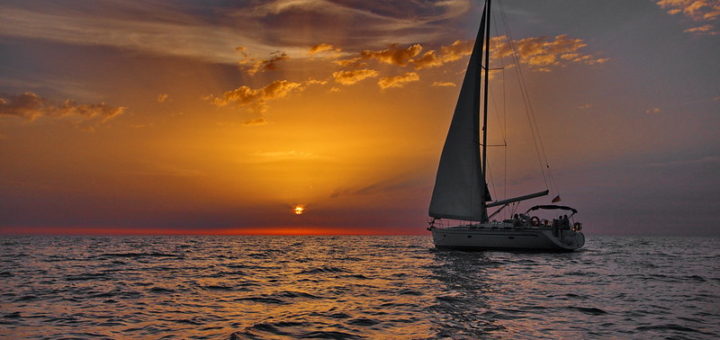 ---
Reviews: The Best Sailing Gloves
In our list, you will find a variety of some of the best available gloves for Sailing;
We hope you love the products we recommend!
So that you know, We may collect a share of sales or other compensation from the links on this page.

---
1
The Gill Pro sailing gloves are short-finger flexible gloves with dura-grip fabric.
They have notched finger construction with flex zones to allow more natural articulating of your fingers.
The gloves have offset finger seams to remove all pressure points and reduce wear.
They have a wrap-around palm and pre-shaped construction.
| Rating Category | Weight % | Score |
| --- | --- | --- |
| Waterproof | 25% | 100 |
| Padded Palm | 25% | 100 |
| Sticky Grip | 20% | 95 |
| Durability | 15% | 95 |
| Support | 15% | 90 |
| Total Score | 100% | 96.75 |
---
2
Helly-Hansen® Unisex Long

Sailing Gloves
The Helly Hansen sailing gloves are longer in length.
Genuine leather is used for their construction, and there are more durable long fingers,
There is an inner Velcro adjustable wrist client.
The gloves also have durable polyester overlays.
| Rating Category | Weight % | Score |
| --- | --- | --- |
| Waterproof | 25% | 100 |
| Padded Palm | 25% | 100 |
| Sticky Grip | 20% | 90 |
| Durability | 15% | 95 |
| Support | 15% | 90 |
| Total Score | 100% | 95.75 |
---
3
Harken® Unisex 3/4 Finger

Gloves for Sailing
Harken Sports are ¾-finger reflex gloves for sailing.
They are black magic material with nylon and rubber grip.
They are very durable and quite flexible with a low-profile wrist.
There are also mesh vents for breathability.
| Rating Category | Weight % | Score |
| --- | --- | --- |
| Waterproof | 25% | 100 |
| Padded Palm | 25% | 95 |
| Sticky Grip | 20% | 90 |
| Durability | 15% | 95 |
| Support | 15% | 90 |
| Total Score | 100% | 94.5 |
---
4
Hornet Watersports® Unisex Full Finger

Sailing Gloves
The Hornet Water sports gloves are ideal for sailing, fishing, and other water sports.
They are full-finger gloves with an easy and convenient fit.
The gloves are durable with a super-grip design.
They are dexterous and a unisex fit.
---
5
Gill® Unisex Long Finger

Gloves for Sailing
The Gill Long Finger gloves are designed for sailing in all weather conditions.
They are a natural hand shape and very lightweight.
Constructed from neoprene, the gloves are durable and warm even when wet,
They have an extended cuff for protection.
There is also an oven abrasion-resistant grip.
---
6
Ronstan® Unisex Sticky

Race Sailing Gloves
From Ronstan, we have the Sticky Race racing sailing gloves.
They are a three-finger design with a synthetic leather construction.
The gloves are double aramid stitched and have a double-thick pam with an improved grip.
They also have a hook and loop closure wrist for an adjustable fit.
---
Why You Need Good Sailing Gloves
Why do you need good sailing gloves?
I know many people are hesitant, and many do avoid them completely. However, there are still some good reasons to wear sailing gloves.
Sailing gloves provide some warmth if needed for sailing in cold weather, and they protect you against wind chill, which can be pretty bad.
Secondly, rope burn and physical injuries, scrapes, bumps, and bruises are a few things that you will experience, which gloves may also provide good protection against.
In addition, sailing gloves will give you an excellent grip for more effective handling of equipment. Most of them are touchscreen compatible if you are concerned about that particular factor.
---
Types of Sailing Gloves
Among all the sails and rigging involved in a sailboat, every sailor needs specialized gloves for different tasks that need to be performed on a sailing vessel.
So here are the different types of sailing gloves according to tasks on a sailing vessel;
Deckhand Gloves – A deckhand performs various tasks on the sailing boat in general. These include painting, maintenance, assisting with safety, and many other tasks. Deckhand Gloves have a wraparound palm and a pre-shaped construction for a more flexible and close fit, and they are durable and weather resistant.
Driver's Gloves – The person driving the boat as such needs a warm and comfortable glove to keep their hands insulated and protected against the elements. The palms usually have a grippy or leather material for grip, and inside there will be a warm lining.
Helmsman Gloves – A helmsman or Coxswain is the person that steers the sailing boat and who is usually the head of the racing crew. The Helmsman needs gloves with flexible fingers that are pre-curved and adjustable webbed wrists, waterproof, and a warm liner needed for cold weather.
---
Features of a Good Sailing Glove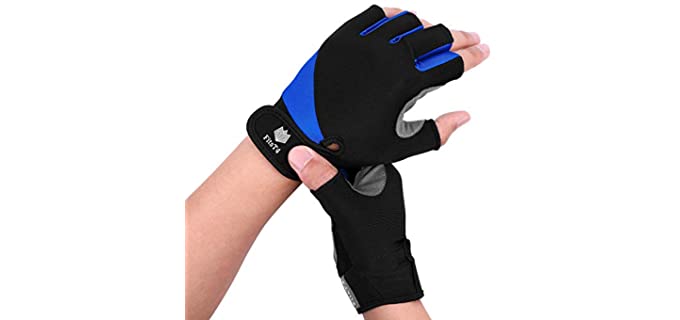 Long Wristbands – Long wrist bands or gauntlets provide additional warmth and protection. The Longer length may not be as comfortable and slightly restricting, so they are more suited for warmth in cold weather conditions or working in very wet conditions.
Mesh Inserts – Mesh inserts may be added for improved flexibility and breathability. The mesh allows for better ventilation and air to move freely throughout your gloves, ideal if the weather is very hot.
Double Stitching – Double Stitching is used in the high wear area such as the palms for better durability. Proper construction and stitching are required for durable and good-quality gloves that will not tear and get worn out quickly.
Linings – An interior lining such as fleece or polyester helps to keep your hands warm while wicking away moisture. Some gloves have warmer linings and are more suited to colder weather, such as fleece or insulating linings; however, cotton, Terry, or mesh linings are used for their cooling abilities to keep your hands dry and cool in warmer weather.
Waterproof Fabrics – The gloves' shell or interior layer may be waterproof to keep your hands dry.
Lower Cut Wristbands – A Lower cut wristband is ideal for more freedom of movement. If you want to be able to use your hands full and do not need the protection of an extended wrist band, then by all means, rather opt for the lower wrist cut gloves for sailing.
Heavy Duty Materials – Genuine or synthetic leather and polyester are ideal for heavy-duty wear and protection against lines, wood, and metal. Some synthetic materials with advanced technologies are also very durable and have other features that make them ideal.
Sticky Textured Palms – The palms of the gives offer a good grip with sticky grip materials such as silicone and rubber. You will need some form of sticky material on the palms of your gloves as there are many areas n which you will need proper grip when it comes to sailing.
Full Fingers or Fingerless – The gloves may have full fingers or a fingerless design for better agility and operation of finer equipment. Some sailing glove designs have notched fingers that help you articulate your fingers better.
---
Index Table: Top Rated Sailing Gloves
---
---