In any sport having the right equipment with the most up-to-date technologies will increase your performance and provide enhanced comfort and protection.
The same goes for Racquetball players; the perfect gloves can provide comfort, easier movement, protection, and the best grip.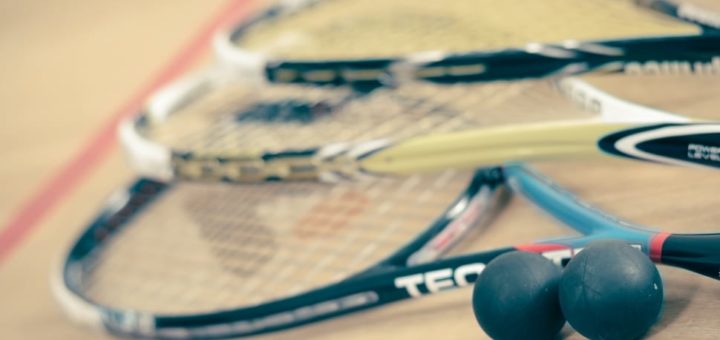 ---
Reviews: The Best Racquetball Gloves
Below you will see some of the top choices in Racquetball Gloves, favored by many top sportsmen and women;
We hope you love the products we recommend!
So that you know, We may collect a share of sales or other compensation from the links on this page.

---
1
The Wilson Sting offers you a soft and comfortable sheepskin Racquetball Glove that is also as tough as nails.
Made from premium Cabretta Sheepskin leather that is soft and flexible.
There is strategically placed dive padding on the glove for added comfort and protection.
A no-stress thumb design that prevents bunching.
Available only in the black and yellow two-toned color selection.
| Rating Category | Weight % | Score |
| --- | --- | --- |
| Leather | 35% | 100 |
| Injury Resistant | 25% | 100 |
| Durability | 20% | 95 |
| Comfortable Padding | 10% | 95 |
| Style | 10% | 90 |
| Total Score | 100% | 97.5 |
---
2
Gearbox® Unisex Movement

Left Hand Racquetball Gloves
The Gearbox Movement Glove is one of the best choices for Raquetball gloves.
It comes in an X-Large size for the left hand.
It is made from high-quality Pittard Leather with a potted palm to wick away moisture.
It offers a comfortable fit in the classic black color.
Soft suede leather is around the fingers and Neoprene and spandex finger channels for flexibility and grip.
A Micro Pore design helps to keep your grip dry.
The extra-length design on the wrist also prevents binding.
| Rating Category | Weight % | Score |
| --- | --- | --- |
| Leather | 35% | 100 |
| Injury Resistant | 25% | 100 |
| Durability | 20% | 90 |
| Comfortable Padding | 10% | 95 |
| Style | 10% | 90 |
| Total Score | 100% | 96.5 |
---
3
Head® Unisex Leather

Durable Racquetball Gloves
The HEAD leather racquetball gloves are tough and durable, making for an excellent performance.
Available in left and right-hand options.
A durable design made from tough synthetic leather that is lightweight and flexible.
The silicone webbing fitted across the palm ensure an unmatchable grip.
The Cool Tech Spandex is a high-performance spandex fabric that is ventilated for improved circulation and cooling comfort.
Added padding on the knuckles for comfort and protection.
| Rating Category | Weight % | Score |
| --- | --- | --- |
| Leather | 35% | 100 |
| Injury Resistant | 25% | 95 |
| Durability | 20% | 90 |
| Comfortable Padding | 10% | 95 |
| Style | 10% | 90 |
| Total Score | 100% | 95.25 |
---
4
ProKennex® Unisex Pure

Racquetball Gloves
From ProKennex, we have the Pittard Cabretta Leather and Neoprene Knuckle Raquetball Glove in their Pure range.
Black and white color made from premium Pittard's Quartz Cabretta leather for e better racquet feel.
Each finger is engineered and boxed in sheepskin leather and microchannel lycra for a customizable and flexible fit.
The Neoprene Knuckle Pads offer extra comfort and protective cushioning.
---
5
Python® Unisex Deluxe

Premium Racquetball Gloves
The Python Premium racquetball gloves are made from breathable perforated Cabretta Leather with a Grip Strip design.
It comes in a Left or Right-hand option to choose from.
It is made from durable and perforated Cabretta leather with a Grip Strip Tackified palm for better grip.
A high elastomeric back for a better fit and extremely durable construction.
The Vylon and Spandex also offer firmer control and a more snug fit in the back.
Thin Dive Pads on the Knuckles, Pointer, and middle finger.
Available in the Blue and Black color option only.
---
6
Bionic® Unisex Men's

Racquetball Gloves
The Bionic Racquetball Glove is designed for men only, with Goatskin leather and sweat absorbing Terry Cloth mini towels inside.
Designed by an orthopedic hand surgeon for the best grip, moisture control, and durability.
It is made from Washable Goatskin Leather for better grip and durability with a more flexible and padded design that protects your knuckles and wrists.
An Anatomical pad system evens out the surface of your hands for a lighter and more secure grip and better racquet control.
There are eleven terry cloth mini towels inside the gloves to absorb moisture and keep your hand dry.
The form-fitting terry cloth wrist band also absorbs sweat and provides excellent wrist support.
---
7
Head® Unisex Airflow

Tour Racquetball Gloves
The Gloves ate a premium design with perforated Cabretta leather palms.
Airprene is used for better knuckle protection and ventilation,
There is a nylon mesh Lycra backing for better airflow.
It is a left and right-handed gloves available.
---
8
Wilson® Unisex Sting

Racquetball Gloves
The gloves consist of Cabretta sheepskin leather that has a soft feel.
There is strategically placed dive padding to protect your hands and the glove.
A no-stress set in thumb design helps to prevent bunching.
This is a right-hand glove, and more sizes are available.
---
9
HEAD® Unisex Leather

Racquetball Gloves
Offers unmatched grip with the tack infused into the leather for racket grip.
The palms are premium leather, Pittard's leather, and very grippy.
The Ultra-light DuraMesh allows for better ventilation.
Airprene is used for knuckle protection and ventilation.
---
10
Wilson® Women's Clutch

Small Right Hand Racquet Ball Glove
Leather palm glove.
The glove has a proprietary sticky skin treatment for better grip.
It offers a comfortable right-hand fit in a small size,
The design is sleek with red and black patterns.
---
Why Do Racquetball Players Require a Glove
A good racquetball Glove can highly increase your grip, control, and precision while keeping your hands and wrist protected and comfortable;
Moisture Control – Gloves can help prevent slippage caused by perspiration on your hands and keep your hands dry and cool with breathable and moisture-wicking materials.
Friction – Friction from the racquet against your hands along with sweat is a sure recipe for chafing and painful blisters. A good pair of gloves reduces friction and moisture to prevent blisters and chafing.
Improved Sensory Function – Most Racquetball players prefer not using a glove because they feel that it gives a lack of feel for the racquet and ball. However, some Gloves feel and fit like a second skin with improved technology today and give you a much better sensory experience, almost like playing bare hands.
Better Control – You will never have to rely on your hands to be the reason that a shot may not go your way. A good pair of gloves can give you much better control over your racquet, preventing it from slipping when you are swinging with considerable force.
Wrist Protection – Because racquetball requires fast and hard snapping motions of the wrist, your risk of a wrist injury may be quite high; therefore, protective and stabilizing writs on your glove can aid in protecting your wrist from injury while still allowing flexible movement.
---
What Makes a Good Racquetball Glove
Here are a few things to look for in a good racquetball glove;

Padding – padding on the right areas of the glove can provide impact protection yet should not limit movement.
Durability – leather and Sheepskin leather is a prevalent and highly durable choice in racquetball gloves, yet a bit expensive. However, more expensive usually means better quality and long-lasting durability.
Materails – Sheep or goatskin leather is the most popular, although synthetic materials are deemed almost as good. You want flexible and comfortable materials that breathe easily and feel like a second skin.
Grip – Tackified leather offers a firmer grip, and synthetic leather also provides an excellent grip.
Fit – The fit needs to be very snug, yet not as much as to cause circulatory issues.
Breathability and Absorption – As heat and sweat are two main issues with racquetball players, breathable design with moisture-wicking materials and linings is crucial to keep your hands dry and cool.
---
Features of a Good Racquetball Glove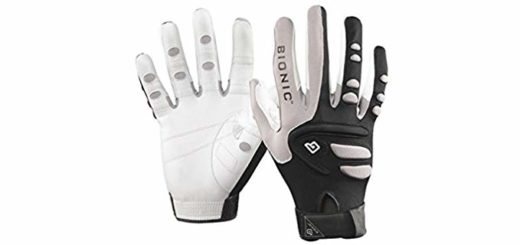 Sheep or Goatskin Cbareeta or Pittard leather.
Perforations or mesh inserts for breathability.
Protective padding.
Flexible and soft against the skin.
Moisture-wicking linings.
A secure wrist band and closure.
---
Index Table: Top Rated Racquetball Gloves
---
---