Some of the links in this post are affiliate links. This means if you click on the link and purchase the item, I will receive an affiliate commission at no extra cost to you. All opinions remain my own.
Adding arm sleeves or arm warmness to your collection of running accessories will be a complete game changer for you. When you go through a run early in the morning, it might be cool outside, and you may be looking for some want for your arms. However, after a while running, you may also get hot, in which case you can easily take off the arm sleeves.
Arm warmers are a much more straightforward and less bulky way that you can have added warmth to your run that doesn't restrict you. And you can also remove them and easily store them in your pockets.
We want to look at a few of the best arm warmers for runners that are versatile and comfortable.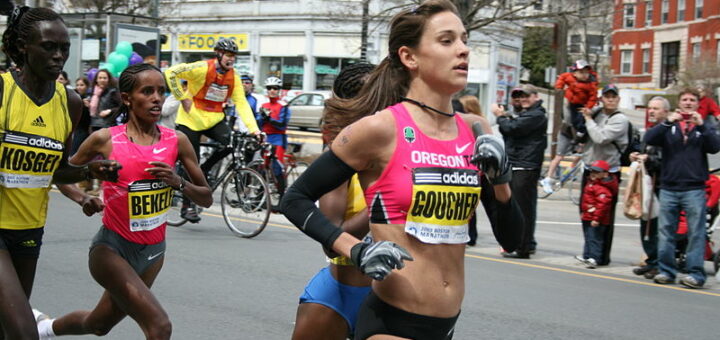 ---
The History Behind Arm Sleeves
The athletic arms sleeve or arm warmer has quite a surprising history behind it. In 2001, there was a basketball star Allen Iverson in Philadelphia. He suffered from an unfortunate case of bursitis in his shooting elbow. They suggested that he use compression tubing around his arm for support during the game, which made a huge difference. Eventually, an up-and-coming athletic clothing brand Under Armor, custom mates, colorful nylon arms sleeves to match the team uniforms. This is how the arm sleeve, or arm warmer, became popular.
At other times sleeves and all warmers have become very common accessories for athletes and sportsmen and women, which also includes runners. It is common today to see elite distance runners competing in marathons we arm sleeves or warmers.
---
Benefits of Arm Warmers for Runners
Here are a few of the benefits of wearing arm warmers, for runners.
Reduce Swelling – Many arm sleeves or arm warmers also have compression materials or capabilities. Compression helps to reduce swelling and improve circulation in your arms when you are running.
Warmth – Arm warmers can be used when it is cool outside, when you go through a run, especially early in the morning or the evenings, and in the wintertime.
Temperature Regulating – Arm sleeves or arm warmers can also help to regulate the temperature in the body. They can. They can keep you warm in cold weather, and they also absorb sweat and wick away moisture to keep you cool when it gets hot.
UV Protection – Runners many times we arm sleeves to protect them against the UV rays of the sun and to eliminate the need to apply sunscreen on their arms, which could be sticky, slippery, and uncomfortable.
Protection – Arm sleeves or warmers can also help to protect you against peacekeepers and mosquitoes that bite your arms.
Safety – They are sometimes armed sleeves that consist of very bright, reflective materials, which can help to boost visibility for runners, especially during dusk, dawn, or nighttime.
However, for the purpose of this article, we are mainly concentrating on arm sleeves for runners to keep them warm. It may be winter time, or the mornings and evenings may be cool where you want some warmth, that you can remove and store away when the temperatures get higher.
Arm warmers can help to keep your arms warm and are much less restrictive than a long-sleeved running shirt. Because of their thin and light nature, they will not add much weight, and can easily be folded and kept in your pockets or a lightweight backpack.
---
Features of a Good Arm Warmer for Runners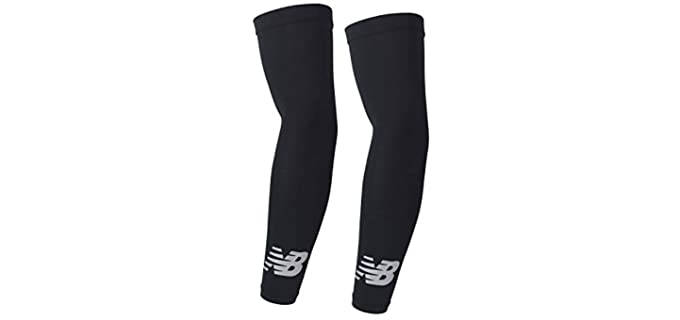 Size – Arm sleeves or arm warmers are available in different size options for men and women from which you can choose. You need to choose the right size that fits snugly and comfortably.
Length – Most arms sleeves go on warmers will usually either fit around a thumb hole or around the wrist and run up to the upper arm or shoulder. However, they could be shorter.
Colors – You get on warmers that are available in neutral colors, such as black or white, which are more suitable for hot days as they reflect the sun rather than absorb it. You also get all warmers in reflective colors that are ideal for running when it's darker.
Materials – Arm warmers will usually consist of stretchable material or something that offers large compression, such as spandex, nylon, and polyester. They also consist of moisture-wicking fabrics that will help to keep you dry.
---
Reviews: The Best Arm Warmers for Runners
In our review list, we have some of the best available arm warmers and arm sleeves for runners;
---
1
New Balance® Unisex Compression

Arm Warmers for Runners
The New Balance Compression Arm sleeves will regulate your temperature.
They are suitable for all seasons and will keep your arms warm.
The sleeves are durable and have a fresh design to reduce odors.
They are available in neutral colors.
---
2
Under Armour® Unisex Team Shooter

Arm Warmers for Runners
From Under Armour, we have the Team Shooter arm warmers for runners.
They are temperature regulating to keep you cool when it's hot, and warm when it's cold.
They are lightweight and moisture-wicking to keep you dry.
The arm sleeves are available in more colors from which you can choose as needed.
---
3
Zensah® Unisex Compression

Arm Warmers for Runners
The Zensah Compression Arms sleeves keep you warm and improve blood circulation.
They offer good UV protection and are ideal for all weather conditions.
The sleeves offer light compression to reduce swelling and improve circulation.
The sleeves are lightweight and breathable.
---
4
Nike® Unisex Pro Elite

Drying Arm Warmers for Runners
The Nike Unisex Pro arm warmers are an Elite Sleeve for runners.
They consist of Polyester, spandex, and silicone.
They have a Dri-FIT technology construction to wick away moisture.
The arm warmers will offer protection and warmth.
They also have flat seams to reduce friction.
---
5
Rock Bros® Unisex Thermal

Arm Warmers for Runners
The Rock Bros Thermal Arm sleeves are ideal for cold weather.
They have a Non-Slip strip on the top to prevent the sleeves from falling.
They offer a thermal heart with a soft brushed fabric inside, that also wicks away moisture.
They are ideal for cycling and running, with a flexible fit.
---
6
Skylety® Unisex Thermal

Arm Warmers for Runners
Here we have another pair of thermal arm warmers or running.
They fit around your hand with a thumb hole.
They are thermal with a lining to keep you warm in colder weather conditions.
The arm warmers consist of high-quality nylon and spandex.
---
Index Table: Top Rated Arm Warmers for Runners
---
---