Softball is a big market for ever-growing players who will always need new equipment.
Of course, one of these pieces of equipment is the Softball Glove.

---
Reviews: The Best Softball Gloves
Here are some of your Top Choices when it comes to the best selections in Softball Gloves;
We hope you love the softball gloves we recommend!
So that you know, We may collect a share of sales or other compensation from the links on this page.

---
1
---
2
From Mizuno, a top sports brand, we have the superb Fastpitch Softball Glove.
These gloves are available in different hand orientations and color selections you may choose.
Made from Java leather pre-oiled and tumbled for durability, soft and comfortable fit, this is a game-ready long-lasting Softball Glove.
There is also a high-low lacing system with alternating lace patterns that helps to retain the integrity of the fully-laced web with much better flexibility.
| Rating Category | Weight % | Score |
| --- | --- | --- |
| Pocket | 30% | 100 |
| Thickness | 25% | 95 |
| Enhancing Strength | 20% | 100 |
| Palm Protection | 15% | 90 |
| Adjustable | 10% | 95 |
| Total Score | 100% | 96.75 |
---
3
The Franklin Sports Baseball and Softball Gloves are durable and comfortable. Available in different designs and hand orientations.
Choose between a right or left-hand design and between a Basket Web, Trapeze Web, or traditional Web design, in different sizes and color options.
It offers an adjustable thumb to achieve the perfect snug fit you prefer.
A durable glove made from lightweight and soft synthetic leather helps to enhance your performance.
The adjustable wrist strap gives you a snug and comfortable fit.
| Rating Category | Weight % | Score |
| --- | --- | --- |
| Pocket | 30% | 100 |
| Thickness | 25% | 95 |
| Enhancing Strength | 20% | 95 |
| Palm Protection | 15% | 90 |
| Adjustable | 10% | 95 |
| Total Score | 100% | 95.75 |
---
4
The Easton Prime is a Slowpitch Softball Glove, ideal for beginners and natural playing.
This model has choices between a left-hand or right-hand throw design and different position size options and color options.
Full-grain leather from durable and soft cowhide is used to make the Glove.
There is a super soft palm lining with an enhanced grip design and materials.
The Softball specific patterns are designed for pocket depth and better impact durability and comfort.
---
5
The Rawlings Pro Lite is a more decorated and Lite Softball Glove is available in different options.
Choose between different color and pattern options and your hand orientation and size in this fun Softball glove.
The Glove boasts a durable all-leather palm for grip and Decorative X webbing.
A Neo-Flex conventional back also has conventional designed Velcro straps for a comfortable fit.
The Zero Shock palm design protects you from impact.
No need for breaking in this Glove comes already broken in from the factory.
---
6
An excellent addition from Wilson is their Fastpitch A2000 Glove,
This Glove has different size options and a hand orientation for left or right-handed Pitching.
The Glove is a Fastpitch-specific model with a comfortable wrist strap and velcro closure for the perfect fit.
The Honeycomb Cell padding creates a no-sting-catching zone and added protection.
Made from White Super Skin leather, the Glove is much more durable than genuine leather, yet half the weight.
The Glove also has a great break-in and dual-welting for a durable and comfortable pocket.
---
7
The Easton Ghost gloves are the perfect softball gloves.
They are a Fastpitch tournament glove.
The gloves have a quantum closure system for a secure fit.
They are available in the right and left-hand orientation options.
---
8
The AllStar gloves are ideal for softball training.
The gloves are a children's size and synthetic leather.
They are perfect for beginners and youth.
The gloves offer a comfortable fit and good protection.
---
9
The Rawlings Renegade Softball gloves by far outshine the rest.
The gloves are a utility design for any position.
There are size and orientation options available.
They are very durable and comfortable.
---
10
The Rawlings Heart of the Hide gloves is excellent fastpitch gloves.
They are genuine leather and designed for pitchers.
The gloves are a world-renowned cut design.
They are right-hand throw design gloves.
---
Basic Softball Glove Features
The Softball Glove is one of the essential pieces of equipment to have when you are on the field, and whether you are a Pitcher, Catcher, Basean, or Fielder, there is a specific Glove design suitable for each Position.
The Basic Softball Glove, in general, consists of genuine leather or synthetic leather with durable padding and a comfortable Pocket where you place your hand in comfortably.
---
Choosing the Best Softball Gloves
Here are a few tips on choosing the best Softball Gloves for your Position;
Position – As each Position on the field has its peculiarities, you will need a specific type of Glove for certain areas and positions. First Basemen and Catchers usually use mitts, which are only useful at that specific Position. Whereas Outfielder's gloves will have a longer finger design with deeper pockets, and Infielder's gloves have shorter fingers with more shallow pockets.Position players can also choose between either open or closed web gloves. Although Pitchers should use a closed web glove to hide their grip on the ball.gloves
Materails – For younger players, any materials are fine to use and will last quite long. However, with older, more experienced players, I would opt for genuine leather rather than synthetics.
Sizing – You will usually find a sizing chart that states the different size options for different Gloves according to Position. Even if Infielders prefer shorter finger gloves and shallower pockets than Outfielders, this is still just a personal preference.
---
Features of a Good Softball Glove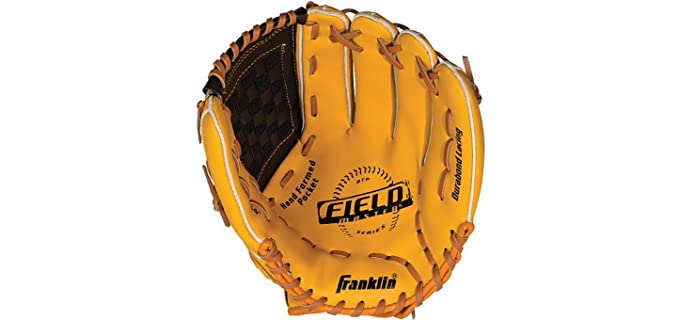 Materials – Lightweight synthetic materials can be used, or genuine pigskin or cowhide leather, Steerhide leather, or full-grain hide leather may also be used, although these are slightly heavier.
Wrist Adjustment – For an Optimal Fit, there will be either a lace-up or Velcro wrist closure that you can adjust for a customized fit.
Palm – A padded and high grip palm allows protection against stings from catching a fastball and provides a superior grip. Leather and padding are used in the palm.
Pocket – The Pocket contains the hand and fingers and is designed to fit snugly and comfortably. You can choose between a deep or shallow design pocket as a personal preference.
Webbing – The Web design of the Glove is a key element to control the ball. There are either Open or Closed styles in webbing. Fielders do well with an open web, while pitchers prefer a closed web to hide pitches.
---
How We Test and Score Softball Gloves
These reviews are based on intense research, analysis, and feedback from our experts and real users from different digital platforms.
We spent 37 hours trying, testing, and scoring these Softball Gloves, for different key parameters and then shortlisted the best products in the market, saving you time and effort.
We used the following parameters for our tests and analysis.
Pocket – We checked how helpful the glove's pocket provided the most agility for doing up zips, handling gear, and holding poles.
Thickness – We took note of the thickness of the materials of all gloves.
Enhancing Strength – We analyzed how effectively the gloves enhanced strength while doing activities.
Palm Protection – We noted the glove's protection for the palm against stings from catching a fastball and provides superior grip.
Adjustable – We tested the glove's adjustability to check whether it is useful for any tasks.
---
Frequently Asked Questions (FAQ) on Softball Gloves
---
Index Table: Top Rated Softball Gloves
---
---