Some of the links in this post are affiliate links. This means if you click on the link and purchase the item, I will receive an affiliate commission at no extra cost to you. All opinions remain my own.
Your Bow Hunting gloves are a necessary part of your overall Bow Hunting apparel.
Bow Hunting gloves provide you with protection against the elements and physical injuries, as well as good grip and dexterity.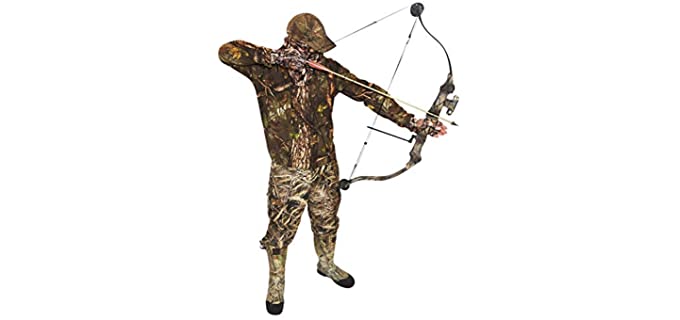 ---
Reviews: The Best Bow Hunting Gloves
In our list are some of the best available gloves for Bow Hunting.
We hope you love the products we recommend!
So that you know, We may collect a share of sales or other compensation from the links on this page.
---
1
The Sitka Fanatic Whitetail Optifade Bow Hunting gloves are specially designed for men.
They are Camouflage design bow hunting gloves with a pull on the fabric.
Built from a very durable four-way stretch polyester, they give you the perfect balance of warmth and dexterity.
The bow hunting gloves gave a half finger design so that you have better control over the bow, and it makes them touchscreen compatible,
The bow hunting gloves have a durable and fully waterproof finish.
---
2
Hot Shot® Men's Huntsman

Bow Hunting Gloves
The Hot Shot men's bowhunting gloves gave a camouflage color and are pop-up mitten designs.
These are ideal for cold weather hunting as you can use the mittens in between to keep your hands and fingers warm and pop them up to expose your fingers when you need to shoot.
The gloves are insulated with 80 grams of 3M Thinsulate insulation for warmth.
They are odor resistant with odor-Xchange Technology that also wicks away moisture.
There is a drawstring closure, and the gloves consist of 100% polyester.
---
3
Neet® Unisex Suede

Bow Hunting finger Gloves
The Neet suede leather gloves are perfectly designed for bow hunting.
These bowhunting gloves have a three-finger protection design to protect your fingers from the snares of the bow when you pull back.
They consist of genuine leather and have a dexterous elastic back design.
The bow hunting gloves are lightweight and very durable.
There is also a Velcro wrist closure for an adjustable fit.
---
4
SecentLok® Men's Full Season

Camo Bow Hunting Gloves
The ScentLok bow hunting gloves are designed to mask the scent of your hands while bow hunting specifically.
They are comfortable gloves that come in many camouflage colors, with a piece of moisture-wicking fabric to keep your hands dry.
The bow hunting gloves gave carbon Alloy technology for optimal scent control.
They are touch tech design fingertip gloves that are touchscreen compatible.
---
5
North Mountain Gear® Unisex Lightweight

Camouflage Bow Hunting Gloves
The North Mountain gear Lightweight Bow Hunting gloves are camouflage design and touchscreen sensitive.
The gloves are a performance design, with Sire Grip textured palms for improved grip.
The materials are moisture-wicking and help to regulate temperatures, making them ideal for all weather conditions.
The bow hunting gloves have smart touch fingertips for touchscreen compatibility.
They are available in Photorealistic camouflage colors.
---
6
Under® Men's Hunt Early

Bow Hunting Gloves
The Under Armour Bow Hunting Gloves are the perfect winter hunting gloves with a warm fleece design.
They are polyester and elastane gloves with comfortable and warm fleece construction.
The bow hunting gloves come in camouflage colors, and they are convertible, so the trigger finger and thumb can be used for better control.
The gloves have tech Touch fingerprints for touch screen compatibility.
They have an extra soft speed wipe fleece pad at the back of the index finger and thumb.
---
7
Spika® Unisex Camouflage

Bow Hunting Gloves
The Spika Bow Hunting Gloves are available in camouflage colors, and they are fingerless ad full-finger gloves options.
The gloves have an inn-slip silicone palm for better grip.
They have an adjustable buckle strap and a wrist for a comfortable fit.
The gloves have excellent breathable fabric with good permeability.
They are durable, easy to use and ensure excellent dexterity.
---
8
Keshes® Unisex Archery

Bow Hunting Gloves
The Keshes Archery Gloves are also ideal to use as bow hunting gloves.
They are finger tab leather gloves specifically designed to protect your fingers against the bowstrings.
The bow hunting gloves are genuine leather and are designed for a recurve and compound bow.
They have adjustable Velcro straps on the wrists and a three-finger design.
---
Why Use Hunting Gloves for Bow Hunting
One of the most obvious reasons to use bow hunting gloves is, of course, to keep your hands warm.
Bowhunting gloves also provide protection against abrasion, and camouflage, especially if you have paler skin.
Bow Hunting gloves are designed to improve your grip and to be very dexterous, allowing you a full range of movement.
---
Types of Bow Hunting Gloves
There are a few different types of Bow Hunting Gloves that you can use;
Fingerless and Convertible Gloves – Fingerless gives only cover the palms of your hands, allowing your fingertips to be open and free. This allows for maximum dexterity and accuracy. A Convertible glove has a fingerless design and a flap-over mitten that you can use to keep your fingers warm when not shooting.
Full Finger Gloves – Full finger gloves cover your fingers and hands fully, they are ideal for colder weather conditions and still offer much dexterity.
Three Finger gloves – The Three Finger Glove is the most popular and traditional glove that bowhunters and archers use for their recurve and longbows. The Tree Finger glove protects your fingertips against the bowstring and gives you a more stable grip.
---
Features of a Good Bow Hunting Glove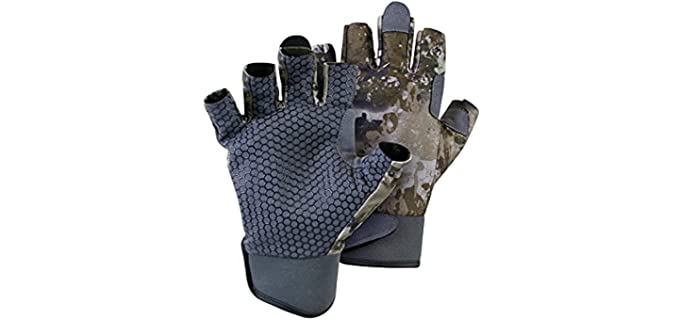 Fit – Make sure that your gloves offer a snug and comfortable fit that does not impede mobility, or that is too loose.
Seamless – Good Bow Hunting gloves need to have a seamless design that will not pinch between your fingers when you draw the string.
Scent Control – Many modern Bow Hunting Gloves have innovative technology that controls the scent produced by the sweat and oils on your hands.
Camo Colors – To camouflage your hand is quite important, just like the rest of your body. Most Bow Hunting gloves come in camouflage colors that help to hide your hands.
Materials – Bow hunting gloves can be polyester, fleece, leather and other materials. Each has its own advantages and properties.
Warmth – Bow Hunting gloves can keep your hands warm depending on the design. Many come with insulating materials and a closed style.
---
Index Table: Top Rated Bow Hunting Gloves
---
---