Some of the links in this post are affiliate links. This means if you click on the link and purchase the item, I will receive an affiliate commission at no extra cost to you. All opinions remain my own.
Arm warmers are versatile and necessary accessories for cyclists to transform their outfit into a cold-weather condition get-up and transform it back for warmer weather.
Cycling arm warmers come in many designs, materials, and different purposes and warmth levels.
So let us take a closer look at some of the best available arm warmers for cycling and what makes them so effective.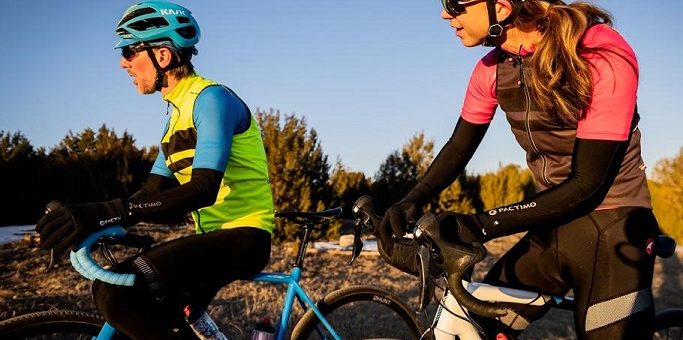 ---
Reviews: The Best Cycling Arm Warmers
In our list you will find some of the best available brands and models of Arms warmers that are ideal for Cycling;
We hope you love the products we recommend!
So that you know, We may collect a share of sales or other compensation from the links on this page.
---
1
The New Balance Arm warmers are perfect for cycling and other outdoor sports where you need protection and warmth.
The New balance Arm Sleeve offers light compression for excellent blood circulation and warmth for colder weather.
They offer a second-skin fit and are a stretchable fabric.
You can select these cycling arm warmers in a large range of colors available.
The materails are also moisture-wicking and quick-drying to keep you sweat-free.
---
2
Rock Bros® Unisex Thermal

Cycling Arm Warmers
Rock Bros have the Thermal Arm warmer range for cycling that is lightweight and comfortable to wear.
The Arm Warmers are ideal for cycling as they are easy to remove and small enough to store.
The Thermal lining helps to retain the heart and has a soft brushed interior against your skin.
Materails used are likewise moisture-wicking and will stay dry.
They have versatile uses for cycling, running, and other outdoor activities and a snug and comfortable fit.
Make sure to select your perfect size from the available size options.
---
3
Armoray® Unisex Arm Sleeves

Fashionable Cycling Arm Warmers
The Armoray Arm warmers offer light warmth and protection against the sun, as well as available in a large variety of colors.
These are arm sleeves for men and women that provide warmth and protection against UV rays.
They are versatile enough to run, cycling, and many other outdoor sports where extra warmth and protection are required.
The sleeves likewise offer light compression to improve blood flow, particularly in colder weather conditions.
The interior is seamless with no irritating logos, tags, or sticking that may chafe and irritate your skin.
---
4
Gore Wear® Unisex M

Windstopper Arm Warmers for Cycling
The Gore Wear arm warmers for cyclists feature Gore Windstopper technology to protect you from cold winds.
Here we have a windproof lined Arm warmer for cycling that protects you against cold and wind.
They come in unisex size options and are ideal for colder weather conditions.
The Gore Windstopper technology is extremely effective, as well as water repellent, and highly breathable.
These arm warmers also have reflective details for running or cycling at night and in low visibility weather conditions.
---
5
Sockguy® Unisex Acrylic

Seamless Arm Warmers for Cycling
Something warm and cozy for very cold weather are the Acrylic arm warmers from Sockguy.
Something much more cozy and warm for very cold weather.
These are acrylic wool arm warmers that are recommended for cycling and jogging to regulate your body temperature.
The dual-arm cuffs and articulated mid-section and elasticized wrist cuffs keep cold out and offer a comfortable fit.
They are machine washable and consist of acrylic wool, spandex, and nylon materails.
---
6
Castelli® Unisex Chill

Arm Warmers for Cycling
The Castelli Arm sleeves are ideal for cool but not cold weather, and they can also prevent you from overheating with cooling technology.
For warmer and cool weather rather than cold weather, these arm sleeves are ideal.
They are versatile for running, walking, cycling, and other outdoor sports and activities, offering a snug and comfortable light fit.
The materails are very lightweight, almost like a second skin, and offer exceptional 50+UPF sun protection.
Energy-activated technology provides a cooling effect to regulate your body temperature and prevent you from overheating.
---
Arm Warmers and When to Use Them
When the weather becomes less predictable, specifically in fall and spring, you will need two completely different cycling wardrobes. This can be difficult, especially when you take long cycling trips from early morning when it's colder to mid-afternoon when it becomes hot again.
Arm warmers are a superb choice for any cyclist because they are so compact and lightweight, so you can wear them when it's cold and pack them away when it gets warmer.
Arm warmers provide the same warmth and protection against the sun as a long sleeve top or jersey, and they are so easy to put on and take off, making them extremely versatile.
---
The Main Benefits of Arm Warmers for Cyclists
Arm warmers can provide you with two main benefits;
Warmth – Cycling Arm warmers help keep your arms warm when cycling in cold weather. They also aid in keeping your body temperature levels optimal for competition purposes. While most of them keep you warm during cool weather, they also help keep your body from overheating with similar cooling technology. Thus most arm warmers for cyclists actually regulate your body temperature.
Sun Protection – Another excellent advantage of arm warmers or sleeves for cycling is that they are UV resistant and help protect you against harmful sun exposure and burns during long trips to direct sunlight.
---
Features of a Good Cycling Arm Warmer
Sizing – Keep in mind that cycling arm warmers need to fit snugly so as not to fall off. Get the right size that will give you a snug and comfortable fit. Most arm warmers come in a full length with a tight fit or some form of adhesives such as silicone dots at the upper arm and an elasticized wrist for a comfortable and secure fit.
Grippers – Look for arm warmers for cycling that have some gripping material to hold them in place—usually rubber, elastic, or silicone dots. The cuffs can also be elasticized for a snug fit and prevent wind from entering the arm warmers.
Reflective Materials – Most Arm warmers for cycling come with reflective materails so that they can be used at night or in low visibility weather for better visibility.
Design – As you will notice, cheaper models usually ate just a glorified cloth tube for your arms. In contrast, higher-quality cycling arm warmers offer more advanced technologies such as ergonomic arm fit and openings, as well as better articulation and materails.
Materials – Most good arm warmers for cycling consist of Lycra and stretchable materails along with spandex, thermal fleece, and other breathable and weather-resistant materails.
---
Index Table: Top Rated Cycling Arm Warmers
---
---