Some of the links in this post are affiliate links. This means if you click on the link and purchase the item, I will receive an affiliate commission at no extra cost to you. All opinions remain my own.
Your Gloves or mittens are some of the most important clothing items you will need when skiing or snowboarding.
The best snowboard gloves have a specific design and features to provide the warmth and dryness you will need for a day in the snowy mountains.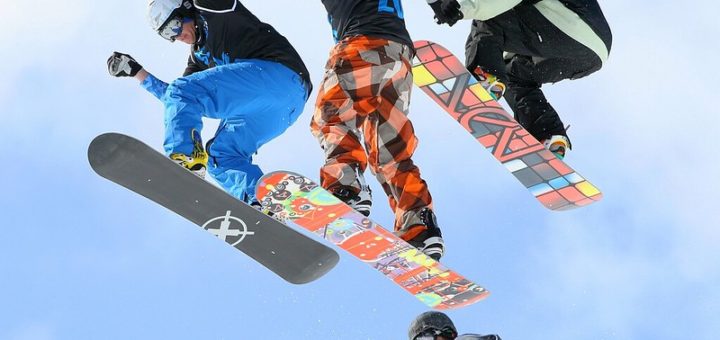 ---
Reviews: The Best Snowboard Gloves
In our list, you will find some top quality and very advanced Show Boarding Gloves;
We hope you love the products we recommend!
So that you know, We may collect a share of sales or other compensation from the links on this page.

---
1
The Dakine Gloves are unisex fit snow gloves.
They are ideal for skiing, hiking, and snowboarding in icy conditions.
The gloves are nylon with durable and water-repellent leather.
They consist of environmentally friendly materials and are quite durable.
Generally, they offer good warmth and have a waterproof gore-tex lining that also breathes well.
| Rating Category | Weight % | Score |
| --- | --- | --- |
| Snug Fitting | 30% | 100 |
| Adjustable | 25% | 95 |
| Padding | 20% | 100 |
| Snow-Proof | 15% | 95 |
| Durability | 10% | 95 |
| Total Score | 100% | 97.5 |
---
2
Burton's® Unisex Gore-Tex

Lined Snowboard Gloves
Burton's snowboard gloves are warm and durable.
They consist of two layers of DryRide material and Gore warm technology
They also have built-in touchscreen-compatible technology.
A removable Thermex liner keeps you warm and wicks away moisture.
| Rating Category | Weight % | Score |
| --- | --- | --- |
| Snug Fitting | 30% | 100 |
| Adjustable | 25% | 95 |
| Padding | 20% | 100 |
| Snow-Proof | 15% | 90 |
| Durability | 10% | 95 |
| Total Score | 100% | 96.75 |
---
3
Howl® Unisex Union

Snowboard Gloves
The Howls Union Snow gloves are also ideal for snowboarding.
They have a hook and loop closure for a secure fit.
The material is a Diamond ripstop and stretches twill with an insulated shell.
They are wind and waterproof and insulated for warmth.
| Rating Category | Weight % | Score |
| --- | --- | --- |
| Snug Fitting | 30% | 100 |
| Adjustable | 25% | 95 |
| Padding | 20% | 95 |
| Snow-Proof | 15% | 90 |
| Durability | 10% | 95 |
| Total Score | 100% | 95.75 |
---
4
Hestra® Unisex Army

Classic Snowboard Gloves
The Hestra Army Leather Gloves are ideal for skiing and snowboarding.
They have a windproof and water-resistant shell with breathable Hestra Triton fabric on the backhand and goatskin leather in the palms for grip.
They have a practical five-finger construction and a soft and removable lining.
More colors are available to you.
---
5
Dakine® Unisex Titan

Leather Snowboard Gloves
Another excellent addition from Dakine.
The gloves are perfect for skiing and snowboarding.
They are environmentally friendly in design and materials.
The gloves are durable and resistant to weather elements.
They also have a breathable and waterproof gore-tex lining.
---
6
686® Men's Gore-Tex

Snowboard Gloves
The 686 Linear Snow Gloves are fully waterproof with a gore-tex lining.
The gore-tex keeps moisture out from the outside while breathing to help moisture and sweat from the inside evaporate.
The design is comfortable and form-fitting with touchscreen-compatible technology.
You can enjoy full articulation as well as cozy warmth.
---
Gloves Vs Mittens for Snowboarding
You will have a choice between gloves and mittens for snowboarding, and we all want to know which of the two is best and why.
Well, there are two differences and important factors. Mittens are much warmer than gloves because your fingers provide warmth against each other, while gloves are much more dexterous and allow more movement and better grip.
Generally, for a sport such as snowboarding, I would choose a glove rather than a mitten because you need more dexterity and grip. However, the choice is still your personal preference.
There are four different types of gloves available today for snowboarding, so let's take a quick look at them and what they offer;


Gloves – Gloves have individual fingers that offer much better talent than mittens, making them ideal for sports and activities where you need to handle gear frequently. They are lightweight and warm and a great choice for snowboarding and skiing.
Mittens – Mittens are warmer than gloves because your finger generates more heat when they are not separated. However, they are not very handy, but they can still grip okay.
Lobster Gloves – Lobster gloves blend a glove and a mitten. They have a joined index and middle finger separated from a joined pinkie, a ring finger, and a separate thumb. This design gives you the best of both a glove and a mitten, as they are warmer than a glove and more elegant than a mitten.
Three in One Glove – A Three in One Glove or Mitten will have a glove or mitten shell with an interior warm glove liner that is elegant and comfortable for handling gear when you need to, and then you can put it the actual glove or mitten back on.
---
Size and Fit of Snowboard Gloves
One important consideration regarding snowboarding gloves is their size and fit.
A glove that does not fit properly will not provide the warmth and protection it needs and can be dangerous and very uncomfortable when snowboarding.
It would be best if you had a proper fitting glove that fits snugly with a little room at the end of your fingers, and your palm needs to be completely inside the glove with the entire wrist covered.
It must not be so tight as to constrict your fingers and not too loose to slip off.
Most manufacturers include a measuring and size chart in the advertisement of their gloves so that you can get a perfect size.
---
Features of a Good Snowboard Glove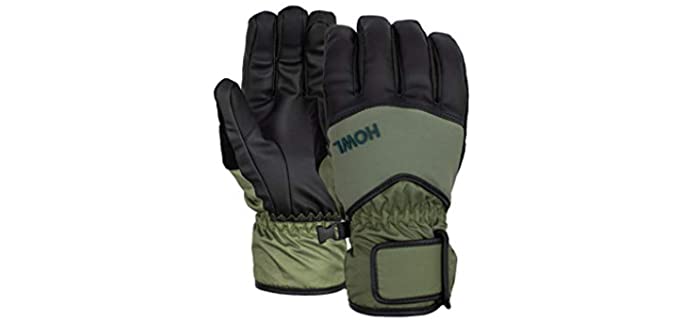 Insulation – Snowboarding Gloves need to be well insulated, offering warmth and protection against wetness and freezing weather elements. Down is sometimes used as padding inside snowboarding gloves. Down offers the best insulation and compresses very well. It is likewise very lightweight. Synthetic materials can also be used for insulation that provides warmth and resistance but may be slightly heavier than down.
Weather Proofing – Gloves designed for skiing and snowboarding are generally weatherproof. They will have a top layer that is waterproof and windproof to protect your hands from getting colder or wet. Gore-Tex is a technology used in many snowboarding gloves that offers excellent waterproofing while still being breathable. Most waterproof membranes will protect you from outside water entering the gloves yet still be breathable enough to allow vapor to escape to prevent excessive sweat build-up.
Heated Gloves – Heated gloves feature a battery-operated heating system that boosts warmth on cold days. These gloves usually come with rechargeable lithium-ion batteries and can operate at different levels to provide heat.
Touchscreen Compatibility – Today, as you will see, most gloves come with touch-screen compatible palms and fingers that allow you to operate a smartphone or device with your gloves on. Some models will only have a thumb and one or two fingers with a conductive patch for touchscreen compatibility, while others may also have a touchscreen-compatible palm. Most mid-weight and lightweight gloves will be more touchscreen compatible. However, more heavy-weight gloves may not be.
Size and Fit – A properly fitting glove is a must for snowboarding or skiing. You want to stay warm and comfortable while still having plenty of talent. Gloves that are too big will not keep your hands warm, and you will be unable to operate and hold on to equipment properly. Proper fitting gloves will be snug, with only ¼ of an inch of material left at the fingertips. The gloves must also not be too tight or restrictive.
Other Features – Snowboarding gloves may have leather palms to provide better grip and abrasion resistance. Some models may have long gauntlet cuffs that can extend over the sleeves of your jacket and cinch closed to keep wind and snow out. Some Snowboarding gloves may also have zippered pockets in the back of the hand to fit hand warmers or other very small items. Some gloves are designed with a thumb wipe for wiping your nose, and some have leashes and cords to secure them to your wrists.
---
Index Table: Top Rated Snowboard Gloves
---
---