Anyone who takes part in any form of combat sports or even gym enthusiasts knows the need for a good hand wrap for hand protection.
There are different types of Hand Wraps available on the market today, each with its own benefits.
So, in this article, we will take a look at some of the main types and the best brands and models available in these Hand Wraps.

---
The Hand Wrap and How it is Used
Known as a Hand Wrap, Wrist Wrap, or Kumpur, it is basically a strip of material or cloth that protects your hands and wrist against injuries.
Those who take part in combat sports such as Boxing use them underneath their gloves or as is. Many serious weight lifters also use Hand Wraps in order to protect their hands against bruising and chafing from heavy equipment.
All, in all the Hand Wrap is an essential element in combat sports and some gym routines as it protects your hands from severe and painful injuries.
There are, however, a few types and materials used for Hand Wraps which in the end all boil down to personal preference;
Mexican Style Hand Wraps – The Mexican Hand Wrap is the most popular and sought after for most combat sports. However, some Boxers find it too thick. The Mexican wrap consists of an elasticated bandage that is breathable and stretchy, conforming to the shape and movements of your hands.
Tape and Gauze – One of the first materials used for Hand WQraps and still used today is the Gauze and Tape method. Gauze is highly protective and very lightweight. However, it is not very flexible and also takes longer to wrap. Most Gauze brands can likewise also not be reused.
Cotton – Cotton Wraps are re-usable, some have attractable fabrics woven into the cotton and they are cost-efficient.
Under-Gloves – An Undergloves is a protective padded Glove with foam or Gel padding that wraps around your wrist and is mainly used to wear underneath boxing or combat Gloves.
In the Video you will see exactly how to use a Hand Wrap properly;
---
When to Wear a Hand Wrap
Hand Wraps should be used for all training sessions as well as in competitive situations mainly.
For any combat sport where you use your hands, whether Sparring with a Partner, in an actual Boxing fight, or for any other combat fight, you should wear a protective Hand Wrap.
Then there is also Gym Training where you use Gym equipment that may injure or chafe your hands, or where you need to perform activities that may compromise your hands. In this case, wrapping your hands, whether using a Glove or not, can be quite beneficial.
---
Features of a Good Hand Wrap According to Type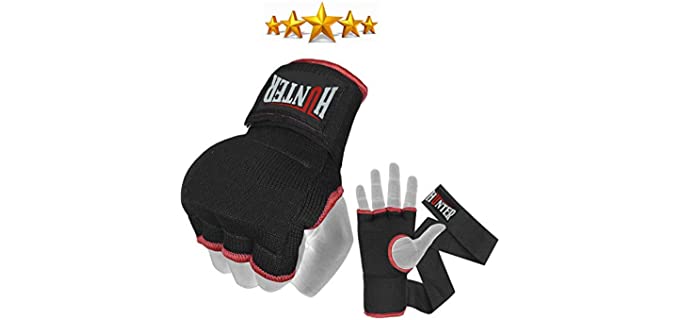 Cotton Hand Wraps – Cotton Hand Wraps consist of 100% pure breathable cotton materials and have a thumb loop at each end and a Velcro closure on the opposite end for securing the fit.
Gauze Bandages – Gauze used is light and breathable, as well as offering maximum protection. And Adhesive tape is used to secure the Gauze around your wrist, or it can be tied in a knot.
Elasticated Under-Gloves – The Elasticated Under Glove may or may not have light padding on the knuckles, as well as a Velcro band closure system that wraps around the wrist. The Underglove fits around your hand like a glove.
Under-Gloves with Gel Padding – In this case, the design and fit are similar to a general under the glove, with the only difference being that a Gel is used as padding on the top of the hand.
Mexican Style Hand Wraps – The most popular is the Mexican Hand Wrap, which is an elastic wrap that can stretch without limitations. There are also a thumb hole and a Velcro strap for closure in most models.
---
Reviews: The Best Boxing Hand Wraps
These are some of the best designs and choices when it comes to Hand Wraps;

---
1
The Meister wrap is a breathable cotton Mexican-style wrap that has a semi-elastic design.
A full-length wrap for adults that is ideal for Boxing and other combat sports, as well as for gym training.
The Wraps consist of breathable and pure 100% Cotton and Spandex for elasticity.
They provide ideal support and comfort as well as proper wrist support.
The oversized hook and loop closure makes them very easy to get a snug fit.
You can also choose from many color selections.
| Rating Category | Weight % | Score |
| --- | --- | --- |
| Snug Fitting | 25% | 100 |
| Wrist Protection | 25% | 95 |
| Comfortable Padding | 20% | 100 |
| Elastic Cotton | 15% | 95 |
| Knuckles Protection | 15% | 90 |
| Total Score | 100% | 96.5 |
---
2
The Ringside Wrap is another semi-Elastic cotton wrap in Mexican design.
The Ringside wrap is available in plenty of colors, from neutrals to more bold and neon colors.
The Wraps are comprised of Cotton and spandex for flexibility breathability.
The Wrap is 180Inches long and has a thumb loop for a secure fit.
You can likewise machine wash these wraps, and they dry quickly.
| Rating Category | Weight % | Score |
| --- | --- | --- |
| Snug Fitting | 25% | 100 |
| Wrist Protection | 25% | 95 |
| Comfortable Padding | 20% | 100 |
| Elastic Cotton | 15% | 90 |
| Knuckles Protection | 15% | 90 |
| Total Score | 100% | 95.75 |
---
3
The Hunter Gel Padded Wrap is a High-Quality Underglove with a secure wrist wrap.
You get the Wrap is a set of two.
They are perfect as inner gloves with padding for added protection.
Manufactured from high-quality cotton and Lycra for the straps, these Gloves will not let you down.
The Padding serves as added protection, and the wrap fits securely around your wrists.
| Rating Category | Weight % | Score |
| --- | --- | --- |
| Snug Fitting | 25% | 100 |
| Wrist Protection | 25% | 95 |
| Comfortable Padding | 20% | 95 |
| Elastic Cotton | 15% | 90 |
| Knuckles Protection | 15% | 90 |
| Total Score | 100% | 94.75 |
---
4
The RDX Wraps is the ideal Underglove wrap for Boxing and other combat sports where you need to protect your knuckles.

The Shell consists of a shock-absorbing padded foam.
Woven Carbon fibers in the fabric are split and tear-resistant for additional durability,
The cotton wrap secures your wrist and has a hook and loop closure. \ Thermal regulation technology is used to manage moisture inside the wrap.
Enjoy maximum comfort and protection with the RDX wrap.
---
5
Again from Meister, we have their supreme Gauze wrap for those who prefer this older wrapping method.

The Gauze is semi-elastic and constructed from premium breathable cotton.
The super-soft, the durable woven blend will stretch and conform to your hands and needs.
You can use this specific gauze multiple times and even wash it.
The Gauze offers traditional protection that has been trusted for many years before.
---
6
Another excellent brand in Hand Wraps is the Title Boxing Elastic Mexican Style Hand Wrap.
The Tite Wrap is available in many bright, neon, and more neutral color selection from which you can choose.
The wrap consists of Durable and breathable polyester as well as Spandex for flexibility .
The wrap is semi-flexible and very durable for long-lasting comfort.
As you will also see, this is the well-trusted Mexican-style hand wrap.
---
7
The hand wraps are available in many colors from which you can choose.
They measured two by 120 inches in size and length.
The Wraps consist of machine washable cotton.
They have a convenient thumb loop with an easy-to-use Velcro closure.
---
8
The design of the Sanabul New Gel Quick hand wraps is completely re-designed.
They are fast and easy to use.
The Gel padding provides comfortable protection.
The fit is more secure and comfortable.
---
9
The wraps consist of breathable elastic cotton.
They are available in plenty of color options.
The wraps have a wide hook and loop closure and a comfortable feel.
They are easy to wash and maintain.
---
10
These are elastic cotton hand wraps for boxing.
They come in quite a few solid colors and are sold in pairs.
The wraps are durable and machine washable.
They have a fast and easy Velcro closure.
---
Index Table: Top Rated Hand Wraps
---
---