Some of the links in this post are affiliate links. This means if you click on the link and purchase the item, I will receive an affiliate commission at no extra cost to you. All opinions remain my own.
The Focus Mitt is one of the best training Mitts for Boxers and Combat athletes.
When it comes to a Focus Mitt, you want the best quality and something durable and practical.
Therefore in this article, I will show you some of the best available Focus Mitts for Combat sports and Boxing.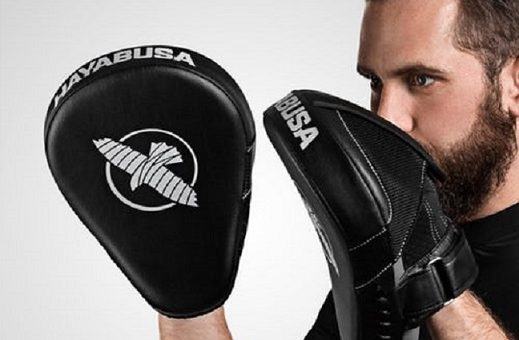 ---
Reviews: The Best Focus Mitts
These are some of the top favorite Focus Mitts that you will find today;
We hope you love the products we recommend!
So that you know, We may collect a share of sales or other compensation from the links on this page.
---
1
The Meister Contoured Mitts are pure Cowhide leather with extra padding for shock absorbency.
Premium Cowhide Leather is used for the outer Mitt, which is exceptionally durable.
The Mitts are gently curved to keep strikes more centered.
There is likewise substantial wrist padding for stability and joint protection.
The set is sold as two Mitts.
---
2
Ringside® Unisex Heritage

Panther Focus Mitt
The Ringside Heritage is a Panther Mitt that is extra lightweight and durable.
A Thick 1.3mm Mitt with premium drum-dyed cowhide leather.
A full two-and-a-half-inch impact minimizes foam combination and a padded two-inch wrist arch for added protection and impact absorbency.
There is also a foam padded finger hood.
The Mitt has an ultra-light design that is very comfortable to use.
---
3
Combat Sports® Unisex Boxing and MMA

Micro Focus Mitt
For combat sports, we have the best available Micro Focus Mitt for better accuracy in training.
A more compact design Mitt is ideal for Accuracy training.
There is an internal wrist arch support that also allows better mobility.
Complete and genuine leather construction and materials are used.
There is likewise a Pinpointed center target for better accuracy when striking.
---
4
Fairtex® Unisex Training

Contoured Focus Mitt
The Fairtex Contoured Focus Mitt is durable and offers excellent shock absorbency.
The Mitt has a soft, comfortable hand compartment and a protective finger hood.
The design is ultra-lightweight and shock absorbing with layered foam on the striking surface.
Leather is used for the entire Mitt, which is genuine and fine quality leather.
The Mitts are also hand-made in Thailand.
---
5
Ringside® Unisex Air

Hybrid Mitt
The Ringside Boxing Air Mitts are lightweight Hybrid Combo Mitts, which are also perfect for beginners.
A thick and shock-absorbing Focus Mitt is ideal for Boxing and harder strikes.
The Mitt is three inches thick and can absorb heavy strikes from all angles.
The design is an effortless slip-on style, and it is very lightweight.
Genuine leather and foam padding are used for the construction of the Mitt.
---
6
Meister MMA® Unisex Target

Focus Target Mitt
From Meister MMA, we have these super durable and ergonomic Contoured Focus Mitts.
Another Thick and shock-absorbing contoured design is Mitt for harder variable strikes.
There are three inches of Power Center Padding for absorbency.
The leather body is very durable and super lightweight.
There is a slightly curved design that helps to sharpen striking accuracy.
The hand pockets have an ergonomic shape and design for a more snug fit and comfort.
The set comes in a pair of two Mitts.
---
7
Hayabusa® Unisex PTS 3

Focus Mitts
These are compact Microfocus mitts.
They are ideal for training and Kickboxing.
The Mitts have a traditional design and are very durable.
They come in a single pair.
---
8
ValleyComfy® Unisex Focus

Mitts
Here we have curved boxing focus mitts.
They are wear-resistant and comfortable.
There are a leatherette palm and surface,
The design is one size fits most fit.
---
9
Sanabul® Unisex Curved

Focus Mitts
The perfect fitting focus mitts.
They have a curved design and need no break-in time.
The mitts are designed to be durable and comfortable,
Ideal for keeping trainers safe.
---
10
Cheerwing® Unisex Premium

Focus Mitts
Curved Focus Mitts are easy to transport and versatile.
They are wearing-resistant and very durable.
The focus mitts are ideal for boxing and kickboxing.
They are available in a few colors, from which you can choose from the basic black design.
---
The Focus Mitt
The Focus Mitt is a Padded target attached to a Mitt held by someone for training boxers and combat athletes.
The Focus or Target Mitt is a trendy piece of equipment that came about as Muay Thai, and Far eastern Martails Arts started making their way to Western countries in the late 1700s.
Today the Focus Mitt has been an almost irreplaceable part of every fighter's routine for decades.
It is often said that holding the Focus Mitt is almost as intense as striking the Focus Mitt. The persons Holding the Focus Mitt need to know where and how to set their hands and offer proper resistance.
Therefore the right Focus Mitt is extremely important to the wearer and the person striking the Mitt.
---
The Different Types of Focus Mitts
When considering a Focus Mitt, there are three main categories of Mitts. Each of these is slightly different from the other and suited to different types of combat sports and training;
The Speed or Micro Mitt – The Speed or Micro Mitt is the lightest and smallest of Focus Mitts. These Mitts are used to sharpen combat combinations and accuracy. They do not offer much protection but are much smaller to make a much smaller target for fast strikes to improve accuracy.
The Contoured or Panther Mitt – The Contoured or Panther Mitt is used for heavier punches and offers much more protection. The Contoured or Panther Mitt has a curved and contoured surface area for striking that absorbs harder punches much better for protecting the holder. Panther or Contoured Mitts may also have padding in the wrist area. The Panther Mitt is used to catch punches, elbows, and Knees because they can handle more weight.
The Hybrid or Combo Mitt – The Hybrid, or Combo Mitt, is a jack of all trades and can be used for Boxing and Mixed Martial arts training. They incorporate features of the first two Mitt Types, each with slight differences, which will depend on your preference. Hybrid or Combo mItts are both lightweight, well-padded, and have a contoured design. These Combo Mitts can be used to catch a variety of strikes that are much similar to the Contoured Mitt.
---
Features of a Good Focus Mitt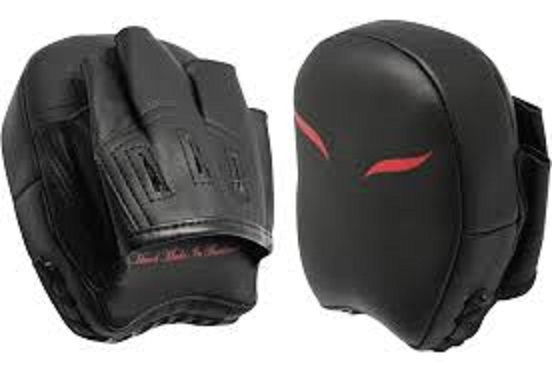 Materails – Genuine leather, usually Cowhide, is used for the entire glove, and two to three inches of padding in your Contoured Mitts, or less padding in the Micro and Hybrid Mitts.
Wrist – A Velcro wrist strap or secure wrist arch design offers full support and better mobility. Padding is also used n the wrist for protection.
Size – Micro MFocus Mitts are smaller and pinpointed, whereas Contoured or Panther Focus Mitts are larger, more padded, and have a contoured design.
---
Index Table: Top Rated Mitts and Mittens
---
---