Some of the links in this post are affiliate links. This means if you click on the link and purchase the item, I will receive an affiliate commission at no extra cost to you. All opinions remain my own.
As has been advised, Rock Climbing is an exhilarating experience and an excellent workout.
Trying Rock Climbing without the proper Gloves can result in serious injury, pain, and damage to your hands.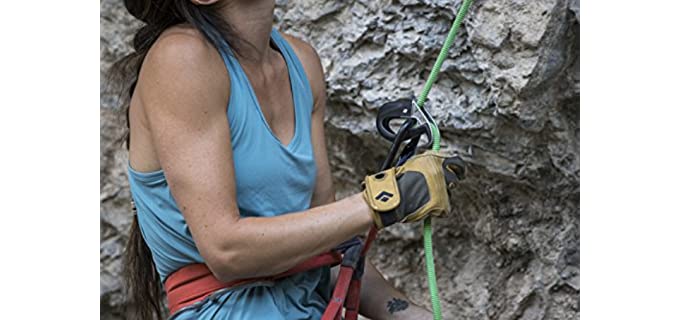 ---
Reviews: The Best Climbing Gloves
These are the ideal Gloves to offer your protection and comfort when Climbing;
We hope you love the products we recommend!
So that you know, We may collect a share of sales or other compensation from the links on this page.

---
1
The Caiman Rappelling Rope and Climbing Glove are tough and comfortable, offering maximum protection.
The Caiman Glove has been made from Goatskin with a reinforcing layer of pigskin leather in all the high wear areas.
There is also a Hi-Viz reflective back on the backside of the glove for maximum visibility.
Air mesh in the back keeps your hand well ventilated, and there is internal padding on the glove for comfort and shock resistance.
The Knuckles of the glove are made from durable and flexible neoprene, and there is a cuff for an adjustable and snug fit.
This glove is available in different size options for men and women.
| Rating Category | Weight % | Score |
| --- | --- | --- |
| Quality | 30% | 100 |
| Snug Fitting | 25% | 100 |
| Abrasion Resistant | 20% | 95 |
| Sweat Absorbing | 15% | 95 |
| Dexterity | 10% | 90 |
| Total Score | 100% | 97.25 |
---
2
Black Diamond® Unisex Punisher

Cold Weather Climbing Gloves
The Black Diamond Climbing Glove is a top brand, and this is one of their favorite models, the Punisher.
The Glove has a Nylon shell with spandex for flexibility and a Goatskin Palm for grip, along with a soft and comfortable polyester lining.
There is a hook and loop closure on the wrist for a comfortable and secure fit.
The fixed lining also has a waterproof dry insert for added protection,
The Woven Nylon on the shell is abrasion resistant and has a four-way stretch design for easy movement and flexibility.
| Rating Category | Weight % | Score |
| --- | --- | --- |
| Quality | 30% | 100 |
| Snug Fitting | 25% | 100 |
| Abrasion Resistant | 20% | 90 |
| Sweat Absorbing | 15% | 95 |
| Dexterity | 10% | 90 |
| Total Score | 100% | 96.25 |
---
3
Carhartt® Unisex Durable

Durable Climbing Gloves
From Carharrt, we have very durable and comfortable Climbing Gloves.
These gloves consist of Cotton, Nylon, and Spandex with added rubber on the palms for grip and durability.
Easy pull-on closure, a secure fit, size options, and color selections are available.
A durable knit glove with a direct injection molded c-grip tar coating for grip.
Ideal and extreme grip and dampening qualities and excellent wrap coverage will be evident in this glove.
| Rating Category | Weight % | Score |
| --- | --- | --- |
| Quality | 30% | 100 |
| Snug Fitting | 25% | 95 |
| Abrasion Resistant | 20% | 90 |
| Sweat Absorbing | 15% | 95 |
| Dexterity | 10% | 90 |
| Total Score | 100% | 95 |
---
4
Black Diamond® Unisex Crag

Climbing Gloves
The Black Diamond Crag is another excellent Glove in their range, perfect for climbing.
Made from synthetic leather and breathable stretch mesh for ventilation with comfortable and shock-resistant padding.
Synthetic leather is on the palms and fingers, and the index finger has been reinforced.
There is also a thumb crotch, hook, and loop closure for durability and a comfortable, snug fit.
---
5
Metolius® Unisex 3/4

Climbing Gloves
The Metolius Climbing Glove is made from durable natural Cowhide and is triple stitched for strength with a split cowhide palm reinforcement.
All the high-wearing areas on the glove are reinforced.
There are also open fingers with a double stitched design and a Bar-tacked webbing clip-in loop closure.
---
6
Black Diamond® Unisex Transition

Durable Climbing Gloves
The Shell of the Black Diamond Transition is made of Goatskin leather and Nylon with Spandex for flexibility.
Goat leather and weaves stretch fabric design ultra-durable and flexible climbing gloves.
The Leather Knuckles and Palm patches have been reinforced with Kevlar Stitching.
There is also a secure and stable hook and loop closure system on the Black Diamond Transition Glove.
---
Choosing Your Climbing Gloves Carfully
Housing your Climbing Gloves should be a meticulous and thorough process, as these gloves are a necessity in your Rock Climbing Gear;
Quality – Getting a good quality pair of gloves is vital as you do not want defective and low-quality gloves to let you down while you are busy climbing. Look at your gloves as an investment in safety and sport that should last long and not fail when you need them the most.
Grip – Climbing Gloves should offer a comfortable and secure grip that will not let you down.
Protection – Durable and protective Climbing Gloves protect your hands against abrasions, cuts, and injuries.
Fit – The Fit is essential as it needs to be snug, but not too tight, and securely around your wrist. Adjustability in the wrist straps. Your gloves must be thick and protective yet allow for flexibility and easy movement.
---
Bare Hands VS Climbing Gloves for Climbing
There is an argument about whether it is better to climb barehanded or with Gloves.
Climbing Bare Handed gives you a much better and more natural feel of the Rocks, and some say that it also helps you to build an improved climbing Technique. However, barehanded Climbing can be dangerous and play some havoc on your hands regarding chafing, abrasions, bruises, cuts, and other injuries.
Climbing with Gloves may not be a minimalistic approach, and you have less feeling of the Rocks, but it is much safer and much more comfortable. Climbing with Gloves protects your hands against injuries, scrapes, and abrasions, yet they also offer a bit ess dexterity and flexibility, which you can easily learn to cope with in this case.
---
Features of a Good Climbing Glove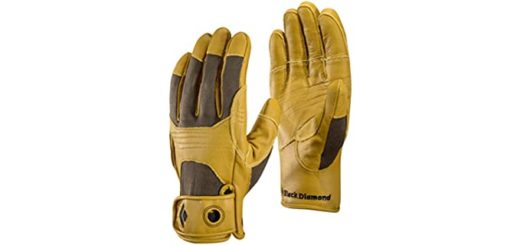 Materails – Climbing Gloves can be made from genuine leather such as Cowhide, Pigskin, and Goats leather or a combination, as well as synthetic leather and Nylon or durable textiles. There is usually a soft polyester or insulated fleece lining and, in some models, a waterproof lining. Lycra and neoprene or spandex are used for flexibility in the fingers, and knuckles, and rubber can be used on the palms for added grip.
Stictiching – For better durability and reinforcement, mainly on high wear areas Triple and double stitching methods are used as well as the incredibly robust Kevlar stitching.
Closure – Most climbing Gloves only have a secure cuff closure, while some have a hook and loop closure and others a velcro closure strap around the wrists.
Designs – The Climbing glove usually has a closed finger design, although some may have open fingers. Padding can also be used in the glove for shock resistance and comfort.
Size – The Climbing Glove is available n different size options for men and women because they need to fit securely and not slip off or squeeze your hands.
---
Index Table: Top Rated Climbing Gloves
---
---