Some of the links in this post are affiliate links. This means if you click on the link and purchase the item, I will receive an affiliate commission at no extra cost to you. All opinions remain my own.
Kickboxing is one of the best sports for cardio exercise and improving your hand-eye coordination and an excellent form of defense when needed.
Kickboxing is a sport that requires drilling, live sparring, and technique, along with plenty of training, and for this, you need the right sets of Kickboxing Gloves.
The Best Kickboxing Gloves are suited to your style and training types, as there are different options available. In this article, we will discuss some of these options.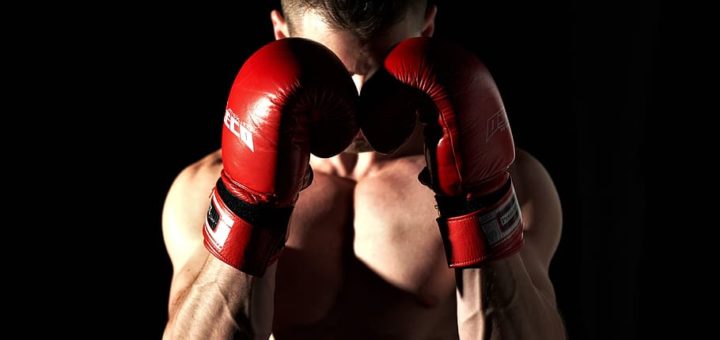 ---
Reviews: The Best Kickboxing Gloves
Below we have Boxing, Competition, and Fingerless Kickboxing Glove Brands and Models, which are all ideal to use in different stages and scenarios concerning kickboxing;
We hope you love the products we recommend!
So that you know, We may collect a share of sales or other compensation from the links on this page.

---
1
The RDX MMA and Kickboxing Gloves are ideal for grappling, sparring, and combat and durable enough for heavy punching bags.
You can choose from four available colors in this model.
The glove consists of very durable Hide leather that is quality for cracking and wear and tear.
The Tri-Slab PC3 padding delivers eventual protection and excellent impact resistance.
There are a dual Quick EZ Hook and Loop closure system, and the wrist strap has a protective and comfortable ergonomic design.
The D-Cut open curve palm design allows for a more natural grip and is designed for optimal airflow.
| Rating Category | Weight % | Score |
| --- | --- | --- |
| Sparring | 25% | 100 |
| Strengthening | 25% | 100 |
| Injury Resistant | 20% | 95 |
| Knuckles Protection | 20% | 95 |
| Price | 10% | 90 |
| Total Score | 100% | 97 |
---
2
Sanabul® Unisex Essential

Gel Kickboxing Gloves
The Sanabul Essential Gel Boxing and Kickboxing Gloves offer an exceptional fit and innovative Gel technology.
These Gloves are tested by pros that demand only the best.
The Engineered leather materails sued are built for hard use and constructed to handle hundreds of rounds.
The Gel-infused padding lets you feel the impact without the pain.
There are a powerful hook and loop closure on the protective wrist.
The Gloves do not require months of breaking in as they already provide a comfortable fit.
| Rating Category | Weight % | Score |
| --- | --- | --- |
| Sparring | 25% | 100 |
| Strengthening | 25% | 100 |
| Injury Resistant | 20% | 95 |
| Knuckles Protection | 20% | 90 |
| Price | 10% | 90 |
| Total Score | 100% | 96 |
---
3
Fairtex® Unisex Muay Thai Style

Training and Sparring Kickboxing Gloves
The Training Glove set from Fairtex is ideal for Sparring and Bag training because of its heavier weight and added protective foam.
The All-purpose Training Gloves are also perfect for bag and pad work.
A wraparound hook and loop closure wristband for a secure and protective wrist fit.
The Glove generally provides a more comfortable and better fit for better control.
The Padding is evenly distributed to protect your entire hand and create a more compact design.
| Rating Category | Weight % | Score |
| --- | --- | --- |
| Sparring | 25% | 100 |
| Strengthening | 25% | 95 |
| Injury Resistant | 20% | 95 |
| Knuckles Protection | 20% | 90 |
| Price | 10% | 90 |
| Total Score | 100% | 94.75 |
---
4
Everlast® Unisex Pro Style

Kickboxing and MMA Grappling Gloves
The Everlast Pro Style MMA Grappling Glove is ideal for kickboxing with a fingerless design.
The Gloves consist of premium synthetic leather with durable and long-lasting construction and design.
The Gloves have padding on the back for protection and a protected thumb.
There is a full wrist strap for superior wrist support and comfort.
Inside is an EverDri technology lining that absorbs moisture and keeps your hands dry and comfortable.
There are three available color options from which you can select.
---
5
FitsT4® Unisex Half Mitts

Gloves for Kickboxing
Premium quality durable Pu leather gloves.
They are abrasion-resistant and have an EVA lining and padding.
The custom fit and design offer optimal wrist support.
They offer multi-functional and purposeful hand protection.
---
6
Everlast® Unisex Mixed Martial Arts

Kickboxing Grapple Gloves
The Mixed Martial Art Glove from Everlast is the ideal grappling glove that you can use for kickboxing.
More than three-quarters of the glove's padding is over the knuckle area for increased protection ad comfort.
The seams and finger slots are reinforced for better durability.
There are a durable and adjustable hook and loop strap.
The elastic cuff provides a more comfortable form fit that is easy to put on and take off.
---
7
Liberluplus® Unisex MMA and Kickboxing

Gloves
Premium PU leather Kickboxing Gloves.
They have reinforced impact protection padding.
The back of the hand area has a sectional design for wrist flexibility.
You also have the option of a 30-day no-hassle return.
---
8
Everlast® Women's Pro Style

Gloves for Kickboxing
The Everlast glove range features the patented Thumb-Lok feature for durability,
The gloves have a natural shape and conform to the shape of your hands.
They have a wrap-around hook and loop velcro closure.
There are different weight size options available.
---
9
Sanabul® Unisex Essential

Kickboxing Gloves
Professionals test these gloves for quality and efficiency.
They have Gel padding for impact protection.
The fit is comfortable and ideal.
No break-in period is required.
---
Do You really Need Proper Kickboxing Gloves
The Right Kickboxing gloves are as essential as boxing gloves for boxing, so yes, you truly need the right gloves.
As you will see, kickboxing gloves have a boxing glove design, which is heavier and ideal for sparring and bag training. There are fingerless gloves that are more lightweight and have less padding for other forms of training. Gloves for Competition need to be more protective with better padding.
Then there is the issue of wrist protection. Most kickboxing gloves have a secure and supportive wrist fit to protect your wrists. You can also get additional hand, and wrist wraps to protect your hands and wrist inside the gloves.
---
Choosing the Best Kickboxing Gloves
As most Kickboxing gloves will come n a large array of styles and forms, you need to consider a few essential factors before you head out to make a purchase.
One of the most important factors that we will take a deeper look into is the different types of Kickboxing Gloves;
Bag Gloves – Just as the name states, these types of gloves are especially for punching bag work. You get fully padded heavy gloves for bag work and lighter, less padded gloves for speed bag work. These gloves are mainly for training purposes only.
All Purpose Training Gloves – All Purpose Training Gloves are used for various workouts and training regimes. They are ideal for bag work and also for sparring. All-Purpose Training Gloves offer excellent wrist support so that you can train for longer hours without feeling fatigued, and your wrists do not run the risk of getting sprained or strained. These gloves help you gain stamina and are perfect for all-around work.
Sparring Gloves – Sparring Gloves are meant for sparring and are a hybrid between a training glove and a competition glove. Sparring Gloves are well padded all around and especially in the knuckle area. This is because you will be sparring with another person and may be at more risk of injury. Sparring Gloves are a little heavier than bag gloves and all-purpose gloves.
Competition Gloves – Competition Gloves are the real deal. These gloves are used in actual fights. Competition Gloves are more lightweight to enable the fighter to do quick jabs and punches. Competition Gloves likewise feature less padding and are not recommended for beginners or persons with a passive interest in Kickboxing. In professional Boxing, Competitive gloves need to be a specific weight, and there are brand restrictions that you will need to consider. Thus before you start Kickboxing Competitively, any other gloves should be your ideal choice.
---
Features of a Good Kickboxing Glove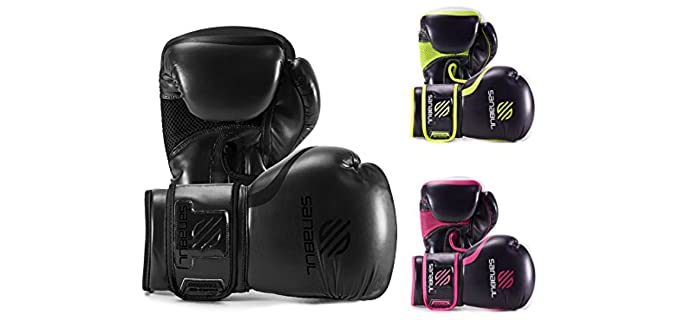 Padding and Material – The best materails available are genuine leather or hide leather material., although some synthetic leather materails have also proven uquite durable. Foam or Gel padding is ised, of which Gel padding is the most durable and ideal for impact resistance.
Design – Depending on the use, you get a closed or fingerless design, some with more padding and others with less padding and better flexibility. More padding on the knuckles is required for sparring and bag work generally. Then there is also the wrist, which needs to provide secure protection. An elastic or hook and loop Velcro closure is ideal for the wrist.
Sizing – The right size in Kickboxing Gloves is vital. Usually, gloves will come in different size options with measurements that you can follow. The larger a glove is, the heavier it will generally be, which is not desirable.
Weight – For heavy-duty work such as sparring and bag punching, you need a heavier and well-padded glove, whereas, for kickboxing routines and exercising with your gloves, a lighter glove type is required. So the weight of the Glove will largely depend on its use.
---
Index Table: Top Rated Kickboxing Gloves
---
---