Some of the links in this post are affiliate links. This means if you click on the link and purchase the item, I will receive an affiliate commission at no extra cost to you. All opinions remain my own.
We wear gloves to keep our hands warm and protected as well as for many tasks such as gardening, and yard work.
So why not wear the best gloves for the gym, to protect your hands against the hard equipment.
Weight lifting requires extensive use of your hands which in turn can cause pain, blisters, and callouses from frequent weight lifting.
Gym gloves not only improve your grip on gym equipment but also protects your hands from damage and injuries.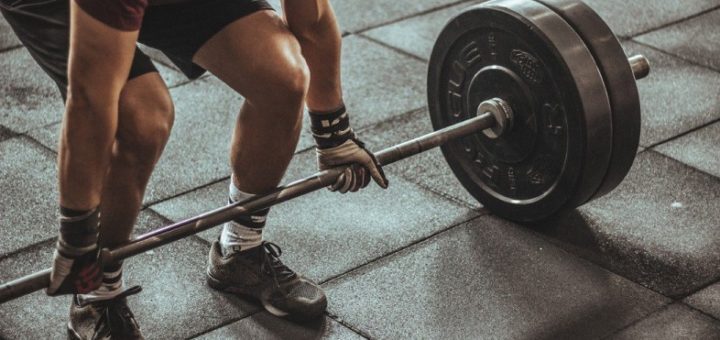 ---
Reviews: The Best Gloves for Gym
Here we have some of the best available gloves to use in the gym;
We hope you love the products we recommend!
So that you know, We may collect a share of sales or other compensation from the links on this page.
---
1
The Simari gym gloves are ideal for gym and for weight lifting.
They offer excellent palm protection and grip with foam padding in the palms and a honeycomb printed texture with silica for grip.
The gloves have adjustable Velcro straps around the wrist for the perfect fit.
The humanized design has spandex at the back of the hand for flexibility.
They are multifunctional for weight lifting and other forms of training.
---
2
Atercel® Unisex Workout

Gym Gloves
The Atercel gloves for the gym are ideal for a variety of purposes.
They can be used for weight lifting, spinning, cycling, and training.
The gym gloves have a grippy and cushioned palm design and flexible back.
They are durable and offer a more comfortable snug fit overall.
The gloves have a humanized design for a stretchable fit.
---
3
Glofit® Unisex Freedom

Gloves for Gym
The Glofit Freedom workout gloves are perfect for the gym.
You can use them for weight lifting and other exercise routines.
They have a curved open-back design and added palm cushioning and grip.
The palms are abrasion resistant and the design is very flexible.
The Velcro wristband is adjustable for the perfect fit.
---
4
Fitness force® Unisex Ventilated

Wrist Support Gloves for Gym
From Fitness Force we also have the perfect gym gloves.
They are neoprene gloves that have built-in wrist support and a flexible design.
The gloves are ideal for weightlifting, powerlifting, and many other uses.
They are ideal for men and for women.
---
5
Glofit® Unisex Freedom

Weight Lifting Gym Gloves
The Freedom range from Glofit offers comfortable weightlifting and workout gloves.
They offer a cushioned palm with silica gel for grip and excellent abrasion resistance,
The fit is very breathable and flexible to keep our hands cool and comfortable.
The wrist strap is adjustable to provide a comfortable fit to your requirements.
They are also available in a few more color options.
---
6
Simari® Unisex Workout

Gloves for Gym
The Simari Workout gloves are designed for men and for women.
They offer excellent comfort and protection for a variety of gym workouts, as well as for weight lifting.
They have excellent wrist support and a Velcro wrist fit.
The gloves offer palm protection and a superior grip.
---
Benefits of Wearing Gloves for Gym
There are so many benefits to wearing good gloves for gym and weight lifting;
Finger protection – Lifting heavy weights, especially on inexperienced hands can cause stress on the tendons of your hands and fingers, Gym gloves provide a protective barrier that reduces the weight load and impact on your hands and fingers.
Decrease Calluses – Calluses are small parts of hardened skin on your hands, usually from repetitive friction and weight-bearing. Calluses are something known by many avid weight lifters and can come quite easily from repetitive weight lifting routines. Luckily they can easily be preventative with the use of a proper weight lifting glove.
No Need for Chalk – Wearing gym gloves eliminate the need for using chalk. Many gyms have also banned the use of chalk, so gym gloves come in quite handy in this regard. Chalk is used on weight lifting equipment to reduce and absorb sweat, however, chalk has many downfalls such as leaving a residue on equipment and allergies.
No Dropping Weights – Sweat when working out intensively can cause the hold on your gym equipment and weights to become slippery, and you may drop the weights. With gym gloves, you have so much better grip on weights and gym equipment, and it completely eliminates the risk of slipping from sweaty hands.
Improve Stability – Most weight lifting gloves are designed to provide stability for your hands and wrist when lifting weights. It eliminates movements that can cause damage and injuries to your hands and wrist by keeping them steady and well supported.
Better Workout Technique – When you are focusing on sweating hands, grip, and painful hands then you are not putting in the best effort in your workout overall. When you wear gloves you have the proper grip, less pain in irritation, or friction on your hands. Now you can do a better workout with less interference.
Cushion Your Hands -Hand pain can catch you suddenly or after many years of weight lifting. Most gloves for the gym provide a good cushioning that helps to absorb the hard impact and heavy weight of most weights and gym equipment on your hands.
---
Why You Need Gloves for the Gym
Gloves are very ideal for a workout session in the gym to protect your hands against over rods, dumbbells, and other weights and gym accessories.
They protect your hands from abrasion, calluses, bacteria, and germs and also help to support your wrists and cushion your hands against heavy equipment and impact.
The palms of most gloves for the gym are designed to provide extensive grip on equipment which also reduces your need to use chalk and powders.
Choosing the perfect gloves for the gym is a personal issue it will depend on the type of exercises you do and your proficiency requirements.
For anyone that uses free weights, cardio machines, and punching bags, workout bags may become essential.
---
Features of a Good Glove for Gym
When choosing the best gloves to gym with, you can consider the following features;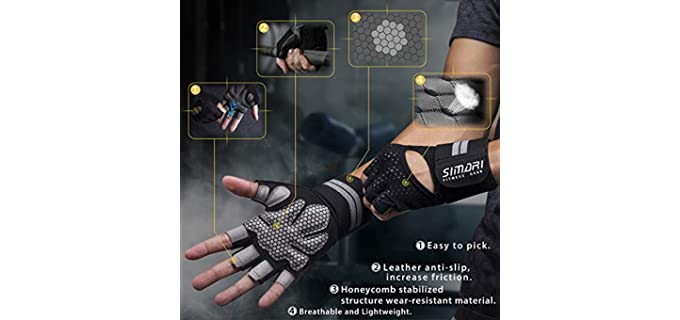 Fit – Make sure that the fit is snug and comfortable and fits over your wrist properly. You still want to be able to move your fingers and hands easily.
Cushioning – You get full half or three-quarter finger design gloves for gym. They usually have some padding in the palms for impact resistance when handling heavyweights.
Support – Gloves for the gym mostly offer good hand and wrist support for handling weights. They should feel natural and keep your wrists and hands well aligned.
Traction – One important feature to look for in a glove for gym is good traction, or grip. Materials such as leather offer excellent grip, while silica or silicone may be added to the palms to improve grip.
---
Index Table: Top Rated Gloves for Gym
---
---