As baseball players spend most of their time practicing their swings and batting skills, not much thought is given to batting gloves.
Yet your batting gloves can make a huge difference in how you play, as a pair of uncomfortable or worn-out batting gloves can quickly become very distracting.
That is why it is so important that you get the best batting gloves that are comfortable, allow for easy movement, and fit properly, most of all.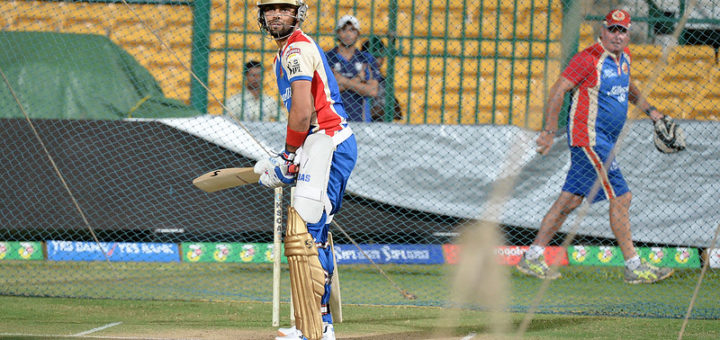 ---
Should Your Wear Batting Gloves
There is the argument if batting gloves are actually essential, and if you actually take some note, almost every softball and baseball player today, from all levels, do wear batting gloves.
The first person to ever wear batting gloves was the Giants Bobby Thomson in 1949. Ted Williams of the Red Sox in Boston also tried some batting gloves after his manager noted the blisters on his hands. Though batting gloves only became a common accessory among softball and baseball players in the 1980s.
Batting gloves provide a better grip on the bat as they have grippy palm materials and designs. They also protect your hands against abrasion and vibrations with light padding and comfortable linings, so there is less chafing, blisters, and risk of injuries or overuse injuries.
Generally, batting gloves help prevent the slipping of the bat because your hands do become sweaty, which is one of its most favorable advantages.
Then again, in very cold or rainy weather, batting gloves are welcomed because of their waterproof protection, and they provide some shielding against the cold weather.
---
Some Considerations when Buying Batting Gloves
You will need to consider a few things when purchasing a new pair of batting gloves: size, quality, and appearance, as you also want to look good and feel good in your batting gloves.
Quality is essential because you do not want gloves that are just broken in and comfortable and then repurchase new ones.
Do You Need Batting Gloves – Batting Gloves are not a requirement in any way, but I guarantee at some or other stage you will wish that you had a pair at hand. Wearing them is a personal preference, so you can wear whatever is comfortable and suitable for your personality. However, I recommend that you wear batting gloves to protect your hands against vibrations and abrasions and improve your grip, especially when your hands become sweaty.
How Should Batting Gloves Fit – Batting gloves need to fit snugly with very little space left over at the tips of your fingers. But you do not want them super tight as they will cut off circulation and impede your movement.
Can You Shrink Your Batting Gloves – Washing and drying your batting gloves may shrink them a bit but will potentially actually ruin their quality and durability. Washing and drying leather gloves will completely ruin them, so this is not at all advised.
Should You Wear One or Two Batting Gloves – Most players today wear either two or no gloves at all, wearing just one glove is not always the best idea. Yet this, all in all, is your own personal preference, so whatever works for you best.
---
Features of a Good Batting Glove
Batting gloves are worn to help improve your grip on the bat and decrease perspiration, so keep this in mind when looking at features.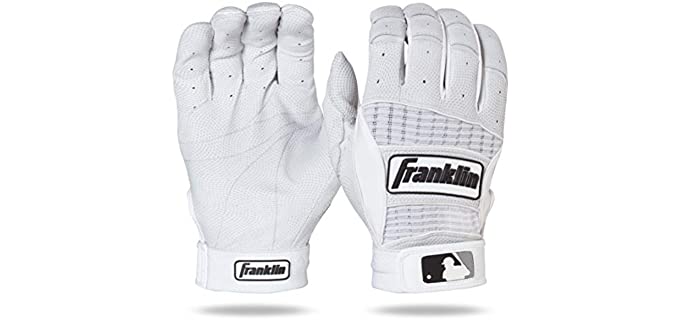 Size and Fit – Remember, loose gloves may cause slippage, and tight gloves will affect your movement and grip. Thus it would help if you had gloves that fit snug but comfortable. Make sure to compare your hand measurements with that of the gloves to get a perfect size.
Materials – Batting gloves will have leather or synthetic palms with a design for optimal grip. Leather gloves are more rugged and durable, while synthetic gloves may be more flexible and soft. Some gloves have leather palms and synthetic fingers.
Added Features – There are so many options on the market for batting gloves, each with its own unique features. Some come with pre-curved fingers for a more natural fit, and some styles have additional padding in the palms for protection. It all depends on the glove brand and model.
Wrist Style – The design of the wrist on your batting gloves is quite important. Most gloves come with an adjustable wrist closure that uses Velcro as a closure method. Some have a high profile wrist for a more compression-type feel, while others have a low profile wrist for less restriction on movement.
---
Reviews: The Best Batting Gloves
here are some of our top favorite choices in the best batting glove brands and models;

---
1
these are the official batting gloves of the MLB.
They are flexible, sturdy, multi-functional gloves with an athletic feel and some lovely printed colors and size options.
There is a leather heel patch and microfibre materials.
The palms offer good grip and are wear and tear-resistant
| Rating Category | Weight % | Score |
| --- | --- | --- |
| Palm Protection | 25% | 100 |
| Sticky Grip | 25% | 95 |
| Adjustable Wrist Strap | 20% | 100 |
| Strengthening | 20% | 95 |
| Durability | 10% | 90 |
| Total Score | 100% | 96.75 |
---
2
the Ortiz34 batting gloves come in many graffiti colors and sizes for youngsters and children.
They are premium quality batting gloves with polyester, nylon, polyurethane, and spandex materials, and they are machine washable.
The palms are flexible and offer a good grip.
The fit is classic and tailored for your comfort. The wrist strap is likewise adjustable and has a hook and loop Velcro design.
| Rating Category | Weight % | Score |
| --- | --- | --- |
| Palm Protection | 25% | 100 |
| Sticky Grip | 25% | 95 |
| Adjustable Wrist Strap | 20% | 100 |
| Strengthening | 20% | 90 |
| Durability | 10% | 90 |
| Total Score | 100% | 95.75 |
---
3
The Clutch batting gloves are ideal for both baseball and softball games.
They are sheepskin leather that is perforated for ventilation.
Genuine sheepskin leather is more dexterous, durable, and softer than most synthetic leathers,
The gloves have pre-curved fingers for a more comfortable fit.
The clutch interlocking anti-slip grip technology ensures that you get the perfect hold of the bat.
There are also sublimation printing images on the gloves and more colors and prints available.
There are size options available for adults and youth.
| Rating Category | Weight % | Score |
| --- | --- | --- |
| Palm Protection | 25% | 100 |
| Sticky Grip | 25% | 95 |
| Adjustable Wrist Strap | 20% | 95 |
| Strengthening | 20% | 90 |
| Durability | 10% | 90 |
| Total Score | 100% | 94.75 |
---
4
they are the official batting gloves of the MLB and the CFX Pro and are used by professionals.
The gloves are premium quality constructed of premium quality genuine leather.
They allow for a more natural and comfortable fit and responsive feel.
There is a chrome hand-back that shines and is trendy amongst players.
The gloves ate available in all sizes and many more colors.
---
5
These colorful sublimated design gloves are designed especially for women.
They are superb quality premium batting gloves available in more colors and sizes for women.
The gloves consist of neoprene and synthetic materials.
They have a durable two-piece palm and lightweight back with sublimated design.
The sizes are specific for ladies.
---
6
MLB and CFX specific professional gloves have floating thumb technology to give them flexibility and adaptability.
They are a Quad-Flex creasing design that decreases material build-up and provides a smoother and more seamless feel.
They consist of Pittards sheepskin leather in one piece to maintain tactility.
---
Index Table: Top Rated Batting Glove Brands
---
---