If you are an avid motorcycle rider for sport, leisure, or any other purpose, you know how important the right gear is.
One of these pieces of gear that we want to discuss today is the best motorcycle gloves for all types of riding.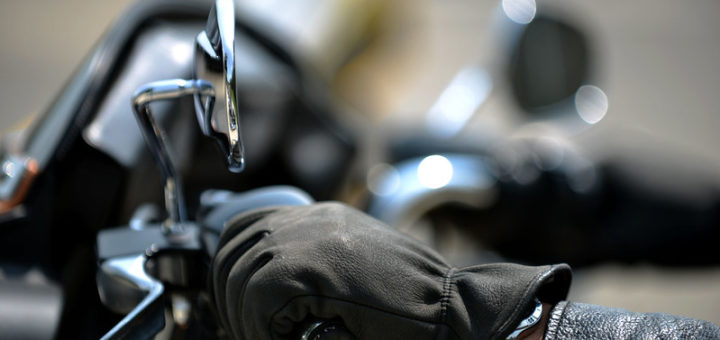 ---
The Importance of Wearing Motorcycle Gloves
Many persons do not quite believe in wearing motorcycle gloves, and others swear by them.
Whichever way you choose, they do have important benefits that can really help you;
Protection – We don't want to think about falling and crashing with a motorcycle, but unfortunately, it is a reality. What is the first thing you do when you crash and fall? You use your hands to try and cover your body and break your fall instinctively. Thus they are in the most danger of injuries. This is where motorcycle gloves come into play. They protect you against hard impact, abrasions, scrapes, cuts, and all other injury risks to your hands.
Safety – Gloves give you a much better grip on the handlebars of your motorcycle, and therefore, they also provide a safety feature to prevent accidents and injuries. The padded palms do provide not only grip but also protection against vibrations from the motorcycle.
Comfort – Motorcycle gloves can actually keep your hands warm when cold or cool and dry in hot weather as needed, which in turn keeps you more comfortable. Because they offer vibration protection, your hands will also feel much more comfortable.
Style – Another aspect of motorcycle gloves is the style they give, for men and women. Motorcycle gloves come in a variety of styles and designs and can add a fashionable item to your gear.
---
How Motorcycle Gloves Essentially Help You
Protect your Hands Against Injuries – Good motorcycle gloves will provide protection against scrapes, burns, punctures, and impacts, depending on the glove type, when you crash and fall, or from other incidents that may cause and injury.
Good Grip – A great safety feature is a grip that motorcycle gloves provide, as they usually come with a high grip rubber or silicone palms.
Prevent your Hands from Becoming Numb – The Padded Motorcycle gloves protect your hands from hard impacts and vibrations that can cause pain and numbness in your hands.
---
Features of a Good Motorcycle Glove
Here are the features you need to look for in good gloves for riding a motorcycle;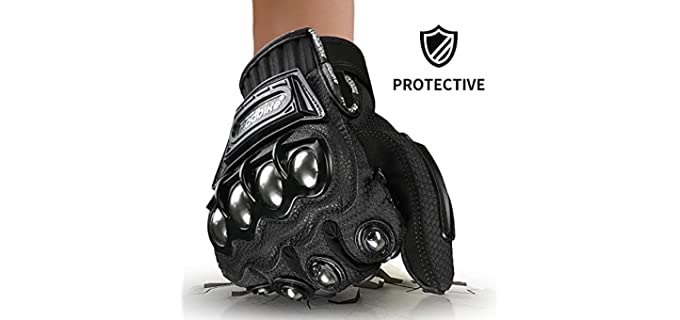 Materials – You get regular goatskin, deer skin and kangaroo skin or synthetic leather motorcycling gloves that may come with or without additional armour such as plastic knuckles or metal knuckles and padding. Some may also have a lining for warmth.
Sport/Racing Gloves – Sport bikes jeep getting faster especially with pro riding which means the levels of protection needed also increase significantly. Sport and Racing Gloves are designed for maximum impact and abrasion protection while still remaining comfortable and allowing for easy movement of your hands. Most sports and racing gloves consist of leather with some form of padding and other materials for abrasion protection.
ADV/Touring Gloves – If you like to take long Motorcycling tours on the open road, you need the functionality, durability, and comfort of an ADV glove. They offer light protection and are ideal for daily journeys, weekend excursions, and commuting.
Weather Protection – For summer and spring, you will need to look at more ventilated gloves that allow your hands to breathe and that prevent sweating. Waterproof gloves with a Gore-Tex membrane are also quite breathable and a good option. For colder winter weather, a liner glove can be worn underneath, or you can opt for a more insulating glove type.
Fit and Sizing – One of the most important factors in choosing good motorcycle gloves is their fit. If they are too tight, your hands will go numb, and you will also not be able to use your hands properly. If they are loose, they may fall off, and your hands are left unprotected. Thus it would be best if you got a proper size that fits snug and comfortable.
---
Reviews: The Best Motorcycle Gloves
In our list we have motorcycling gloves for different types of riding that are the best in their class;
We hope you love the products we recommend!
So that you know, We may collect a share of sales or other compensation from the links on this page.
---
1
From Alpinestars, we have the RMX Motorcycle riding gloves that are available in different color and size options.
They are full premium leather gloves with mesh chassis construction and strategic perforation zines, as well as air mesh for ventilation.
The gloves have a synthetic suede zone and side padded reinforcements for durability, comfort, and abrasion resistance,
The hard polymer knuckles provide excellent impact and abrasion resistance.
There are also stretch zones in the fingers and backhand for easier hand movement.
---
2
The Cofit motorcycle gloves are full-finger design gloves that are also touchscreen compatible.
They have a hook and loop wrist closure with a Velcro patch.
The fingertips are designed to be touchscreen compatible.
The gloves offer good knuckle protection with padded palms for vibration resistance.
There is wear-resistant silicone gel in the palms for improved grip.
---
3
The Seibertron Dirtpaw gloves are designed for Motorcycle racing and off-road cycling and riding.
They are synthetic leather, polyamide, and neoprene.
The gloves have direct-inject rubber knuckle and back of hand protection and are designed for maximum performance.
They offer exceptional grip and durability.
You can also get them in more size and color options.
---
4
From Inbike, we have Fingerless Motorcycling gloves for more leisure and general riding where there are fewer risks.
They are comfortable and have hard knuckle protection.
The gloves have anti-slip and anti-vibration padded palms.
There is an adjustable hook and loop Velcro closure at the wrist.
---
5
The ILM Alloy Steel Knuckle Motorcycle gloves offer maximum protection and comfort,
They are ideal for motorbike sports and racing.
The gloves have professional alloy steel protection parts and are engineered with anti-collision protection at the finger joint areas.
The shape and fit are comfortable and ergonomic, and the palms have high grip and non-slip lines for an anti-slip function.
---
6
The Joe Rocket Motorcycle Gloves are ideal for street use and general riding.
They have a full gauntlet track-style and non-slip texturized palm overlays.
The gloves consist of genuine goatskin leather and have internal injection-molded knuckle protectors.
The palms are likewise reinforced with padded overlays.
---
Index Table: Top Rated Motorcycle Gloves
---
---