There is nothing worse than Hiking with cold and wet fingers and hands.
Whether you like to hike in the cold winter months or even in summertime, water resistance is a feature that you will need at some or other point of your Hiking excursions and activities.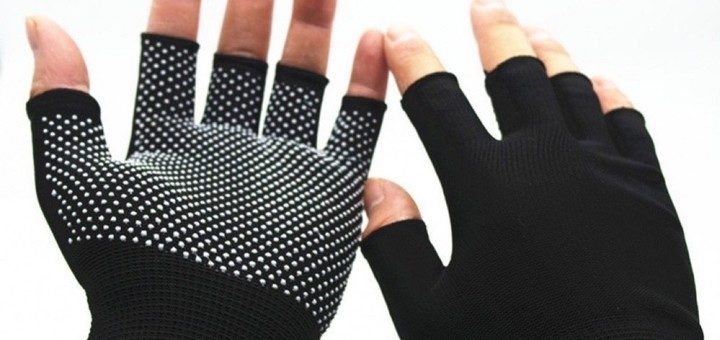 ---
Why do You Need Waterproof Hiking Gloves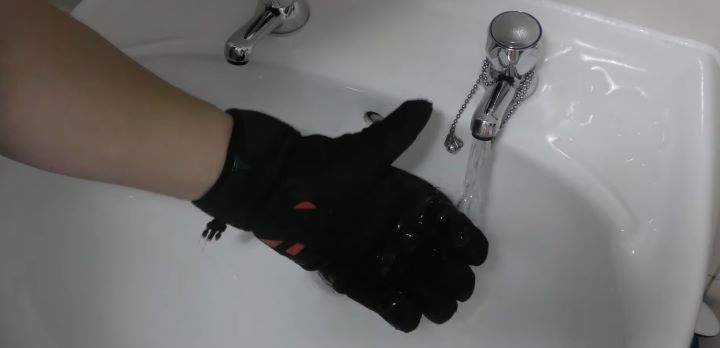 Because you never know when the weather can get wet and cold, and even worse chilly, or when you find yourself in a wet condition. A good waterproof hiking Glove is always the best choice.
Wet hands and fingers can become freezing and painful, even leading to frostbite, and in warmer weather can become overheated and soggy, resulting in chafing and infection.
Most Hiking Gloves also come in excellent models and materials that offer good insulation for cold weather and breathable materials for hot weather, all with waterproofing.
---
Choosing the Best Waterproof Hiking Gloves
There are a few characteristics to look for in a tremendous waterproof Hiking Glove;
Style – Hiking Gloves come in different styles and designs, so you need to find what works best for you. You can get regular Finger Gloves, Mittens, or Lobster Gloves in waterproof models. You can also choose between a longer length or a regular short-style glove.
Warmth – Many Waterproof Hiking Gloves come with insulation such as Thinsulate materials or a microfleece lining to keep your hand warm in colder weather conditions.
Layereing – What I love about some Glove ranges is the fact that you get them in different separate layers. So you can get additional insulation or waterproof layer that you usually store in a pocket inside the gloves or your backpack when you need them.
Durability – It is crucial to choose a good quality and durable glove. You want your Hiking Gloves to last and not drop out when you need them the most.
Features – Most Hiking Gloves are pretty basic, but some ranges have additional features besides waterproofing. Features include removable layers, carabiner loops, a designated nose wipe area, touchscreen-friendly fingertips, and glove liners for warmth and comfort.
---
Features of a Good Waterproof Hiking Glove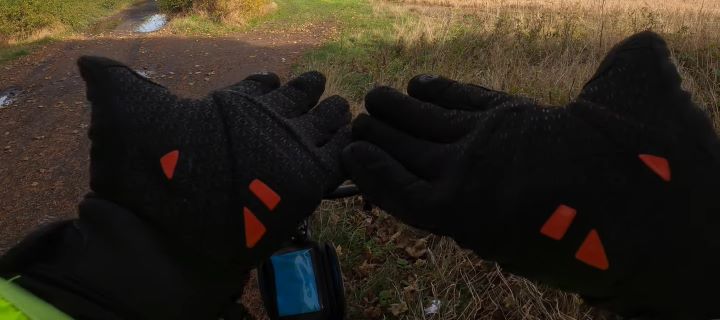 Waterproofing – A Gore-Tex breathable waterproof lining or a waterproof membrane is used in most Waterproof work gloves or Hiking Glove designs. Some models have a Polytex shell or Pertex shell, which also provides good waterproofing.
Insulation – Along with Thinsulate insulation or a removable liner with PrimaLoft insulation, you also get some materials and insulation that is windproof.
Other Materails – Neoprene, Velcro, Lycra, and Polyester are also used to construct Hiking Gloves to add durability and flexibility. Microfleece is used in insulated models for additional warmth and comfort.
Durability – A reinforced palm or leather palm is used to provide better grip, along with other palm and finger grip technologies.
Design and Other Features – A 3D ergonomic design offer superior comfort and durability, and some models have additional storage pockets for removable heat packs, Waterproof linings, and insulation linings.
Grip – For Grip there is extensive non-slip reinforcements, Anti-Slip Silicone Palm Prints, or Re Kevlar-reinforced goat leather palms.
---
How We Test and Score Waterproof Hiking Gloves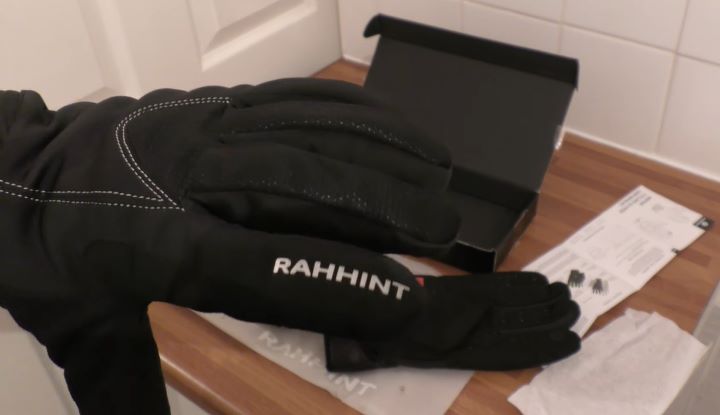 These reviews are based on intense research, analysis, and feedback from our experts and real users from different digital platforms.
We spent 25 hours trying, testing, and scoring these Waterproof Hiking Gloves, for different key parameters and then shortlisted the best products in the market, saving you time and effort.
We used the following parameters for our tests and analysis.
Comfort – We checked how the gloves were comfortable and perfectly fitted the hands.
Antibacterial – We analyzed how effectively the gloves work to fight or resist bacteria.
Weather Resistant – We analyzed how effectively the glove material withstands damages from weather like sun, wind, and rain.
Odor-Control – We noticed if the gloves produced any odor after wearing them for long.
Quick Grip – We noted the strength of the glove's grip even in wet or oily conditions.
---
Frequently Asked Questions (FAQ) About Waterproof Hiking Gloves
Do you need waterproof gloves for hiking?
One of the most crucial guidelines for surviving a winter hike is to keep your body warm. To that end, a good pair of hiking gloves that are both durable and effective at keeping moisture out or waterproof should be an essential part of your hiking equipment.

---

Are fingerless gloves good for hiking?
You may like fingerless hiking gloves because they provide maximum dexterity to the fingers and provide more comfort, but others may avoid them because they do not provide adequate protection for the entire hand. So, yeah, even outdoor enthusiasts have wide disparities in their tastes for stuff like this.

---

How much should you spend on waterproof hiking gloves?
You should invest money in both high-quality gloves and a low-cost choice. You should acquire a really high-quality pair of gloves in extreme situations, but to hike/climb in extreme weather, you just need the greatest gear. A decent budget choice is available for the more ordinary hiker who will not be exposed to extreme cold.

---

Can you wash waterproof gloves?
Using a damp cloth and mild detergent, clean the waterproof hiking gloves on the spot. If they require a deeper clean, hand wash them with a soft detergent like baby shampoo or Woolite, or use a gentle, warm-water washing machine cycle with a mild soap like soap flakes.

---
---
Reviews: The Best Waterproof Gloves for Hiking
These are some of the best available Hiking Gloves which have Waterproof Technologies;
We hope you love the waterproof gloves for hiking we recommend!
So that you know, We may collect a share of sales or other compensation from the links on this page.

---
1
Black diamond® Unisex Soloist

Waterproof Gloves for Hiking
One of the top-rated Waterproof Gloves for Hiking is the Black Diamond Soloist, ideal for Colder weather conditions.
The Glove comprises a Nylon shell, Spandex, and a Goatskin palm for better grip.
There is a pull-on closure for easy on and off.
The dry inserts protect you from all water and moisture on the outside and keep your hands completely dry and insulated.
The lightweight and flexible woven Nylon shell have a four-way stretch design.
The Liner is removable and made of 170g Prim aloft Gold insulation material with 133g of Prime loft Gold Needle punch palm insulation to keep you warm.
Pros
100% Waterproof.
Abrasion Resistant.
Warm.
Removable Liner.
Cons
Black Color Only.
Limited Size Options.
| Rating Category | Weight % | Score |
| --- | --- | --- |
| Comfort | 25% | 100 |
| Antibacterial | 25% | 95 |
| Weather Resistant | 20% | 100 |
| Odor-Control | 15% | 95 |
| Quick Grip | 15% | 90 |
| Total Score | 100% | 96.5 |
---
–>
2
Carhartt® Men's W.P.

Insulated Waterproof Hiking Gloves
From Carhartt, the W.P. Hiking Glove is completely Waterproof and insulated for colder weather conditions.
The Carhartt Glove is available in different sizes and has a men's s fit design.
It is made from 100% Polyester, and there is a durable Polytex shell and FastDry technology in the lining to wick away interior moisture.
For waterproofing, there is a waterproof insert.
The Palm is reinforced with PU materials for insulation and comfort.
Pros
Quick Drying.
Available in Different Colors and Sizes.
Imported.
| Rating Category | Weight % | Score |
| --- | --- | --- |
| Comfort | 25% | 100 |
| Antibacterial | 25% | 95 |
| Weather Resistant | 20% | 100 |
| Odor-Control | 15% | 90 |
| Quick Grip | 15% | 90 |
| Total Score | 100% | 95.75 |
---
–>
3
Gordini® Unisex Gore Promo

Gauntlet Waterproof Hiking Gloves
One of the best waterproofing materials for summer and winter is the GORE-TEX membrane lining. The Gordini Gore Promo is a Gore-Tex-lined Hiking Glove for all seasons.
Available in a black or grey color option, a full-length waterproof protective glove.
The Gore-Tex lining allows air to ventilate through the glove for improved breathability while offering complete waterproof protection.
The rest of the Glove is made from a soft and durable Polytex fabric ideal for hiking.
These are lightweight in comfortable all-season hiking Gloves.
Pros
Enhanced Grip.
Synthetic Insulation.
Adjustability.
Moisture Wicking.
Cons
Provide little Warmth.
Color Black Only.
| Rating Category | Weight % | Score |
| --- | --- | --- |
| Comfort | 25% | 100 |
| Antibacterial | 25% | 95 |
| Weather Resistant | 20% | 95 |
| Odor-Control | 15% | 90 |
| Quick Grip | 15% | 90 |
| Total Score | 100% | 94.75 |
---
–>
4
Sealskinz® Unisex Ultra-Grip

Waterproof Gloves for Hiking
Something a bit more breathable for all seasons is the waterproof SealSkinz Gloves for Hiking and water sports.
The Outer portion of the glove comprises Nylon and Elastane, with a soft Merino wool inner with Nylon and elastane for flexibility.
These gloves are completely Waterproof and Windproof, as well as very breathable.
It offers a close-fitting stretch fit and excellent moisture control with the Merino Wool interior.
What is more, these Gloves are touch screen compatible and very lightweight.
---
–>
Index Table: Top Rated Waterproof Gloves for Hiking
---
---