Some of the links in this post are affiliate links. This means if you click on the link and purchase the item, I will receive an affiliate commission at no extra cost to you. All opinions remain my own.
Many people believe that wearing Gloves for Gym or weightlifting does more harm than good; however, this is not entirely true.
If you wear the correct Gloves for your Gym routine or weight lifting, they can actually prove much-needed comfort and protection.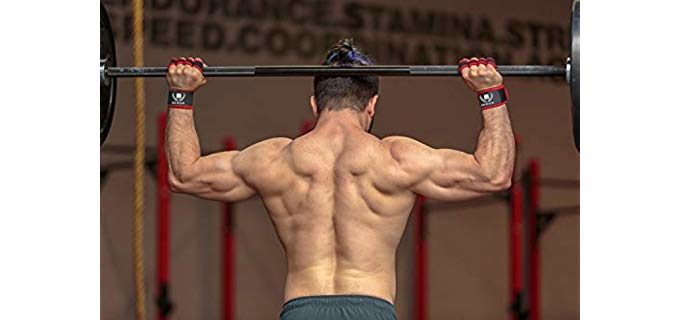 ---
Reviews: The Best Weight Lifting Gloves
Here are some tough and effective glove brands and models, the best in their class for weight lifting;
We hope you love the products we recommend!
So that you know, We may collect a share of sales or other compensation from the links on this page.

---
1
The RIM Sports Weight Lifting Glove offers a secure wrist wrap for protection and a comfortable fit.
Available in plenty of color selections to choose from.
It is made from lightweight and comfortable materials with protective wrist wraps and padding.
Versatile fingerless design that kand be used on most Gym equipment.
Very durable and high grip design.
| Rating Category | Weight % | Score |
| --- | --- | --- |
| Palm Protection | 30% | 100 |
| Durability | 25% | 95 |
| Wrist Protection | 20% | 100 |
| Easy-Grip | 15% | 95 |
| Sweat-Free | 10% | 90 |
| Total Score | 100% | 97 |
---
2
Nordic Lifting® Men's Wrist Wraps

12 Inch Weight Lifting Gloves
From Nordic Lifting, we have versatile weightlifting and cross-training Gloves that are lightweight and comfortable.
A weightlifting Glove with integrated writ support from a premium brand.
Ensures the best grip with just the right amount of padding.
Ideal for weight lifting, cross-training, Gym, and many other workout routines.
One pair in a set with a one-year warranty for quality.
| Rating Category | Weight % | Score |
| --- | --- | --- |
| Palm Protection | 30% | 100 |
| Durability | 25% | 95 |
| Wrist Protection | 20% | 100 |
| Easy-Grip | 15% | 90 |
| Sweat-Free | 10% | 90 |
| Total Score | 100% | 96.25 |
---
3
Mava® Unisex Sports

Weight Lifting Gloves
Mava Sports Leather Padding Gloves are perfect for tough workouts and heavy wear.
Available in many color selections to choose from.
It is made from tough and durable leather and neoprene with ample padding in all the right places.
There are integrated wrist wraps for wrist protection and a strong grip palm design for a better grip.
Comfortable and breathable with anti-sweat neoprene material and leather design.
Ideal for bar activities, weight lifting, and even gymnastics.
---
4
Crown Gear® Men's Crossfit

Crossfit and Weight Lifting Gloves
The Crown gear weightlifting Glove is a dominator in its field, made from durable and high resistant leather.
Uncompromising grip and wrist support with molded palm padding for comfort and protection, as well as padded fingers.
Improved grip design to prevent slips and integrated wrist support.
The premium leather is perforated for breathability and offers a comfortable and soft fit.
A snug three-dimensional fit system that is tough and durable.
---
5
Bear KomPleX® Men's Black Diamond

3 Hole Weight Lifting Gloves
Bear KomPlex is another top brand in exercise and sports gear, and their weight lifting gloves are absolutely amazing.
It offers black diamond grip technology, which is rated the best gripping material in the world.
Reinforced wrist wraps and durable materials that are breathable and comfortable to wear.
Stretchable design that moves with you.
Made from superior materials that will not slip.
---
6
Adidas® Men's Elite

Weight Lifting Gloves
The Adidas Essential Gloves are lightweight and breathable weightlifting gloves for everyday use.
Extremely lightweight and comfortable, made from breathable and soft materials.
It offers ample protection as well as long-lasting durability.
Fabric and suede leather construction with wrist protection wraps.
These gloves, however, are suited for lighter exercise routines.
---
Weightlifting Gloves and Their Benefits
Weight Lifting Gloves have many benefits to the user if they are worn correctly, and if you have the right type of gloves for your workout;
Hand Protection – Weight Lifting Gloves prevent callouses and other issues such as blisters and bruises from friction when lifting weights or using Gym equipment that rubs against the skin.
Better Grip – The right Weight Lifting Gloves can improve your grip and give you a much better hold on weight and gym equipment, as well as prevent slips and injuries from slips.
Comfort – Weightlifting Gloves keep your hands comfortable and pain-free, which in turn improves your performance and endurance. These gloves also reduce pressure on your fingers, wrists, and hands so that you can lift heavier weights.
Wrist Support – Wrist support and protection are very important with weight lifting to prevent wrist fractures and injuries and strain and tension. Most weight lifting gloves have a wrist wrap and padding that protects the wrists and keeps them stable.
---
How to Choose the Right Weight Lifting Glove
So let us now look at the things that really make an impact when choosing the best weight lifting Gloves for your specific workout;
Support and Cushioning – Your gloves need to absorb pressure and provide comfort during your workout. Therefore you need to look for features such as a wrist wrap, padding in the hand and fingers, and reinforced comfortable stitching.
Breathability – You will sweat and most likely quite a bit during your workout, and the last thing that you need is sweaty and wet hands that are slipping all over. So look for breathable materials such as perforated leather, mesh insets, and other breathable materials types that allow for ventilation and wicks away moisture. Neoprene is an ideal material to keep moisture at bay and keep you cool.
Flexibility – Unless You are doing heavy lifting such as deadlifts, flexibility is important, and usually, with thicker and more padded Gloves, there is less flexibility. Nylon Gloves are usually the most flexible that you will find but offer the least protection; leather also offers some flexibility and more protection.
Grip – Grip is extremely important, so you need to look for non-slip materials placed across the gloves, ensuring that you get a firmer grip.
Silicone dots and textured gloves offer a better grip.
Durability – As weight lifting gloves are heavy-duty, frequently used items, they need to be quite durable to last. Nylon, Neoprene, and leather are good materials to look for that are very durable and hard-wearing. Following washing and maintenance instructions on your gloves closely improves their lifespan.
---
Features of a Good Weight Lifting Glove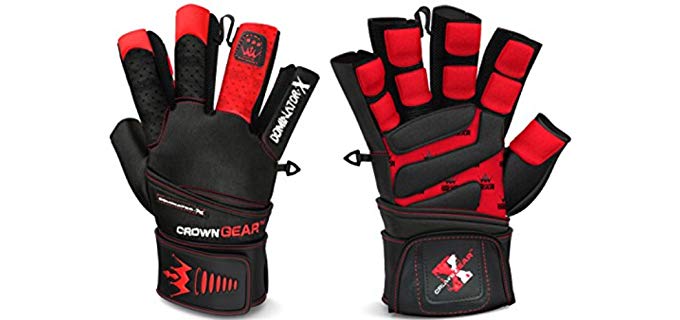 Made from lightweight, breathable, and moisture-wicking materials such as Neoprene, leather with perforations, polyester, and blended fabrics.
It is padded for comfort and protection of the fingers and wrists.
Open finger design.
High grip silicone or other materials for better grip.
Wrap Wrist design for wrist protection.
Very durable and long-lasting heavy-duty wear construction and materials.
Color and size options for men and women.
---
Index Table: Top Rated Weight Lifting Gloves
---
---