The best snowmobile gloves form a very important part of your riding gear that will keep your hands warm and well protected.
Snowmobile gloves need specific features and characteristics to be effective and comfortable for this sport. This article will look at some of your best options in snowmobile gloves.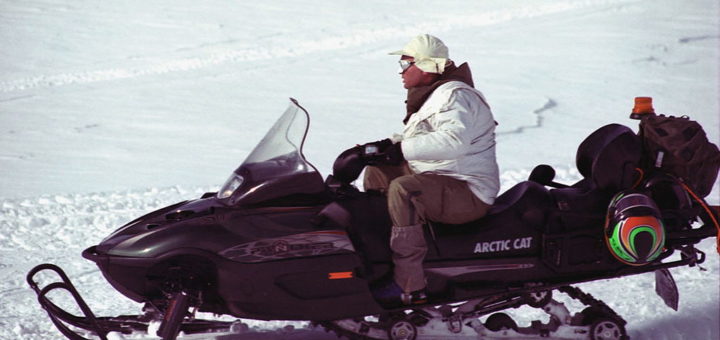 ---
Reviews: The Best Gloves for Snowmobile
In our list, we have some of the tops of the range glove brands and models for Snow Mobile Riding;
We hope you love the gloves we recommend!
So that you know, We may collect a share of sales or other compensation from the links on this page.
---
1
The FXR Snow Mobile gloves are insulated and have leather grip palms.
The Snowmobile gloves are insulated with 300 grams of Thinsulate insulation.
They have a durable waterproof and windproof nylon shell for maximum protection.
There is an adjustable wrist strap for a comfortable fit.
The aggressive pre-curved fingers are ideal for precision fit and dexterity.
More colors and sizes are likewise available for your perusal.
---
2
Castle X® Men's Epic-G1

Snowmobile Protection Gloves
The Castle X Epic Gloves are windproof, waterproof, and breathable, and come in more sizes and colors for men.
The gloves are fully windproof and waterproof to keep you well protected against cold and wetness.
They have a Nylon outer shell and 3M Thinsulate Platinum insulation with 200grams on hand and 150 grams in the palm for warmth and protection from the inside.
They have a Hipora windproof, waterproof breathable membrane, and DWR coated shell.
There are two color selections available and more sizes, so you can choose as you prefer.
---
3
Carhartt® Unisex Waterproof

Gloves for Snowmobile
The Carhartt Snow Mobile gloves for women are lightweight and fully waterproof. They are not insulated, however.
These are soft and comfortable polyester gloves and polyurethane gloves.
They have a wind and water-resistant shell and ripstop design.
The gloves ate fast drying with a moisture-wicking lining.
The palms are reinforced, and there is a stretch fleece cuff.
---
4
MCTi® Unisex Waterproof

Ski Gloves for Snowmobile
The MCTi gloves are ski gloves that work seemingly well for Snow Mobile riding.
The Gloves are insulated with a 3M Thinsulate to keep you warm in extreme cold weather conditions and snow.
They are windproof and waterproof for full protection.
There are a Flexible hand grip design and a nose wipe fabric on the thumb.
They are durable and comfortable, with features ideal for snowmobile riding.
More colors and sizes are available so that you can get your personal preference and the correct fit.
---
5
Solaris® Unisex Waterproof

Snowmobile and Ski Gloves
These are proper skiing gloves ideal for riding a snowmobile.
They are fully waterproof and windproof, with a rubber snow wiper design.
The gloves are insulated with 3M Thinsulate insulation and a warm cotton lining.
There is also a zippered pocket design for a custom fit.
---
6
Rivmount® Unisex Winter

Gloves for Snowmobile
The Rivmount Winter gloves are multipurpose gloves ideal for Snow Mobile riding.
Another pair of skiing gloves, perfect for snowmobile riding.
They are waterproof, windproof, and insulated, which is everything you need in a good glove for riding a snowmobile.
The globes have a TPU film for wind and waterproofing that is durable and offers full protection.
They have 3M of Thinsulate insulation for warmth and comfort.
The materials are durable with a high grip palm, allowing you to handle your snowmobile better.
---
What Gloves do You Need for Snow Mobile Riding
Snowmobile gloves have a common purpose and need to offer these specific characteristics;
Waterproof and Windproof – Riding a snowmobile, you will be in the cold wind, and snow can cause wetness. Therefore, the main protection a snowmobile glove provides is waterproofing and windproofing to keep you warm and dry.
No Cotton – Fleece, wool, and polyester blends are all excellent moisture-wicking and warming materials. However, cotton absorbs moisture that later freezes and makes your hands colder.
Insulation – For warmth against cold temperatures and comfort, a good insulation material on the inside of the glove is required. Some have removable inserts, padded insulation, and a warm lining.
Mitts or Gloves – You can choose between full-finger gloves or a two-finger mitt that has a finger pocket for your thumb and a large pocket for the rest of your fingers. However, full-finger gloves are much more popular.
---
How Snow Mobile Gloves Protect Your Hands
There are a few ways that Snowmobile gloves protect your hands;
Wetness Protection – Snowmobile gloves keep your hands dry from the outside and the inside. They usually have a waterproof and windproof outer shell or membrane and a warm fleece or insulated interior for protection from both sides.
Abrasion Protection – They can protect your hands from abrasions and friction that may cause chafing and blisters when handling a snowmobile. The thick materials will provide a great barrier against external factors that could injure or cause discomfort to your hands.
Warmth – Snowmobile gloves provide warmth with insulation on the inside, as well as windproofing and waterproofing on the outside. The Insulation and warm linings keep your hands warm and comfortable on the inside, while the outer layer protects you from cold wind and wetness coming in.
Good Dexterity – Because they warm your hands, and they are generally soft and flexible, snowmobile gloves offer good dexterity and handling.
Grip – Gloves for snowmobile driving also have grippy palms that allow you to handle the snowmobile with confidence and without the risk of your hands slipping because of wetness.
---
Features of a Good Glove for Snowmobile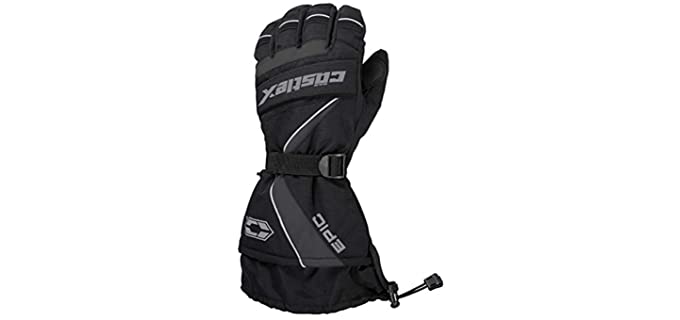 Waterproof and Windproof – When it comes to snow, you need to consider wind, getting wet, and the cold. Therefore, you will need a glove that protects against the winds, insulation for the cold, and is completely waterproof.
Materials – The most available materials in Snow Mobile gloves are polyesters, TPU and Nylon. The outer shell is usually waterproof nylon, TPU, or polyester shell, and then there is an insulated, typically a Thinsulate interior, and a softer fleece lining or polyester interior lining.
Cuff Length – With gloves for Sow Mobile riding, you want gloves that have a longer cuff or sit at your wrist. The cuff needs to be elasticized or adjustable closure for a snug fit.
---
Index Table: Top Rated Gloves for Snowmobile
---
---