Wearing protective gear for any rider is crucial, whether you are a beginner or a professional.
You may think that in warmer or better weather, you can get away with parts of your riding gear; however, you are much mistaken, as each part has an integral function essential to the safety and quality of your riding.
One of these pieces of equipment is, of course, the best horse riding gloves that form an essential part of controlling and gripping the reigns and hand protection.

---
---
Reviews: The Best Horse Riding Gloves
In our review section are some of the best quality Horse riding gloves in a variety of materials;
We hope you love the products we recommend!
We may collect a share of sales or other compensation from the links on this page.
---
1
The Heritage Performance Gloves are synthetic full-grain leather horse riding gloves.
The gloves are made of a stretch spandura material for a more comfortable fit.
They have Super grip synthetic full-grain leather that offers breathable and proper grip on the reigns.
The horse riding gloves are likewise double stitched for durability and have an elastic cuff with an adjustable strap for a better fit.
---
2
Weatherbeeta® Unisex Premium

Horse Riding Gloves
From Weatherbeeta, we also have some excellent horse riding gloves for all weather conditions.
The horse riding gloves are easy to care for and very durable.
They have stretch inserts for talent and a better fit.
There are durable synthetic leather materials and flexible knuckle panels for comfort and functionality.
---
3
Mashfa® Women's Durable

Gloves for Horse Riding
The Mashfa horse Riding gloves are designed for ladies and come in women's sizes.
The gloves are super lightweight and very comfortable.
Reinforced stitching and double layers in sure fingers offer more durability.
The gloves are also quite stretchable for optimal agility and functionality.
---
4
Noble Outfitters® Unisex Classic

Horse Riding Gloves
The Noble Outfitters horse riding gloves are designed to be ready for riding.
The gloves have stretch mesh panels and a flexible keystone cut thumb.
The horse riding gloves also have double-stitched critical seams and double-layered reinforced forefingers, thumbs, and pinkies.
They are machine washable and touchscreen-friendly.
---
5
Heritage® Unisex Classic

Competition Gloves for Horse Riding Gloves
The Heritage Gloves are designed for Competition riding.
They are stretchable nylon and mesh gloves with spandura materials and a more comfortable fit.
The gloves have a delta grip system with suede leather and are three times more durable than other brands.
The double-stitched critical outward seams are ideal for long-lasting durability.
A second layer of protection is added to the thumb for protection against wear.
---
6
Tuff Mate® Men's Cutting

Horse Riding Gloves
The Tuff Mate Horse riding Gloves are designed especially for men.
They are Cutting horse riding gloves in a tan color.
The horse riding gloves have a gold grain leather construction and consist of pure goatskin leather,
There is an elastic wrist for a comfortable and secure fit and an inset design thumb.
---
Why Should You wear Horse Riding Gloves
Wearing or not wearing horse Riding Gloves is an age-old debate among many riders. While most experienced riders can make their decision based on their experiences and requirements, I would strongly urge beginner and less experienced riders to opt for good riding gloves, and here are a few reasons why;
Weather Protection – Riding gloves protect your hands from cold and hot weather. They can provide warmth and waterproofing in colder and wet weather conditions. Riding gloves also cover your hands to prevent excessive sunburn and may have breathability options to keep your hands cool and, in turn, prevent sweating.
Avoid Overuse Marks – If you are a seasoned horse rider, you will notice that with bare-hand riding over the years, there will be marks, indents, and even injury marks on your hand. Calluses and blisters may form, and the skin hardens. This is one of the areas where gloves can protect and keep your hands in good shape.
Protection Against Insect Bites – Essentially, horse riding gloves and full protection gear will protect you from mosquito and insect bites that can be itchy and hinder your riding ability.
Protection with Unruly or Young Horses – Young and Unruly horses can become rowdy and quickly turn their heads or pull at the reigns. This can result in a nasty burn from the reigns. So, in this case, likewise, suitable horse riding gloves provide good protection.
Better Grip of the Reigns – Some reins do not provide much grip; thus, a good glove can fill the gaps. Suitable gloves generally offer an excellent grasp of the rings and are designed for this specific purpose.
---
Getting the Right Fit
Getting horse riding gloves that essentially fit correctly for your safety and experience is vital.
You will need to ensure that you get the proper size and something that will offer a snug yet not compressing fit.
To get the right size, measure your hands around the knuckles on your dominant hand and the wrist length. Always opt for a glove rounded up to the nearest half-inch larger than your measurements.
Most horse riding gloves will come with a measurement chart and size chart that you can select from.
---
Features of a Good Horse Riding Glove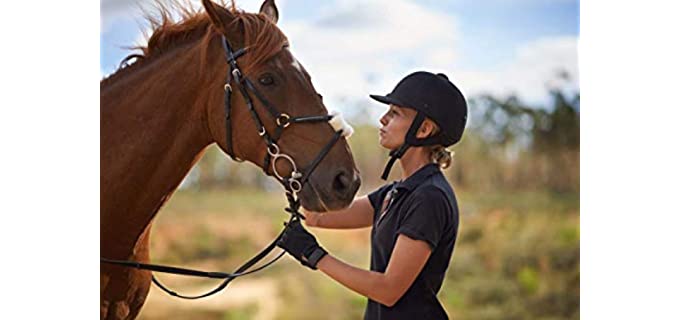 Breathability – Even when the winter is cold, your hands may likely sweat quite a bit when horse riding. So, you can always opt for a glove that has breathability features.
Comfort – It is so important that your gloves have a comfortable design and a comfortable fit. They should not inhibit movement and your ability to ride. They must not pinch or squeeze and should also not slip around. Please make sure that you get the correct size and fit.
Materials – While most horse riding gloves consisted of leather in the past, there are so many more choices today, yet we still prefer genuine leather. Genuine leather will keep your hands warm, breathes well, and adapts to the shape of your hands, but it is, unfortunately, quite expensive. Synthetic leather has similar benefits to genuine leather; it is much cheaper but less durable. Spandex and Lycra are stretchable and close-fitting but do not breathe well. Polyester Mesh is very breathable and ideal for use in hot summers. Cotton is breathable and thin but wears out pretty fast. Wool is more famous for children but not ideal if it gets wet.
Wrist Closure – You can choose horse riding gloves with or without a wrist closure. However, it is better and more secure to have a wrist closure. Closure types include Velcro, buckles, Poppers Elastic, String or ribbon, and even buttons.
Extra Patches – Many horse Riding gloves come with additional patches or padding in high-wear areas for improved protection and durability. This is usually between the ring and little finger and around the thumb and index finger.
Waterproofing – If you are in an area that gets quite a bit of rain or in a rainy season, opting for a waterproof glove to prevent discomfort and cold is advised. Leather is a naturally waterproof material.
Grip Dots – Gloves that are not leather or synthetic leather should ideally have grip dots. Grip dots are usually rubber or silicone and prevent your hands from slipping.
Durability is . Horse Riding gloves will generally wear out over time, so you want durable quality gloves that can withstand the movement of the reigns through your fingers, but that will not restrict movement or grip. Some gloves do have reinforcements or extra padding in high-wear areas. Hence, some materials, such as genuine leather, are more durable.
---
Index Table: Top Rated Horse Riding Gloves
---
---