The Hunting Gloves form a significant part of a Hunters' Clothing, especially in cold and inclement weather conditions.
Keeping your hands dry and warm when Hunting can greatly affect the experience, and therefore, you need to check out our top favorites in Hunting Gloves for both Bow Hunting and shooting.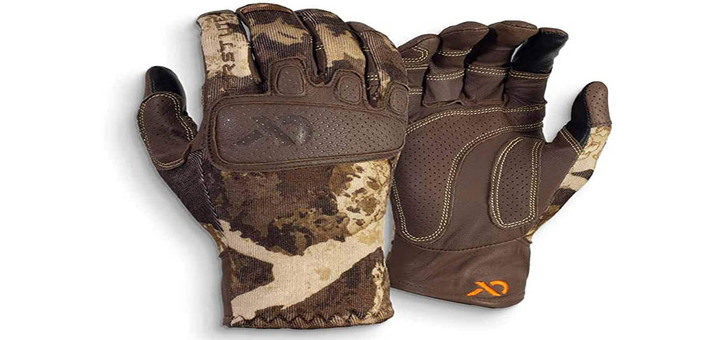 ---
---
Reviews: The Best Hunting Gloves
Below, we have some of the best brands and models when it comes to high-performance and quality Hunting Gloves;
We hope you love the hunting gloves we recommend!
We may collect a share of sales or other compensation from the links on this page.

---
1
The Sitka hunting glove is flexible and lightweight, ideal for bow hunting in warmer weather.
The glove is a Four-Way stretchable Polyester fabric that balances light warmth and dexterity.
The half-finger design enables better bow hunting accuracy and is touch-screen friendly.
Likewise, a water-repellent finish on the outside is lightweight and prevents wetness.
The gore optifade concealment elevated patterns are engineered to confuse the vision of deer and other animals.
There is also a leather pull in the fingers for easy on and off.
Pros
Water Resistant.
Durability.
Made In USA.
| Rating Category | Weight % | Score |
| --- | --- | --- |
| Weather Resistant | 25% | 100 |
| Stretchability | 25% | 95 |
| Sweat-Free | 20% | 100 |
| Easy Grip | 15% | 95 |
| Insulation | 15% | 95 |
| Total Score | 100% | 97.25 |
---
2
Sitka® Unisex Stretch Fit

Stretch Fit Hunting Gloves
From Sitka, we have the most lightweight and stretchable hunting glove that you will find.
There are a few camouflage color options from which you can choose and different sizes.
The lightweight and stretchable glove keeps you cool and breathes very well.
An extended 5-inch cuff adds wrist protection and comfort.
These gloves are ideal for bow hunting and have sure grip dots on the palms for better grip.
Pros
Versatility and Comfort.
Microfiber Fleece.
Maximum Protection.
Warmth.
Cons
Lack of Dexterity.
Limited Colors and Sizes.
| Rating Category | Weight % | Score |
| --- | --- | --- |
| Weather Resistant | 25% | 100 |
| Stretchability | 25% | 95 |
| Sweat-Free | 20% | 100 |
| Easy Grip | 15% | 90 |
| Insulation | 15% | 95 |
| Total Score | 100% | 96.5 |
---
3
Caldwell® Unisex Ultimate

Shooting Gloves for Hunting
The Cadwell ultimate hunting glove is a padded shooting glove for protection.
The materials are flexible and reliable, giving you an accurate feel of your weapon.
The durable and breathable material is likewise very durable and reinforced with leather for better protection.
These gloves are comfortable in fit and touchscreen-friendly.
The Palms are padded to reduce felt recoil and allow full hand movement.
Pros
Flexibility.
Lightweight.
Leather Reinforcement Patch.
Cons
Might be a Little Short in Length.
| Rating Category | Weight % | Score |
| --- | --- | --- |
| Weather Resistant | 25% | 100 |
| Stretchability | 25% | 95 |
| Sweat-Free | 20% | 95 |
| Easy Grip | 15% | 90 |
| Insulation | 15% | 95 |
| Total Score | 100% | 95.5 |
---
4
North Mountain® Unisex Camouflage

Bow Hunting Gloves
The North Mountain Gear Camouflage Hunting Gloves provide excellent grip for Bow Hunting.
They are designed with a Camouflage color to confuse animal vision and are made from the highest quality materials.
The gloves are likewise smartphone and touchscreen-compatible.
The one-size-fits-most option gives you a comfortable, relaxed fit with a snug grip.
You can easily handle a bow with a stretchable and high-grip design.
---
5
Glacier Glove® Unisex Alaska Pro

Insulated Hunting Gloves
Something for colder weather is the Glacier Alaska Pro Glove.
The Glacier Alaska Glove is Waterproof, Windproof, and Insulated to keep you warm and protected.
The specific glove comes highly recommended for extremely cold weather conditions and snow.
The Palms consist of genuine leather, which offers excellent grip and durability.
There is a Poly insulation technology, and the gloves are also breathable.
---
6
Kryptek Cadog® Unisex Glomitt

Hunting Mitt/Gloves
A Perfect hunting Mitt for warmth is the Kryptek Cadog Mitt and Glove in one.
The design offers a warm Mitt that can be folded over when you need to handle a Bow and turns into a fingerless glove.
Polyester and a High Pile liner are used to constrict these gloves.
There is also excellent DWR water resistance and insulation for colder weather conditions.
---
7
Drake® Unisex LST

Hunting Gloves
The Gloves have a Gore-Tex waterproof lining,
They have 200 grams of insulation for warmth.
They are leather palm gloves with a webbing cinch and a tri-glide wrist.
The gloves are versatile and multi-functional for hunting.
---
8
® Unisex Heat Echo

Gloves for Hunting
The ideal shooter gloves.
They offer excellent insulation and are lightweight.
They are windproof and fully waterproof for your protection.
They also have a silicone grip palm.
---
9
Allen Company® Camo Mesh

Hunting Gloves
They have a mossy oak camo design.
The gloves are lightweight and breathable with fine mesh.
There are dot grip reinforced palms for grip.
The cuffs are extra long and stretchable.
---
10
Glacier® Aleutian

Gloves for Hunting
These are neoprene hunting gloves.
They are fully waterproof for your protection.
Inside is a warm and comfortable fleece lining.
They are blind stitched and glued together.
---
Benefits of Hunting Gloves
Choosing the best hunting gloves depends on a few main factors and variables that you need to consider.
It would help to consider whether the Gloves are required for Bow Hunting or shooting, as two different Glove types are required in these cases.
The Best Materials for Hunting Gloves – Materials such as Polyester, Wool, Fleece, and a Gore-Tex Waterproof lining are good for Hunting Gloves. However, the material will also depend on the weather; for summer, you may need a light, breathable material and, in winter, a more insulating material.
Size – Hunting Gloves mostly come in size options, and you want a snug and comfortable fit, so make sure you do the measurements and get the right size.
Comfort – A Combination of Full Mitt and Fingerless glove design works well for Bowhunting, whereas a usual glove design is ideal for shooting. Look for something you can hunt with, which is comfortable for you to use.
Breathability – If you hunt in the summertime, breathability and ventilation are necessary. Light and airy materials should keep your hands cool and dry.
Scent Control – Many Gloves can withhold your scent, which is an excellent bonus when hunting.
In the video are some of the Best Bow Hunting Gloves available. I have listed a few of the top-rated models in my reviews;
---
Different Types of Hunting Gloves
There are also a few different design types when it comes to Hunting Gloves;
Full Finger Gloves – A Full Finger Glove is ideal for shooting and colder weather conditions as it can warm your hands. Full-finger gloves are usually very flexible and easier to use.
Fingerless Glove – The Fingerless Glove or Fingerless Mitten combo works very well for Bow Hunting. Fingerless Gloves are ideal for performing more detailed tasks in warmer weather conditions.
Mittens – On behalf of the National Institutes of Health (NIH), when venturing outside in the cold, it is important to wear mittens to prevent loss of body heat through your hands. Mittens are advised for icy weather conditions as they provide the most warmth. Some designs can be folded back so that you can use your hands for finer tasks.
---
Features of a Good Hunting Glove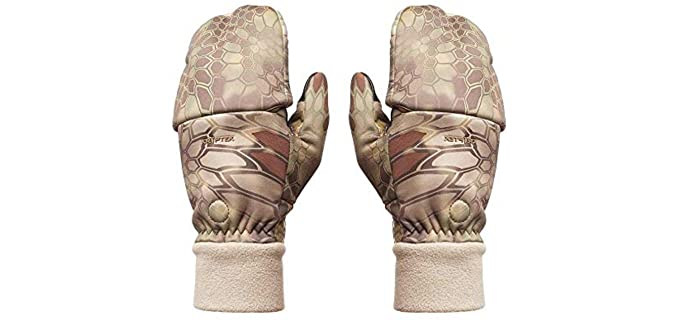 Weather Resistant – Waterproof, windproof, or resistant materials for the upper help to keep your hands dry and warm.
Insulation – Fleece or wool can be used to line the gloves to keep your hands warm in extremely cold conditions.
Grip – Good grip in the palms and fingertips helps with better control and grasping.
Flexibility – Materails such as Lycra, and Spandex add flexibility for easier movement.
---
How We Test and Score Hunting Gloves
These reviews are based on intense research, analysis, and feedback from our experts and real users from different digital platforms.
We spent 33 hours trying, testing, and scoring these Hunting Gloves, for different key parameters and then shortlisted the best products in the market, saving you time and effort.
We used the following parameters for our tests and analysis.
Weather Resistant – We analyzed how effectively the glove material withstands damages from weather like sun, wind, and rain.
Stretchability – We tested the material's stretchability by hand stretching and putting them on.
Sweat-Free – We observed how dry or sweaty the gloves left our hands after continuously wearing them for 12 hours.
Easy Grip – We noted the strength of the glove's grip even in wet or oily conditions.
Insulation – We noted how it protects against cuts and nicks caused by contact with electrical components.
---
Frequently Asked Questions (FAQ) Regarding Hunting Gloves
What to look for in hunting gloves?
Consider a layering system if it's cold and you're actively hunting. To keep hands warm, a wool liner glove combined with a heavy-duty choice for cold weather can be alternated. If the weather forecast calls for snow or rain, a waterproof glove with some over-the-wrist length is necessary.

---

What are the warmest hunting gloves you can buy?
The Drake LST Refuge Gore-Tex Gloves are the warmest hunting gloves. They give optimum warmth while also providing comfort and functionality for hunting. The outer shell is composed of Refuge HS material for strength and durability, and it is completely waterproof and breathable thanks to GORE-TEX technology.

---

Do I need gloves for hunting?
Yes, a decent hunting glove will keep your hands warm without interfering with your activities. A hat, dry socks, and warm gloves are the three most crucial clothing accessories when the weather turns rainy and chilly. Missing any of them quickly worsens an already terrible scenario.

---

What hunting gloves can do?
Hunting gloves do more than just keep your hands warm. It can be utilized to supplement your camouflage coverage. It will help keep your hands warm during a cold hunt.

---
---
Index Table: Top Rated Hunting Gloves
---
---