Wearing gloves when fishing may be a controversial subject; however, wearing gloves for fishing has many benefits and purposes.
Gloves can help improve your grip on slippery fish and protect your hands from sharp objects, along with many other benefits.
This article will look at some of the Best Fishing Gloves and how they will improve your fishing experience.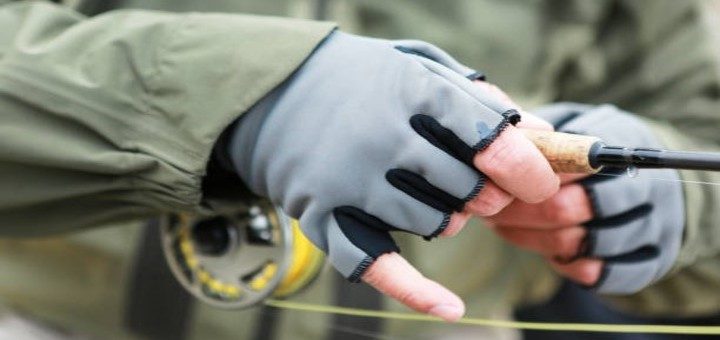 ---
Reviews: The Best Fishing Gloves
In these reviews, we have some of the best available fishing gloves in a variety of types and styles;
We hope you love the fishing gloves we recommend!
So that you know, We may collect a share of sales or other compensation from the links on this page.

---
1
KastKing® Unisex Mountain Mist

Fishing Gloves
The KastKing Fishing Gloves are Ideal for Fishing in Cold Weather and have anti-slip design palms.
The Finger slots are designed for better dexterity, and a hook and loop catch keeps them open.
The Finger slots are also very snug and comfortable fit with the two fingers and thumb area exposed to only show the finger's actual tip.
The Gloves are smartphone and touchscreen-friendly.
The palms have an anti-slip design, a comfortable fleece lining, and a waterproof back.
These are excellent fishing Gloves for cold and warm weather conditions
Pros
Maximum Dexterity.
Snug Fit.
Versatile Use.
| Rating Category | Weight % | Score |
| --- | --- | --- |
| Weather Resistant | 25% | 100 |
| Anti-Bacterial | 25% | 95 |
| Waterproof | 20% | 100 |
| Anti-Slip | 20% | 90 |
| Price | 10% | 95 |
| Total Score | 100% | 96.25 |
---
2
Berkley® Unisex Fishing

Fishing Gloves
The Berkley fishing gloves have a textured grip and coating for handling fish and protecting your handing.
Choose your favorite from a few color options in men's and women's sizes.
They are heavy-duty and flexible fishing gloves that will protect your handset when landing fish.
The palms have an excellent grip for handling slippery fish, and the gloves are coated with a textured grip.
You can fully wash your gloves, and they are quick drying.
Pros
Heavy Duty.
Washable.
Very Highly Rated.
Great Price.
Cons
Limited Colors and Sizes.
The Grip isn't the Best for Some.
| Rating Category | Weight % | Score |
| --- | --- | --- |
| Weather Resistant | 25% | 100 |
| Anti-Bacterial | 25% | 95 |
| Waterproof | 20% | 95 |
| Anti-Slip | 20% | 90 |
| Price | 10% | 95 |
| Total Score | 100% | 95.25 |
---
–>
3
KastKing® Unisex Armis

Gloves for Fishing in Hot Weather
The ideal glove from KastKing for fishing and other outdoor sports protects you against the sun's harsh rays.
These Gloves offer SPF 50 sun protection and a snug and comfortable fit.
You can select from men's and women's options, and more colors are available.
The materails used are durable and breathable, consisting of Poly-Spandex blends with four-way stretch technology.
The Microfiber palms are reinforced for durability and offer some padding.
Pros
Multiple Colors Available.
SPF 50 Protection.
Breathability.
Cons
Not Suitable for Colder Temperatures.
| Rating Category | Weight % | Score |
| --- | --- | --- |
| Weather Resistant | 25% | 100 |
| Anti-Bacterial | 25% | 90 |
| Waterproof | 20% | 95 |
| Anti-Slip | 20% | 90 |
| Price | 10% | 95 |
| Total Score | 100% | 94 |
---
–>
4
Palmyth Store® Unisex Neoprene

Gloves for Fishing
The Neoprene Glove set from Palmyth Stores is a fit for men and women and ideal for various requirements and weather conditions.
The Palmyth Fishing Gloves are durable neoprene that stretches and breathes well with a windproof fabric back to protect you in cold weather.
The gloves have a flip-back thumb and index finger design to free your fingers from using devices and doing delicate tasks.
They are ideal for cold weather but not extreme heat and cold conditions.
There are also size options for men and women.
---
–>
Types of Fishing Gloves
Before we get into the best fishing gloves, you need to note that there are different types of fishing gloves with different functions and benefits;
Bass Fishing Gloves – They have the same look as a fingerless fishing glove and are designed specifically for the elements involved with fishing for Bass.
Fingerless Fishing Gloves – Fingerless Fishing Gloves give you good grip and protection and more dexterity and freedom to perform tasks using smaller objects that need more precision.
Salt Water Fishing Gloves – Most saltwater Fishing gloves are water-resistant, flexible, and one of the most common fishing gloves because of their lightweight and dexterity.
Sun Protection Fishing Gloves – These are very lightweight fishing gloves that mainly protect your hands against the sun while providing a light grip.
Cold Weather and Ice Fishing Gloves – Cold weather and Ice fishing gloves may be insulated and have closed fingers that can be converted to fingerless when you need to perform more precise tasks. They are also usually waterproof and wind resistant to protect you against the cold.
Waterproof Fishing Gloves – Most Fishing gloves are waterproof and come with a grippy palm and flexible fingers.
Women's Fishing Gloves – Women's fishing gloves will be similar to men's but only have a different fit that suits women's hand shapes and smaller sizes.
---
So What Are the Benefits of Fishing Gloves?
If you wondered why you should invest in some good fishing gloves, there are some outstanding reasons!!
Versatile Uses – Fishing gloves can be used to attach the bait, remove fish, and for many other uses involving fishing and one for other uses.
Better Grip – Fishing Gloves are designed with materails in the fingers and palms to allow you to easily grip slippery and slimy fish as well as smaller objects and wet tools.
Waterproof – Most Fishing Gloves are waterproof so that your hands do not always stay wet and uncomfortable.
Safety – Many fishing glove types are puncture resistant and will protect you against sharp hooks and objects and even nasty bites and punctures from dorsal fins.
Sun Protection – A good fishing glove also adds a layer of sun protection for your hands and arms, depending on the length of the gloves
Comfort – Most Fishing Gloves are very comfortable to wear and flexible for easy movement.
---
Features of a Good Fishing Glove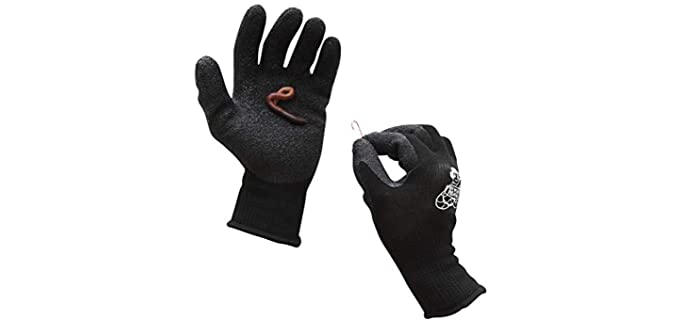 Materials – Neoprene, Wool, Fleece, and leathers can be used in fishing gloves with silicone or rubber in the palm for grip.
Waterproofing – Some gloves have a waterproof membrane, and others have water-resistant materials.
Fit – Fishing Gloves come in different size options for men and women, and some even in more color selections that you get the perfect fit in our favorite color.
Convertible Gloves – Some fishing gloves or mitts, particularly ice Fishing Gloves, can be converted from a mitt or closed design to a fingerless or glove design.
Fingerless or Full Finger – Both these options are available. At the same time, the full finger provides more protection. The warmest fingerless gloves give you more freedom to perform small and precise tasks such as getting a line through a hook and attaching small bait pieces.
---
How We Test and Score Fishing Gloves
These reviews are based on intense research, analysis, and feedback from our experts and real users from different digital platforms.
We spent 25 hours trying, testing, and scoring these Fishing Gloves for different key parameters and then shortlisted the best products in the market, saving you time and effort.
We used the following parameters for our tests and analysis.
Weather Resistant – We analyzed how effectively the glove material withstands damages from weather like sun, wind, and rain.
Anti-Bacterial – We analyzed how effectively the gloves work to fight or resist bacteria.
Waterproof – We observed if the gloves are coated or feature special insert layers and membranes that repel water to keep your hands dry.
Anti-Slip – We assessed how effectively the glove's material enhances the hand's grip on objects.
Price – We checked the glove's affordability while having good quality.
---
Frequently Asked Questions (FAQ) About Fishing Gloves
What are fishing gloves for?
Fishing gloves are a popular accessory for anglers throughout the year. Insulated fishing gloves keep your hands warm throughout long days on the ice in cold weather. In hot weather, fingerless sun gloves can shield your skin from harmful UV rays and salt water.

---

What is the point of fingerless fishing gloves?
Fingerless versions provide greater dexterity when working with hooks, tying knots, rigging leaders, using electronics, and shooting photos. A fingerless model may be better if you're continually rerigging your tackle.

---

What are the benefits of fishing gloves?
It protects the fish's slime covering and improves your grip, preventing you from dropping the fish. They can also defend against sharp dorsal spines or gill plates.

---

What kind of gloves do fishermen wear?
Fishermen wear nitrile gloves because they can grasp the fish enough to handle it without crushing it. Without gloves, getting a firm grasp on a wet and slippery fish is difficult, which can result in the fisherman grabbing it too hard and damaging vital organs.

---
---
Index Table: Top Rated Fishing Gloves
---
---