Some of the links in this post are affiliate links. This means if you click on the link and purchase the item, I will receive an affiliate commission at no extra cost to you. All opinions remain my own.
Whether you are just starting or a professional, one of the essential pieces of your gear is your Hockey Glove.
This article looks at some of the best Field Gloves and Ice Hockey Gloves for all ages.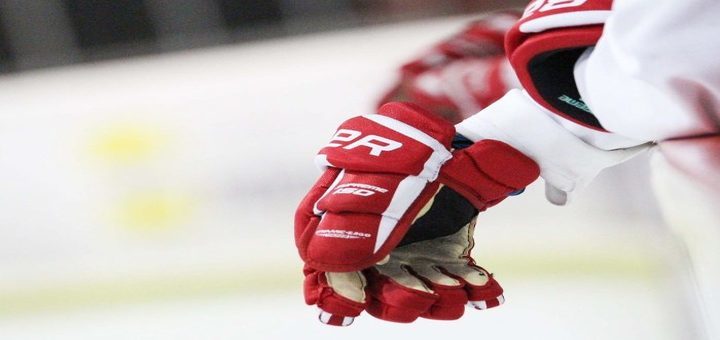 ---
Reviews: The Best Hockey Gloves
Listed below, we have some of the top ranges of Hockey Gloves that professionals and beginners use;
We hope you love the products we recommend!
So that you know, We may collect a share of sales or other compensation from the links on this page.

---
1
The Harrow Double Down is a high-density glove, ideal for Ice Hockey.
The glove is very flexible leather which gives you more comfort while playing.
There is foam padding on the back of the hand, adding protection from injuries, high sticks, and excessive physical contact.
It offers ventilation through the gloves to allow air to circulate directly to the skin of the hand.
The durable construction will last you very long.
| Rating Category | Weight % | Score |
| --- | --- | --- |
| Wrist Protection | 25% | 100 |
| Density | 25% | 95 |
| Durability | 20% | 100 |
| Sweat-Free | 20% | 95 |
| Knuckles Protection | 10% | 90 |
| Total Score | 100% | 96.75 |
---
2
Mylec® Men's DekHockey

Hockey Gloves
The Mylec Glove is designed for men and offers a snug, adjustable fit with a wristband closure.
Constructed from durable Lycra and Spamdex, the Mylec glove allows for optimal movement and dexterity in a durable glove.
The Mylec glove allows breathability and ease-of-stick handling, making it more restful on the palm.
There is a Velcro brand wrist closure for a more secure and customizable fit.
The Mylec glove is ideal not only for hockey games but in various sports as well.
| Rating Category | Weight % | Score |
| --- | --- | --- |
| Wrist Protection | 25% | 100 |
| Density | 25% | 95 |
| Durability | 20% | 100 |
| Sweat-Free | 20% | 90 |
| Knuckles Protection | 10% | 90 |
| Total Score | 100% | 95.75 |
---
3
STX® Youth's Stallion

Lacrosse Hockey Gloves
If you are looking for the ideal Hockey glove for a young beginner, then the STX comes highly recommended.
The STX Hockey Glove is durable and reliable with synthetic materials.
The palms are ventilated and gusseted for better breathability.
The construction is very lightweight, and there is a robust polyester shell for protection.
An aspirational Back Hand design also harkens to the glove.
The STX is ideal for beginners and the attack, defense, face-off, and midfield positions.
| Rating Category | Weight % | Score |
| --- | --- | --- |
| Wrist Protection | 25% | 100 |
| Density | 25% | 95 |
| Durability | 20% | 95 |
| Sweat-Free | 20% | 90 |
| Knuckles Protection | 10% | 90 |
| Total Score | 100% | 94.75 |
---
4
Byte® Women's Gel

Field Hockey Gloves
The Byte Gel field Hockey Glove is designed to keep your hands warm and protected with silicone palm grips.
These are GEL protection Gloves that are padded for comfort and cushioning.
There are silicone areas on the palms for improved grip.
The Gloves will keep your hands warm and comfortable and help prevent Astro Burns.
These Gloves are designed for ladies and come in a small, pink color.
---
5
Harrow® Unisex Field

Field Hockey Gloves
The Harrow Field Hockey Glove is comfortable and highly durable, designed ideally for field hockey.
The Harrow Glove is perfect for most positions in field hockey.
These gloves can be used by beginners and professionals alike.
The gloves have High-density foam padding for protection.
Durable materials are used in the construction, and the THum Hole is reinforced.
There is also a ventilated palm for breathability and comfort.
---
6
Alkali® Unisex RDP

Lite Hockey Gloves
The Alkali RDP is a Light and comfortable Hockey Glove for Ice Hockey.
Manufactured from Pro-Knit material for durability and flexibility.
The Nash design palm offers extensive grip, and there is a polyester lining for warmth on the inside,
These Gloves are also padded with single-density foam for cushioning.
You can get the Alkali Hockey glove in a black and white color option.
---
7
TronX® Men's E1.0

Senior Junior Ice Hockey Gloves
The Gloves consist of Ballistic Nylon, which is pro nit for flexibility.
There is a premium dual-layered palm.
The backhand and fingers are single-density foam.
The fit is more tapered.
---
8
Franklin Sports® Men's HG 150

Junior Street Hockey Gloves
The Backhand is compression molded foam.
They are high-density, lightweight and padded.
The palms are reinforced and vented with synthetic leather.
They have tapered anatomical fit.
---
9
Stalion STX® Unisex Field

Hockey Training Gloves
The Gloves have an anatomical design for hand and knuckle protection.
The Open palm and half fingers allow for better contact and stick control.
There is a secure Velcro wrist closure.
The glove is for the left hand only.
---
10
Under Armour® Women's Illusion

Hockey Gloves
The gloves have molded foam technology for protection and flexibility.
There is a quick pull-on closure for a comfortable and adjustable fit.
The palm is a synthetic material for durability.
The gloves are designed for women only.
---
Why You Need Good Hockey Gloves
Whether competitive or just as a general hobby playing Hockey requires a good glove which will depend on a few factors;
Fit – You can choose between an anatomical, snug, or even a looser fit. Whatever feels most comfortable and fits you well is important as this will greatly affect your game.
Size – You will need a specific size, like a glove that is too big, may slip off, and too small can become very uncomfortable.
Protection and Durability – Reliable protection is the number one requirement in a good Hockey glove to protect your hands against injuries. Durability goes hand in hand with the level of protection like a worn-out glove will not function well or provide the right protection.
Mobility – You want a glove that offers good protection and allows good movement and use of your hands. You need to be able to flex and grasp your Hockey gloves without having to compromise on protection.
Quality – Good Quality brands are reliable and last you very long when it comes to Hockey Gloves. Therefore it is important to rather opt for a well knew Quality brand.
---
Getting the Right Fit in a Hockey Glove
Hockey Gloves are usually measured in inches, where 13-15 inches are considered adult sizes, and anything smaller is a Junior or Youth size. You will also need to decide what width glove you need if you want a tight fit or more wiggle room for your fingers.
When you get the right glove, use these common tips for a good fit;
Finger Space – You need to have about a quarter of an inch of finger space where your fingertips are. When you curl your hand into a fist, your fingers should also not stretch at the material connecting the palm to the glove at the tips.
Finger Breaks – The Breaks in the fingers must be comfortable and line up well with your knuckles.
Wrist Break – Ensure the wrist break lines up with your wrist on the underside area.
---
Features of a Good Hockey Glove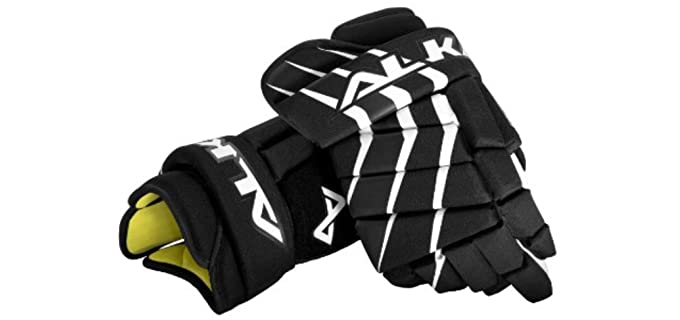 Padding – Look for a single or double desniuty medium padding througot the glove for added protection.
Shell – Nylon or leather can be used for the shell and look for durable construction.
Palm – Good quality gloves will have a leather palm reinforced in high-wear areas.
Thumb – Most Hockey Gloves will have an armored thumb that cannot bend backward, preventing thumb dislocations.
---
Index Table: Top Rated Hockey Gloves
---
---