Some of the links in this post are affiliate links. This means if you click on the link and purchase the item, I will receive an affiliate commission at no extra cost to you. All opinions remain my own.
Lacrosse Gloves form a crucial piece of your overall equipment for protection against slashes, shots, and errant passes and help you keep a stronger grip on your stick.
Before settling for a Lacrosse Glove, there are a few crucial things to consider to help you choose the Best Lacrosse Glove for your strengths, weaknesses, and specific requirements.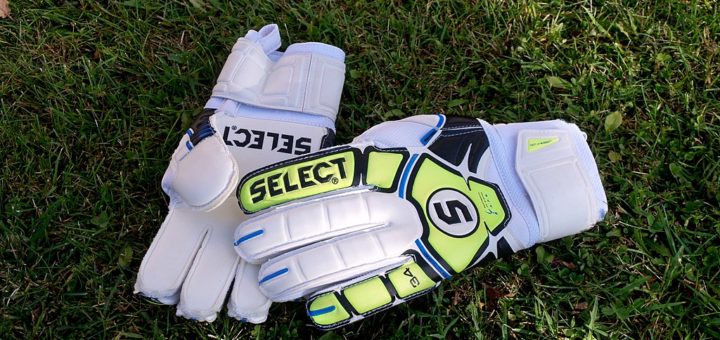 ---
Reviews: The Best Lacrosse Gloves
Here we have some of the best available Lacrosse Gloves for every position and requirement;
We hope you love the lacrosse gloves we recommend!
So that you know, We may collect a share of sales or other compensation from the links on this page.

---
1
The Epoch iD Lacrosse Glove is ideal for Attack, middie, and defensemen.
Tri_Layere Daul density foam used softer foam in the bottom layers for comfort and hardened at the top for impact protection, with three layers overall.
There is a convenient sizing chart that helps you get the perfect fit.
PU leather and the ventilated fabric is used in the gloves for durability and breathability,
A Nash, Ventilated and reinforced palm with a double foam stack for protection and textured fabric for better handling and control.
The extended cuff provides even more protection and still allows you to easily flex and move your wrists.
Pros
Triple Density Foam.
Ventilated Fabric.
Reinforced Palm.
Extended Cuff.
Cons
Tighter Fit.
Limited Colors and Sizes.
| Rating Category | Weight % | Score |
| --- | --- | --- |
| Breathability | 25% | 100 |
| Padding | 25% | 100 |
| Bruise Resistant | 20% | 95 |
| Flexibility | 20% | 90 |
| Durability | 10% | 95 |
| Total Score | 100% | 96.5 |
---
2
Maverick® Unisex Rome

Defender Lacrosse Gloves
The Maverick Rome has an anatomical shape and exceptional cooling technology. It is best used as a Defender Lacrosse Glove.
The Glove is built on an anatomical Speed Fit design that fits the hand with maximum movement freedom.
A Poron XRD foam protects the thumbs and index fingers against impact.
The Pro Palm design with Ax Suede has minimal seams and maximum stretch with added palm pads for protection while still keeping a soft and flexible feel.
A Trigger Finger Texture provides better control and handling.
The Flo Cool cooling vent technology is the best available to keep you cool and comfortable.
There is a Quick-Dry, moisture-wicking interior lining for your comfort and cooling requirements,
The Removable sub cuff allows you to customize wrist mobility.
Pros
Extremely Protective.
Cooling Vent Technology.
Quick Drying.
Cons
Sizing Issue.
Lack of Consumer Feedback.
| Rating Category | Weight % | Score |
| --- | --- | --- |
| Breathability | 25% | 100 |
| Padding | 25% | 95 |
| Bruise Resistant | 20% | 95 |
| Flexibility | 20% | 90 |
| Durability | 10% | 95 |
| Total Score | 100% | 95.25 |
---
3
STX Surgeon® Unisex RZR

Lacrosse Attack Gloves
The STX Surgeon RZR is one of your best options for an Attack position glove.
The Superflex design allows for better flexibility and comfort by cutting down on areas where extra materails are not required and adding additional layers on high impact zones in the gloves.
The second skin palm gives you a much better feel and response, with a higher grip and a more comfortable fit.
A DFLKT Should consist of extra padding in the thumb and back of the hand to provide further impact protection.
Lastly, a Guard Lock Mouthguard slot in the gloves gives you a convenient storage area for your Mouthguard between plays.
Pros
Multiple Color Options.
Lightweight.
Flexibility.
Good Price.
| Rating Category | Weight % | Score |
| --- | --- | --- |
| Breathability | 25% | 100 |
| Padding | 25% | 95 |
| Bruise Resistant | 20% | 90 |
| Flexibility | 20% | 90 |
| Durability | 10% | 95 |
| Total Score | 100% | 94.25 |
---
4
Warrior® Unisex Evo Glove

Lacrosse Gloves
The Evo Glove from Warrior is an excellent all-purpose Lacrosse Glove with foam protection against impacts and a better control palm design.
The Pro Palm design palms give you much better control and feel of the stick with better grip and flexibility.
The D#) Aero foam is one of its best features, with top-of-the-line foam used for impact and slash protection.
The Cage FLX system gives you more flexibility and less restriction in the back of the hand area, as well as a unique ventilation system.
The Glove, in general, is very comfortable and flexible with highly protective foam.
---
5
Maverick® Unisex Max

Cooling Lacrosse Gloves
The Maverick Max is one of the best Glove options for cooling technology and flexibility.
The design is built around the traditional profile with added volume in the fingers and the hand's back for extra comfort and protection.
There are DuraStretch panels across the knuckles for increased flexibility and control.
The Flowcool Vening on the back of the hand area allows for better heat dispersion and cooling comfort.
Anafrm ridges are added to protect you against slash hazards and remain flexible.
Shark gel inserts are placed across the thumbs for impact protection.
There is also quick drying interior material to wick moisture away from the skin.
---
6
Brine King® Unisex Superlight

Lightweight Lacrosse Gloves
The Brine King Lacrosse Gove is very lightweight and comes in various colors you can choose from.
Truvents in the glove increase ventilation on the back of your hand to keep you cool at all times.
Textured Nash palms give you a better stick feel and better control to keep you confident.
The Floating Cuffs around your wrists give you a more protective advantage during a face-off or when you scoop up ground balls.
Furthermore, you can choose your favorite color in this brand from a few available.
---
7
STX® Unisex Stallion 75

LaCrosse Gloves
The STX LaCrosse Gloves have ventilated palms.
They are durable leather Lacrosse gloves with polyester and nylon.
The gloves are sold as a pair and have a three-piece thumb design.
There are also some size options.
---
8
Champro® Unisex LRX7

LaCrosse Gloves
The Champro Sports LaCrosse Gloves are likewise an excellent design.
Hey, they are ideal for beginners and younger players.
The gloves are adjustable with split cuffs and a segmented design for a better fit.
There are Vented Microfiber palms that are extra durable.
More sizes are likewise available to you.
---
9
EVO® Unisex Pro

LaCrosse Gloves
The Evo Pro Lacrosse gloves are also a great option.
The gloves are a durable design with Pro Palm construction.
They have a Cage FLX system for a less restricted backhand feel.
There is also high-density foam for impact protection in key areas.
---
10
Burn Pro® Unisex Medium

LaCrosse Gloves
The Burn Pro glove is the ideal LaCrosse glove.
The gloves consist of durable materials and have quality construction.
They offer excellent impact protection and grip.
The gloves are available in more sizes.
---
Why You Need Proper Lacrosse Gloves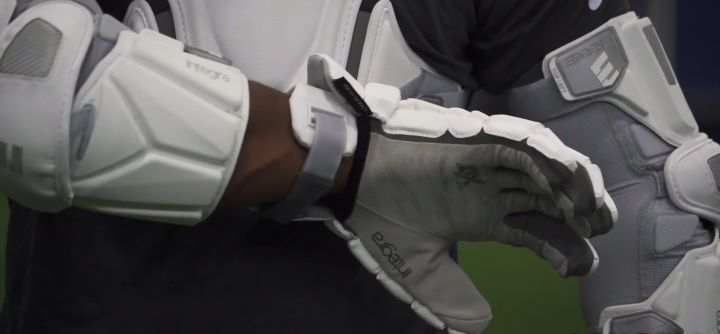 Lacrosse is a fast-moving high, contact sport where there are loads of dangers and risks of getting hit with sticks and balls, your hands getting slashed, and then the risk of the stick slipping out of your hands.
The right Lacrosse Gloves are vital and should be chosen with care to keep the game safe and fun.
Lacrosse Gloves are designed to protect your fingers, hands, and wrists while still allowing them to move freely and get a proper grip on the stick.
Most goalies can wear regular lacrosse gloves. However, some prefer gloves with a longer length and additional padding. When you have an injury, mentioned by healthline, proper padding can also help reduce additional pressure on the injury. On the other hand, goalies must wear fully padded Lacrosse Gloves.
---
How to Pick The Best Lacrosse Glove Brands
Picking the right Lacrosse Gloves can be a daunting task, so here are a few tips to help you along the way;
Protection – Protection is the number one most important part of your Lacrosse Glove. You cannot perform your best on the field when you are injured. Therefore your gloves should always be your number one priority. If you are a perimeter player who does not contact other players, you can opt for a less padded and more lightweight glove. However, if you are a power player who likes driving and enjoys mucking it up, a more padded and protective glove is advised. Look at the cuffs of the Glove. Does it protect your wrists and come far enough up your arm. Does the foam offer enough impact resistance? Is the Glove structured enough to protect your fingers against sprains? These are all questions to be asked.
Materials – The materails your gloves consist of go hand in hand with the level of protection they will offer. It would be best if you had high-quality foam padding to protect you against impact, but also good palm materails to ensure you do not burn holes in your gloves fast. It would be best if you looked for high-strength plastics and rubber along the Glove's frame o deflect slashes and look for drying and anti-odor technologies in the inside of the Glove.
Comfort – Most Lacrosse Glove brands use advanced comfort technologies so that most gloves will offer comfort. In a Lacrosse Glove, the main aspect is how mobile your hands are in the gloves. You do not want your hands locked down like taped hands in boxing gloves, but you also do not want your gloves to fall off. So comfort is also much in the right fit of the Glove.
Grip – When you are lined up for that perfect shot, the last thing you want is the stick to slip out of your hands. The grip is also a crucial feature of a lacrosse Glove. Different Materails offer Different levels of grip. Soft Clarino Nash materails and suede materails may offer better grip but may not last as long as other stronger materails, such as leather.
Ventilation – physical exertion and weather elements contribute to overheating and sweating when deep into a game. The last thing you want is sweaty and uncomfortably hot hands inside your gloves. This is where proper ventilation comes into play. Every manufacturer employs different ventilation methods, some better than others, so this is also a feature to note.
---
Features of a Good Lacrosse Glove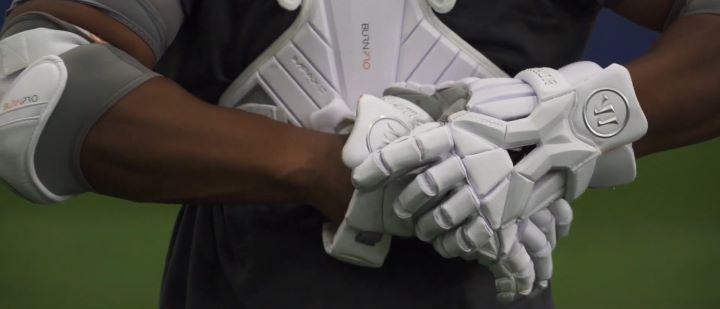 Back Hand and Thumb Contsruction – The Back of the hand and Thumb areas are those requiring the most protection. Some brands use triple layers of foam, ranging from soft-bottom layers to harder top layers for added protection. A DFKLT shield offers added padding on the thumb and back of the hand for more protection in the needed positions. XRD Analysis or Technology is used, which is an impact-resistant material. Some models come with a fleece lining and a waterproof back for cold protection. Shark Gel technology is used in the thumb area by some companies for better thumb protection and flexibility.
Cooling Technology – The Nash Ventede System and Flowcool cooling technologies are the best to look out for. Ventilation holes either on the hand's back or both the back of the hand and palm can be found for better ventilation.
Palm – The Palm area is important for grip and handling. Soft Suede or leather materails are usually used in these areas. Some gloves will have one or two layers of soft padding and textured palms and fingers for a better grip.
Fingers – Flexible foam and more lightweight materails are used on the fingers, especially the insides and sides where more flexibility and less protection are required. An Araiprene softer foam may be used.
Cuff – Some models offer an Extended Cuff that protects your arm further up while still allowing ample movement. Removable Cuffs are also found, which allow you to completely adjust and customize the cuff to your liking and personal requirements.
Lining – The Inside lining of most Lacrosse Glove models will be moisture-wicking and quick-drying to keep you cool and dry. Technology such as QuikDry Materails and a 37.5 liner may be found.
---
How We Test and Score Lacrosse Gloves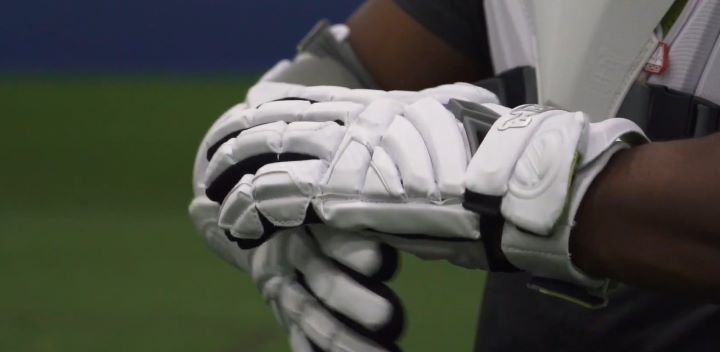 These reviews are based on intense research, analysis, and feedback from our experts and real users from different digital platforms.
We spent 19 hours trying, testing, and scoring these Lacrosse Gloves, for different key parameters and then shortlisted the best products in the market, saving you time and effort.
We used the following parameters for our tests and analysis.
Breathability – We checked if the fabric of the glove is breathable or whether it causes any sweating.
Padding – We measured the thickness of the padding on the gloves.
Bruise Resistant – We analyzed how effectively the glove material withstands impact that causes bruises or discoloration of the hands.
Flexibility – We tested the material's flexibility by hand stretching and putting them on.
Durability – We researched how long users are able to use these gloves without any reported changes in their quality or design.
---
Frequently Asked Questions (FAQ) About Lacrosse Gloves
Why do lacrosse players wear gloves?
Gloves are an important component of the men's lacrosse game. They guard against hard checks, keep guys out of the hospital due to frostbite during the cold months, and give great grip strength. They are also completely necessary for play.

---

Is there a difference between lacrosse gloves and hockey gloves?
In most circumstances, hockey gloves will work for lacrosse. The "bendable" thumb in Lacrosse gloves is the primary distinction between hockey gloves and Lacrosse gloves. As the players progress, this helps with stick handling and shooting.

---

What do you wear under lacrosse gloves?
Keep a few pairs of latex gloves in your bag and wear one under your lacrosse gloves to help trap heat and keep your hands warm and loose. Just a disclaimer, latex gloves will trap moisture and sweat, causing your hands to shrivel and prune. In cold weather, these are your best buddy.

---

Do girls need gloves for lacrosse?
Women and girls are not required to wear gloves, with the exception of goalies, but they can provide beneficial protection and warmth for certain players. When you step onto the field, the correct set of gloves can help raise your confidence and help you focus on the game.

---
---
Index Table: Top Rated Lacrosse Gloves
---
---