Some of the links in this post are affiliate links. This means if you click on the link and purchase the item, I will receive an affiliate commission at no extra cost to you. All opinions remain my own.
Ice climbing means that you will be operating and using your hands in temperatures far below freezing point, and you will need to rely on your hands for full safety.
Thus, you need the best Ice Climbing gloves to provide grip and warmth in these conditions.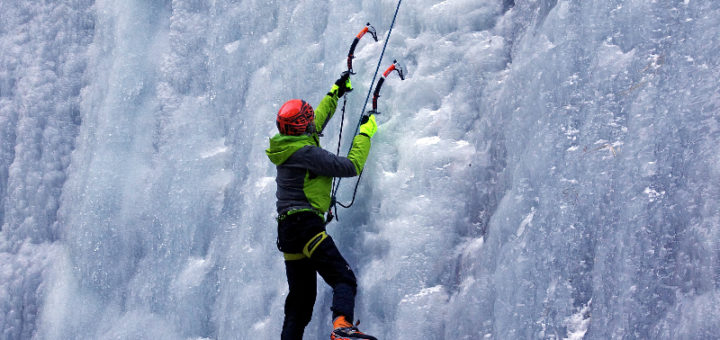 ---
Reviews: The Best Ice Climbing Gloves
Below are some top choices in gloves that are all ideal for ice climbing;
We hope you love the products we recommend!
So that you know, We may collect a share of sales or other compensation from the links on this page.
---
1
The Outdoor research Ice Climbing gloves are BitterBlaze aerogel gloves.
They come in a few colors and more size options you can choose.
The gloves offer a Gore-Tex waterproof insert with nylon, stretch nylon layers, and a Pittards Goat leather palm for grip.
They are water-resistant and windproof gloves that allow for plenty of dexterity and grip.
There is PrimaLoft Gold insulation to keep you warm and PrimaLoft Aerogel for comfort.
The gloves have a hook and loop Velcro wrist closure for a customizable fit.
---
2
Stormtracker® Men's Sensor

Ice Climbing Glove
The Stromtracker Ice Climbing gloves are designed for men.
They are sensor ice climbing gloves available in three color options and more sizes.
The ice climbing gloves consist of Nylon and layers that are waterproof and windproof in the shell, with insulating interior linings.
There is Gore Wind stopper technology and a Tricot Lining fir heat.,
They are a pull-on closure and also offer excellent grip.
---
3
Petzl® Unisex Cordex Plus

Ice Climbing Glove
From Petzl, we have the perfect ice climbing gloves suited for camping, hiking, and other outdoor sports.
They consist of nylon, neoprene, and leather.
The Gloves have an adjustable hook and loop closure for a customizable fit.
They are medium-weight belay and rappel glove that offers much protection without sacrificing dexterity.
The gloves have neoprene cuffs and a Velcro closure,
They are reinforced for increased strength and durability.
---
4
Ac'teryx® Unisex Fission

Ice Climbing Glove
The Arc'Teryx Fission SV gloves are insulated waterproof gloves ideal for ice climbing.
Ice climbing gloves are high-performance gloves for activities in extreme weather conditions.
They have waterproof and insulated outer layers for cold and wet weather,
They have a Gore-Tex breathable, waterproof lining.
The Gloves are longer and also insulated for warmth.
---
5
Rab® Unisex M14

Ice Climbing Glove
The Rab M14 Softshell gloves are highly dexterous and warm for ice climbing and mixed climbing.
They have a hook and loop closure that is adjustable and comfortable.
They are thinner and form-fitting for mixed climbing.
The softshell layers are windproof and waterproof to keep you dry and comfortable.
They have Pittars Oiltac leather palms that are durable and offer exceptional grip.
There are padded reinforcements on are right pinkie fingers for added protection.
---
6
Kingsbom® Unisex Thermal

Waterproof Ice Climbing Glove
The Kingsbom ice climbing gloves are fully waterproof, windproof, and thermal gloves.
They have 3M Thinsulate insulation and have a fully waterproof and windproof shell for full protection.
The gloves are constructed from quality fabric that ate reliable and durable.
There is a moisture-wicking and air-circulating interior.
You can choose from two options and more sizes in these ice climbing gloves.
---
7
Intra-FIT® Unisex Rappeling

Ice Climbing Glove
The Intra-FIT ice climbing gloves are ideal for rappelling, rescue, Rock, Tree, Mountain, and wall climbing,
They have a soft and comfortable fit with premium goatskin for a balance of dexterity and durability.
The pals are padded for heat protection during longer rappels.
There is a breathable and stretchable spandex lining, and the fingers have a flexible and anatomical shape.
The gloves are available in two options and in more sizes.
---
8
Black Diamond® Unisex Transition

Ice Climbing Glove
The Black Diamond Ice Climbing Gloves are Transition loves that ate natural and comfortable.
They have an easy Hook and Loop closure that is adjustable.
The palms and knuckles are leather.
The gloves consist of goatskin leather, abrasion-resistant woven nylon, and a four-way stretch design.
They are CE-certified in EN 420 and EN 388 (2142).
---
9
Camp Geko® Unisex Ice Pro

Ice Climbing Gloves
the Camp Geko Gloves are designed ideally for ice climbing and similar functions.
They have a DryZone waterproof and breathable membrane for your protection.
they are durable with Pittard Goatskin palm and fingers for grip.
the Fingers are gusseted and anatomical in shape for flexibility and comfort.
---
Getting a Good Ice Climbing Glove System
There are a few questions you need to ask yourself when choosing the best ice climbing gloves;
How will the Climbing Conditions Be? – You need to ideally consider the temperatures and weather conditions that you will be climbing in. Get a good weather forecast before climbing, and keep in mind that your forecast will be based on factors that you will know and some that may come as a surprise.
What is the Objective and Nature of Your Climbing? – You need to consider to what degree you need sensitivity and dexterity from your gloves for your planned climb. The more complex and technical your climb will be, the more dexterity you will need from your gloves. They will need to be thinner and more form-fitting. With more experience in climbing, you will gradually get a feel for what types of gloves work well. For climbing, where you do not need to manipulate carabiners or tie knots and perform delicate operations, and good insulated and waterproof glove will be ideal.
Do You have the Right Give System? – There are so many glove options available on the market when it comes to ice climbing gives. It can make the process quite difficult. You need to choose gloves that can handle the specific conditions and performance requirements, or you need to layer different gloves. You can use a warm liner and a glove with a waterproof and windproof shell for protection. You may need different types of gloves for different functions, as one type of glove may not always be effective.
---
Ice Climbing Glove Fit
It would be best if you fit the web of your ice climbing gloves so that your fingers can move freely when they are stretched out. There should not be too much space between the back of the gloves and the palms. The material and the fit should never e too tight.
Gloves may not be the best solution for scrambling gear thicker fleece gloves are ideal for sensitivity, and grippy materials are required for handling the rock. It would be to have had another more durable option for scrambling that will not deteriorate with the continual exposure to rocks.
---
Features of a Good Ice Climbing Glove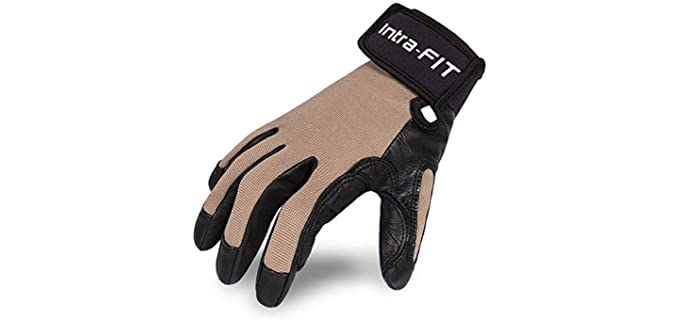 Insulation – In these cold conditions, you will need proper insulation from your gloves that is also breathable, with a moisture-wicking lining to absorb sweat and wick it away. You need to be able to balance warmth with insulation, as too much padding and insulation can impede the agility of the gloves.
Weather Resistance – Good Ice Climbing gloves will have a windproof and waterproof outer shell to protect you against the elements. When climbing in wet and windy conditions, these features become requirements. However, when you climb in moderate conditions, you should not worry about full waterproofing and windproofing.
---
Index Table: Top Rated Ice Climbing Gloves
---
---