Camouflage Fingerless gloves come in a large variety of designs and purposes.
They are mostly Utility or tactical gloves used for military, hunting, fishing, and shooting.
However, you also get other more casual options in camouflage fingerless gloves.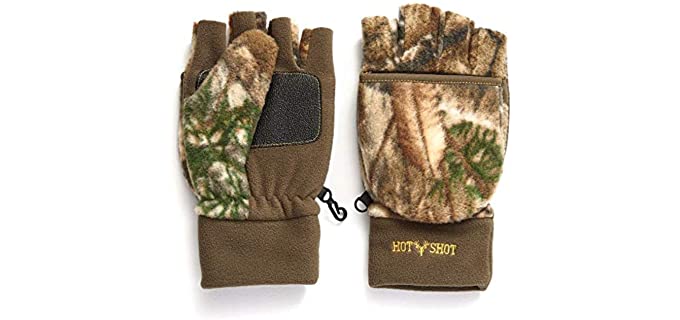 ---
Uses of Camouflage Fingerless Gloves
A Camouflage gloves refer to the colors of the gloves that are similar to the earthy and mixed greens and brown hues used in most camouflage clothes worn for hunting or military purposes.
Camouflage as a color is used to help you blend into natural surroundings in order to escape the sight of something that you are hunting or even an enemy in military use.
The fingerless design means that your gloves will not have full closed design fingers, rather fingers that are cut off mid-finger or at the knuckles to expose your fingers or fingertips.
The fingerless design provides better dexterity for finer motor skills such as handling a gun, a bow and arrow, and for other outdoor sports or purposes.
Here are a few applications where a pair of camouflage fingerless gloves may come in handy;

Hunting with a Gun or Bow – When you are hunting with a gun or a bow, a fingerless design glove gives you better control over the bow or the weapon trigger. The Camouflage color helps to provide some cover when you are hunting and will not stand out.
Work Wear – people who do work such as carpentry, crafting, or automotive applications may need a fingerless design glove for better dexterity. The camouflage color is ideal in hunting situations and as a fashion statement for other uses.
Summer Gloves – Camouflage fingerless gloves are perfect for summer use for a variety of purposes when you need something cooler and more breathable.
Driving a Vehicle or Motorcycle – Utility and tactical camouflage design fingerless gloves are likewise ideal to use for driving, cycling, or motorcycling, and they are cool and comfortable, and fashionable to wear.
Tactical Use – For military and tactical purposes, the right camouflage fingerless gloves can be ideal when handling a weapon.
Hiking – You also get fingerless camouflage gloves that you can use for hiking to protect your hands or just to keep them warm.
---
Pros and Cons of Fingerless Gloves
Camouflage gloves on their own offer good cover when you are hunting or for military use, and it is also a style that does not go out of fashion easily.
However, the fingerless glove design holds some pros and cons that you should consider;
Fingerless gloves are more dexterous and versatile as you have full use of your fingertips for texting, shooting weapons, and handling smaller devices and equipment. Fingerless gloves will protect your palms and provide a good grip.
However, because a fingerless glove does not fully cover your fingers, they offer less protection against scrapes and abrasions, and they also offer less warmth and insulation for your fingers. So you will have the dexterity of your fingers, but they will be at risk of injury and cold.
---
Features of a Good Fingerless Camouflage Glove
Size – Your fingerless camouflage gloves need to offer a snug and comfortable fit and need to be sized correctly.
Design – Fingerless camouflage gloves are more suited to warmer weather because your fingers are exposed. They are very breathable and will help to keep your hands cool.
Wrists – Most fingerless camouflage glove designs do come with stretchable or adjustable wrist closures so that you can get the perfect fit.
Protection and Dexterity – Fingerless camouflage gloves give you the perfect balance between light protection, grip, and dexterity with the full use of your fingers.
---
Reviews: The Best Camouflage Fingerless Gloves
Here are some of our favorite Camouflage Fingerless Gloves;
---
1
The Ranger Return Gloves are tactical half-finger gloves in camouflage colors.
The Gloves offer light protection for sports, riding, and other uses.
They are durable and very lightweight, as well as extremely easy to clean.
The gloves have a half-finger design and come in camouflage colors.
They have an anti-slip design palm that fits tight and comfortably.
---
2
The DecoyPro Fingerless camouflage gloves are a favorite for hunting and Bow Hunting.
They can also be used as fishing gloves and are perfect for the outdoors.
The gloves are a one-size-fits-all option that is ideally suited for men's large and extra-large sizes.
They have textured grip palms and fingers as well as a soft interior lining,
---
3
From Hycoprot, we also have fingerless camouflage gloves.
These are tactical gloves that offer excellent knuckle protection and are quite lightweight.
They are ideal for applications such as military use, motorcycling, hunting, and other outdoor sports.
They are flexible and very easy to put on and take off.
The gloves offer comfortable protection with open fingers for better dexterity.
---
4
The Biking and Cycling gloves have a fingerless design and are available in camouflage colors.
These are very comfortable and durable half-finger gloves ideally suited for biking, cycling, and even weight lifting at the gym.
They have durable high grip palms and breathable microfiber linings.
The gloves also come with a convenient Velcro closure for a more secure fit.
---
5
The IsaFish fingerless camouflage gloves are a favorite for fishing and hunting.
They consist of a soft fabric that is breathable and durable.
The palm is non-slip as well as abrasion-resistant.
The gloves are also quick drying and have a fingerless design.
the design is cool and comfortable, ideal for summertime use and warmer weather conditions where you need something, a bit more bretahable.
Ideally suited for outdoor use such as fishing, hunting, and hiking.
---
6
Here we have the Hot Shot fingerless Camouflage gloves for outdoor use.
They are warm and comfortable fleece gloves that are quick-drying and durable.
Ideal as a warm winter glove for outdoor hikes and expeditions.
The Gloves consist of a fleece material that is 100% soft and warm polyester.
Fleece is naturally water-resistant and will not absorb moisture but rather wick it away.
They are, however, not tactical gloves or working gloves, so more suited to everyday wear for comfort.
---
Index Table: Top Rated Camouflage Fingerless Gloves
---
---