Some of the links in this post are affiliate links. This means if you click on the link and purchase the item, I will receive an affiliate commission at no extra cost to you. All opinions remain my own.
Before the 1970's soccer goalies only wore gloves for bad weather, but nowadays, Gloves have become so popular and advanced that the goalies and some of the players wear them.
With all the options available on the market, it may not be easy to get the right gloves for the job, but luckily we can help you get the best goalkeeper gloves for your specific requirements.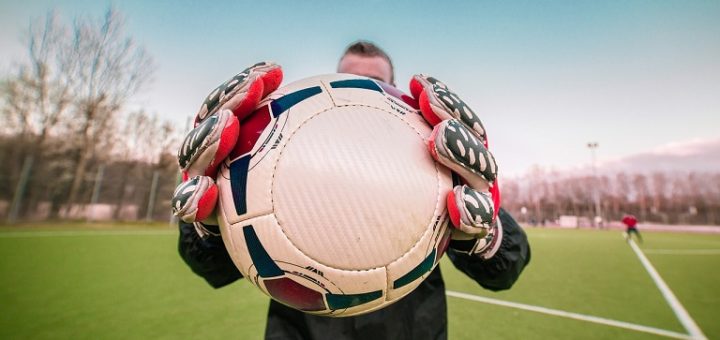 ---
Reviews: The Best Goalkeeper Gloves
Below we have listed some e of your best options when it comes to excellent Goalkeeper Gloves for soccer games;
We hope you love the products we recommend!
So that you know, We may collect a share of sales or other compensation from the links on this page.
---
1
The Sportout Goalkeeping Gloves come in youth and adult size options and offer a strong, durable glove grip.
The ideal goalkeeper Gloves for youngsters and adults that will ensure you the toughest saves.
The gloves are wear-resistant and have durable latex palms that give you an extremely strong grip and control.
The improved backbone finger save system of these goalie gloves protects you against hyperextended-finger injuries.
There is a double wrist safeguard with lined layers to protect your wrists and give you a custom fit, with Velcro closures.
They consist of durable composite materails EVA and Latex, making them extremely strong and comfortable,
---
2
Renegade® Unisex GK Vortex

Goalkeeper Gloves
The Renegade GK Vortex Gloves are very breathable and offer a superior grip with latex palms.
The Vortex Goalie Gloves can be chosen in three different color options in different sizes.
They are durable and very comfortable.
The Gloves have high German Technology, High-Performance Hyper grip Latex in the palms and fingers for better ball control.
3.5+3MM composite latex on the palms and backhand provides you with additional impact protection.
An 8CM neoprene Cuff and 3MM 360 degrees Duratek strap provide excellent wrist support.
---
3
Adidas® Unisex Classic

Pro G Gloves for Goalkeepers
The Classic Pro G Goalkeeper Gloves from Adidas are ideal for professional play and game days.
It has a palm cushioning of 3.5mm, which is ideal for those hard shots.
The palms also have a Grippy Latex layer that ensures that you catch and keep the ball securely.
These are great gloves for practice and even for professional use, as well as competitions and games.
The fingers are supportive and will prevent hyperextension.
---
4
Blok-IT® Unisex Fingersave Design

Gloves for Goalkeepers
The Blok-IT gloves are extremely tough, offer five finger protection, and come in sizes for adults, youth, and children.
Blok-IT Goalkeeper gloves are available in different color selections for adult and youth sizes and many size options.
The Gloves are padded for impact protection and have a superb grip for handling the ball.
The Five Fingersave technology fortifies your hands to stop even the hardest shots.
Improved breathable materails will help to prevent overheating and wick away excess moisture.
---
5
Nike® Unisex Youth Match

Goalkeeper Youth Gloves
From Nike, we have Goalkeeper Gloves that are designed for younger adults and children.
These are black and white-colored goalkeeper gloves from Nike.
They are designed to fit younger persons and youth.
There is padding to protect you against impact and cushion your hands.
The palms give excellent grip for fast spinning balls, whether in wet or dry conditions.
---
6
K-LO® Unisex Fingersave

Gloves for Goalkeepers
The Fingersave Glove from K-Lo is a specialized design that offers all five fingers Spline support.
These Gloves also feature Fingersave Technology and protection with 5 finger spline support.
They are durable and supportive, with a 3+3MM non-slip latex palm for better grip on the ball.
There is also double-wrapped wrist support and double stitched Velcro band closure for an adjustable fit.
These are German-engineered latex design gloves that are an excellent choice for goalkeepers.
---
Goalkeeper Gloves and Why You Need Them
Today's modern Goalkeeper wears gloves for two reasons, they protect against hard impact, and they provide grip on the ball.
The Goal Keeper needs to be assured that when they get to catch the ball, they will stay stuck to their gloves and not slip out of their hands, which can be disastrous.
The Goalie also does not want to fade under a fast thunderbolt shot from a striker with their bare hands and needs medical assistance afterward.
---
Different Types of Goal Keeper Gloves
Besides getting the right fit, you also know that your hand's shape dictates the type of palm you should choose in a goalkeeper's glove.
It would be best if you prioritized getting a glove that comfortably fits your exact hand shape and size.
Besides that, here are some goalkeeper glove types that you can consider;
Roll Finger goalkeeper Glove This is one of the most popular glove designs for goalies with a roll finger design palm suitable for goalies with thin and slender hands fingers professional use.
Negative Cut Palm Goalkeeper Gloves – Negative Cut Goalkeeper Gloves have a palm design suitable for goalkeepers with broad hands and fingers.
Flat Palm Design Goalkeeper Gloves – Flat pal Gloves for Goalkeepers are ideal for broad shaped hands and fingers as well, similar to negative cut palms.
Hybrid Cut Palm Goalkeeper Gloves – The Hybrid Cut palm has a Roll Finger design for the little finger and index finger that is slim, and the middle two fingers are a negative or flat palm cut that is broader. This is advised for Goalkeepers with irregular shaped hands or medium-sized hands.
---
Features of a Good Cycling Arm Warmer
SoccerGoalkeeperr Gloves are an essential part of your goalkeeper gear and should be approached with care and good consideration when it comes to features.
Here is a list of what you should look for in a good Goalkeepers Glove;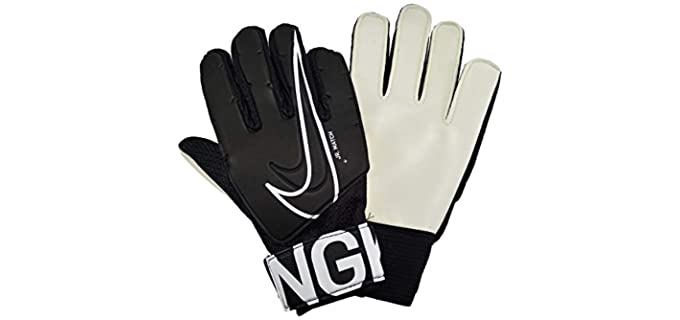 Back hand – The Back hand usually has significant padding to shield your hand when punching the ball. Higher end models have latex cushioning while lower end ned modesl will have a single layer of foam padding.
Fingers – The fingers are a goalie's best defense and allow the goalie to grip and grasp the ball fully. Most Fingers will contain spines inside to aid in finger support, and the material will tighten with force to prevent hyperextension and breaking fingers. Look for gloves that have bendable plastic supports instead of those that are just padded to prevent sprains and injuries.
Palm – The palm aids in catching and securing a grip on the ball and comes in two textures, a smooth or dimpled texture. Most palms will have some form of clinging agent for gripping the ball. Dimpled Palms are better for practice, whereas smooth palms are ideal for competitions.
Closure – The Closure is the part that secures the glove to your hands and prevents it from slipping off. Hook and Loop Closures are the best and easiest, with an adaptable strap that gives you a perfect fit and good wrist support.
---
Index Table: Top Rated Goalkeeper Gloves
---
---